Lipscomb mourns the loss of former President Harold Hazelip
Kim Chaudoin |
H. Harold Hazelip devoted his life to preaching and to Christian education. 
From the earliest days of his ministry career that began in 1949 and a career in education that spanned three decades, Hazelip had a profound impact on the lives of thousands. 
Today, the Lipscomb community mourns the loss of Hazelip, who served as president from September 1986-May 1997, who died earlier this morning at age 92. 
Hazelip is being remembered for his gentle spirit, deep faith and tremendous influence.
"We mourn the loss of someone who has had a tremendous impact on the Lipscomb community - from starting our study abroad program to adding academic accreditations to leading our first master's degrees at Lipscomb. And, personally, Dr. Hazelip will always be 'my president' as I was blessed to be a Lipscomb student under his outstanding leadership," said Lipscomb President Candice McQueen. "He led with quiet confidence and a strong vision for an academically advancing university. In my first year serving as Lipscomb president, he has been a friend, a supporter and encourager. His wise words - whether speaking as a leader, a Bible teacher, a minister or a mentor - will forever be with me."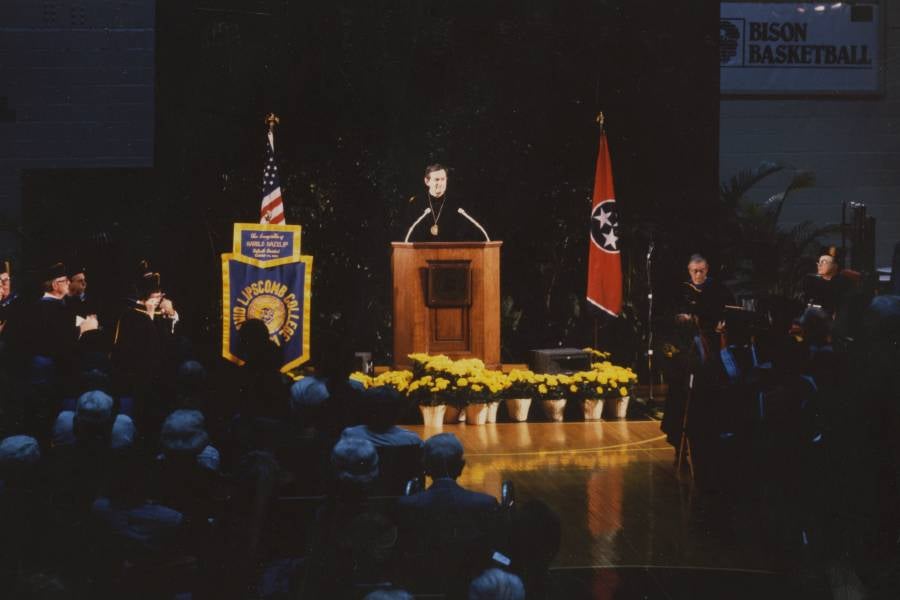 Hazelip became president of Lipscomb University in 1986 after serving 14 years as dean of the Harding Graduate School of Religion in Memphis. He retired from the presidency in 1997 and assumed the role of chancellor. He also served a three-month stint as interim president in summer 2005 and most recently served as president emeritus.
"Harold Hazelip was gifted in preaching God's story, wise in his leading an academic community and gentle in his spirit with people. He provided wise counsel to me as a new president; counsel that can only be provided by someone who had walked the leadership path in a thoughtful and effective way," said L. Randolph Lowry, chancellor and president from 2005-2021. "Lipscomb has evolved into a nationally-recognized university because of the foundation established through his vision, diligent work and careful guidance. We are the beneficiaries of his generous leadership and thank God for his exemplary life."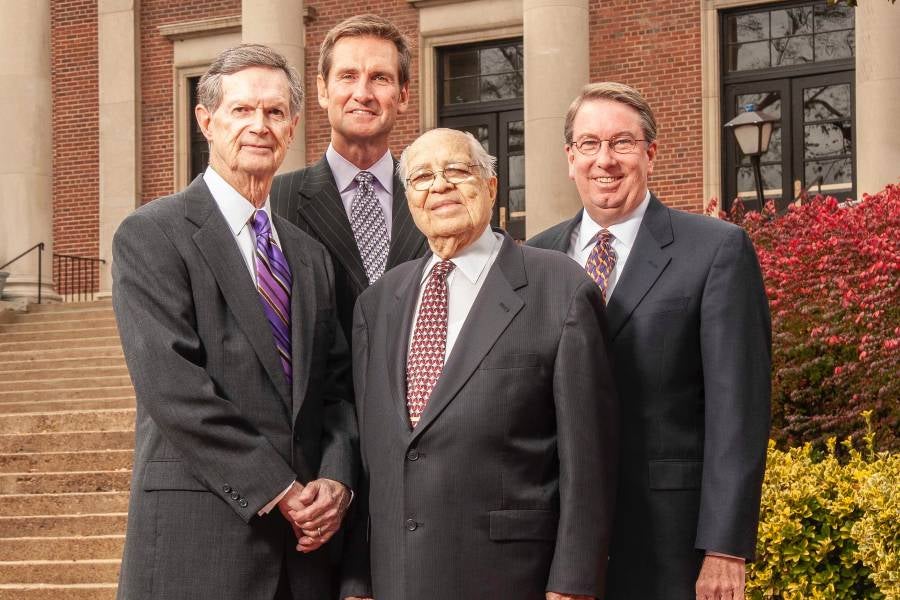 "Harold Hazelip was the consummate Christian gentleman, scholar and leader. His work with The Herald of Truth, Harding Graduate School, and Lipscomb University made an indelible mark on the Kingdom of God in the 20th century," said Stephen F. Flatt, who served as president from 1997-2005. "Harold may be best remembered for leading David Lipscomb College in its transition to Lipscomb University, expanding the University curriculum, raising the academic quality, and making significant physical improvements to the campus."
As president, Hazelip was known for strengthening Lipscomb's identity as a leading academic institution. He remained committed to the Christian values of the founders, and through his example, encouraged students, faculty and staff to deepen their involvement in service and mission. 
During his tenure:
David Lipscomb College became Lipscomb University following Level III accreditation by the Southern Association of Colleges and Schools. This allowed the institution to award accredited master's degrees for the first time in university history. 
A campus-wide fiber optic network, which was cutting-edge for universities at that time, was added. 
The percentage of faculty holding terminal degrees rose from 63 percent to 83 percent.
Master of Arts in Religion and Master of Arts in Education degrees were added.
The Adult Degree Program was added offering bachelor's degree programs for working adults.
The business, music and social work programs were accredited.
The first semester-abroad program was launched. The Lipscomb in Vienna program allowed students to earn a semester's credit abroad.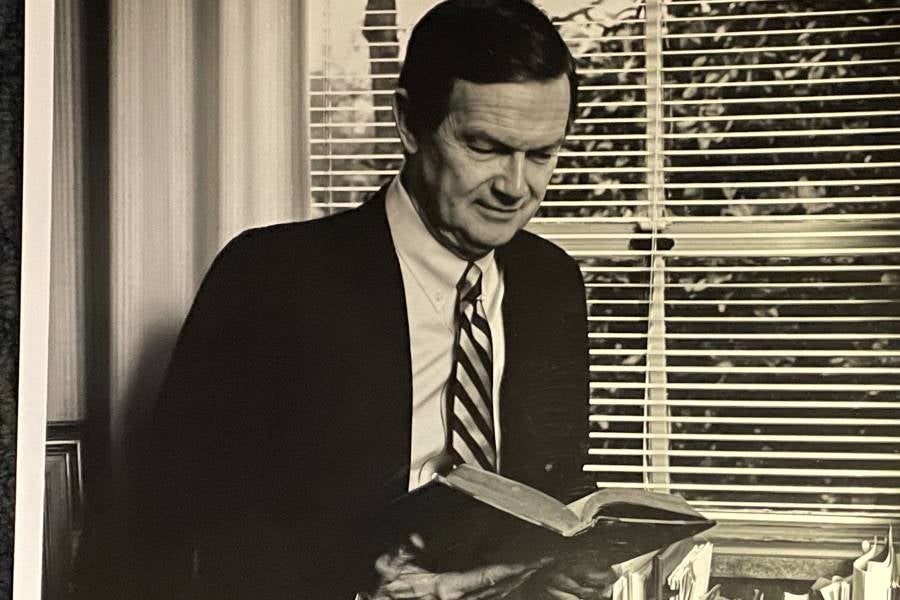 Enrollment topped 2,500 for the first time in university history.
Campus construction and renovation, totaling more than $20 million, included a campus-wide beautification program, a new library, the Student Activities Center, an addition to Swang Center, a new baseball/tennis complex; an addition to the academy; and major renovations of Crisman Memorial Library, Burton Administration Building and McQuiddy Gym.
Successfully navigating a 12-year lawsuit that reached the United States Supreme Court related to municipal bonds Lipscomb received to build the Beaman Library and the Student Activities Center and to add the fiber optic network. 
A new emphasis was placed on service and mission opportunities. Short-term mission trips were added, and the missions program grew quickly.
Minority enrollment more than doubled.
Lipscomb was named one of the top ten liberal arts universities in the South by U.S. News & World Report, and as one of the top ten "best values" in the same region.
Lipscomb was included in the John Templeton Honor Roll of Character Building Colleges and in Peterson's Competitive Colleges.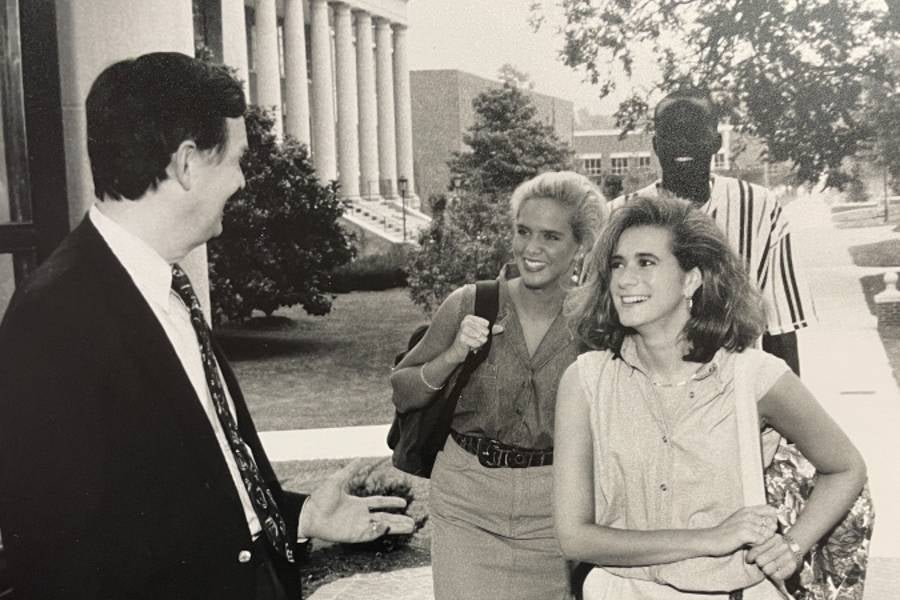 "Dr.  Hazelip was a true academic. From the moment he set foot on campus as president, everyone knew that his passion was raising the academic profile of the university.  He loved faculty members and loved to engage with them. He served as a model for those of us who wanted to be good scholars," remembered W. Craig Bledsoe, provost emeritus. 
"Personally, he was encouraging to me as a young faculty member. He was interested in my research and wanted me to be the best scholar I could be. Above all, he was always gracious and kind and a consummate gentleman," continued Bledsoe. "Even after he was retired and I had become provost, he was interested in how I was doing personally and professionally and how the university was progressing. I will greatly miss him."
"Harold Hazelip was an important part of my life, beginning in 1986, when he became president of Lipscomb University," said Carl McKelvey, former longtime Lipscomb administrator and faculty member. "He was my boss, a great one I might add, and a true friend. He will be missed. Thanks 'Boss' for so many 'Precious Memories.'"
In April 2005, Lipscomb's Graduate Bible Program, housed in the College of Bible & Ministry, was named the Hazelip School of Theology in honor of Hazelip as the result of an endowment established by Lois Renick of Bowling Green in recognition of "his contributions to Lipscomb as well as to Christian education and preaching."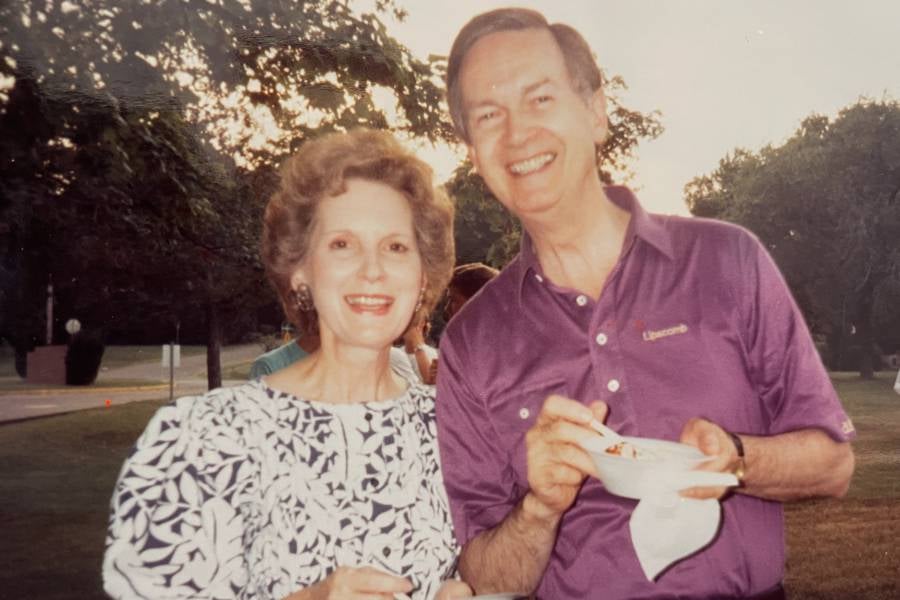 Anonymous donors honored Hazelip in 2015 by establishing the Harold Hazelip Graduate Bible Scholarship in the Hazelip School of Theology. The donors said they wanted to establish the scholarship in recognition of Hazelip's years of service to the university, and to encourage future generations to "follow in his footsteps of scholarship, faith, leadership and service." 
In the late 1940s Hazelip became one of the first people from his rural Kentucky hometown to attend a Christian college. He earned his junior college diploma from Freed-Hardeman University in 1948 and his bachelor's degree from Lipscomb in 1950. He earned the bachelor of divinity, a postgraduate degree, from Southern Baptist Theological Seminary in 1958 and the Ph.D. in religion from the University of Iowa in 1967. He preached for Churches of Christ in Kentucky, Iowa and Tennessee from 1949-1986 and preached by appointment while president at Lipscomb and in his retirement. He served as speaker for the Herald of Truth television series from 1971 through 1992. He is also the author of several books. Hazelip also realized a love for working in education, serving as dean of Harding School of Theology in Memphis from 1972-1986, when he was appointed president of Lipscomb.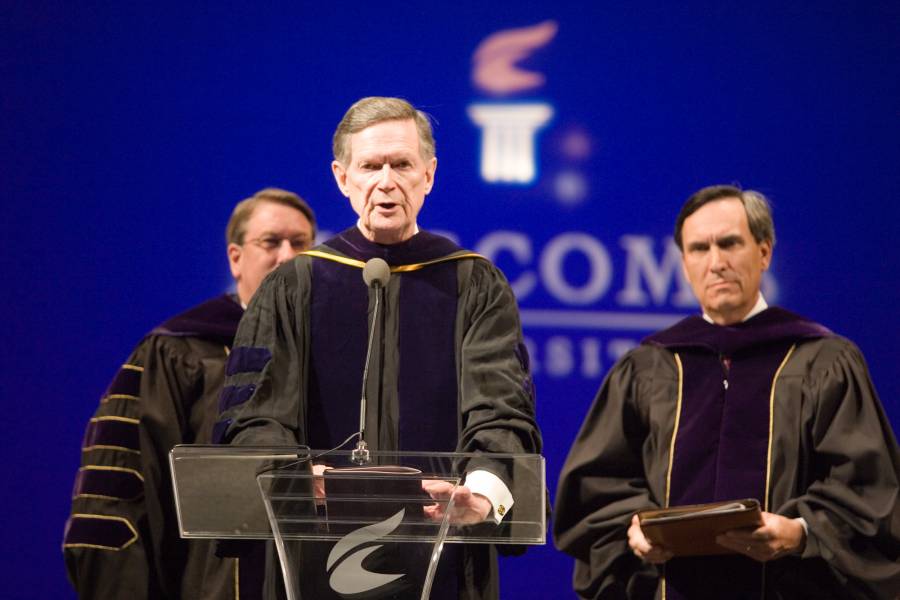 "I didn't realize how purple my blood was until I got back on campus and saw people that I'd known years before as a student who were on the board to discuss the possibility of becoming the president of Lipscomb," Hazelip recalled in a 2016 interview. "The whole love affair with the school which nurtured me when I first left home just reappeared when I set foot back on campus."
Being selected to lead Lipscomb University as president is something that Hazelip said was one of the most meaningful experiences of his life.
"The only place I would have been president and able to keep my hand in teaching was my alma mater," he said. "There was something about coming back to this place and to these people and renewing that relationship and a love affair of the heart that gave me a different feeling. I thought if I could do a good job of this, there aren't many things that would mean more to me than that. I felt a very strong calling here."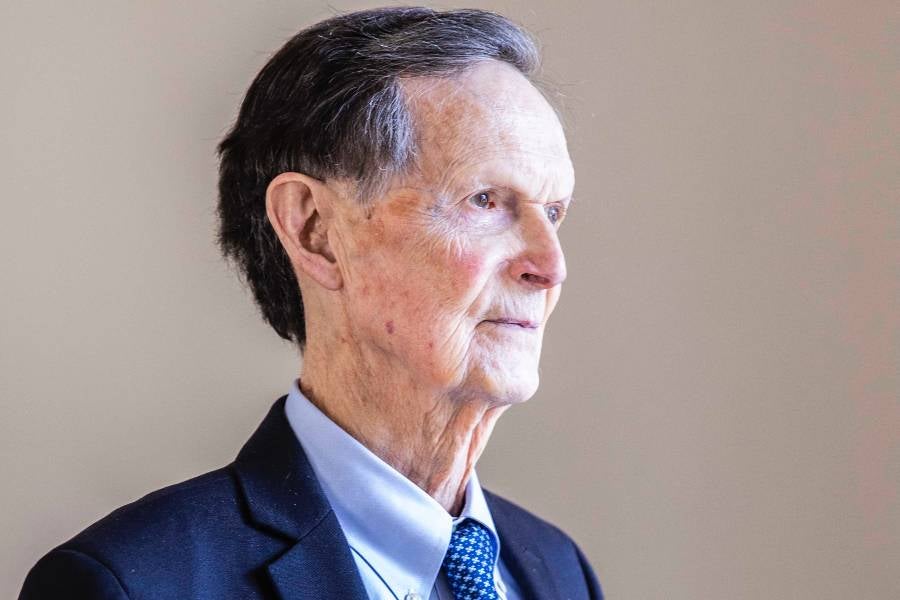 Hazelip is survived by his wife, Helen; children, Pat (Angela) and Jeff (Cheryl); grandchildren, Amanda Binkley (Braden), Colby, Patrick, Andrew and Philip (Ally); and great-grandchildren, Daniel, Eli, Olivia, Sophie and Ava. 
Services will be held Saturday, Sept. 24 at 10 a.m. at the Church of Christ in Green Hills adjacent to the Lipscomb campus. There will be no formal visitation with the family.
The family has asked that memorial donations be made to: Alive Hospice, 1718 Patterson Street, Nashville, TN 37203; Christian Community Services, P.O. Box 40741, Nashville, TN 37204; and Lipscomb University, One University Park Drive, Nashville, TN 37204.