Lipscomb home to record number of veterans, dependents this fall
At Lipscomb, we're committed to supporting veterans' transitions from a life of service to life as a student.
Kim Chaudoin |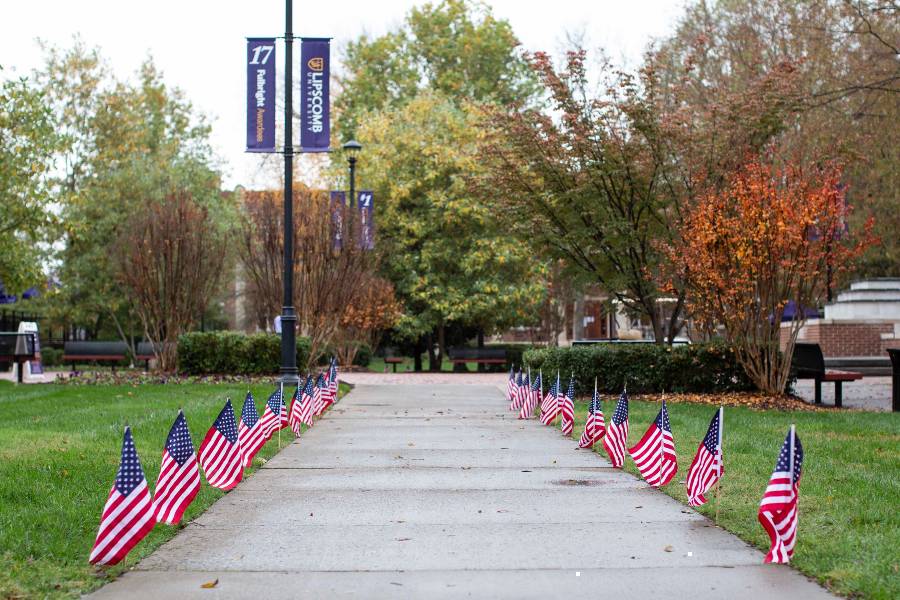 As the nation marks Veteran's Day 2020, Lipscomb University is celebrating its largest enrollment of veterans and dependents of veterans this fall. 
Lipscomb University participates in the Yellow Ribbon Program, a benefit under the Post-9/11 G.I. Bill which provides qualified veterans, or their dependents, undergraduate and graduate degrees tuition-free through their distinguished service to our nation. This fall, 172 veterans and 189 dependents of veterans are enrolled. That total number of 352 veterans and dependents is a record number for Lipscomb.
"Lipscomb University is committed to serving veterans and their families and providing them the opportunity for a meaningful academic experience," said Sam Lynn, director of the Veteran Services Office at Lipscomb. "We have a great team in place to serve our veterans and their families to provide a network of support throughout their college career. We are intentional about forming relationships with our students and military families. So these students come to Lipscomb and stay and we have developed a reputation for being a community that welcomes and serves them."
In addition to Lynn, the Veteran Services Office team includes Jimmie L. Handley, outreach coordinator, Veteran Programs; Billie Scroggins, Veterans Certifying Official; Dianne Frank, project coordinator, Veteran Programs; and Tom Seals, professor of biblical practice. The Veteran Services Office is located on the lower level of Bennett Campus Center. 
"The military background of these individuals has been an incredibly important part of their journeys, and we value the unique perspective you can contribute to our community," he continued. "Lipscomb will provide you with an academically challenging degree program that fits your career goals along with a Christ-centered community to deepen your faith."
Lynn said a Lipscomb education is also affordable for many veterans and their families as through scholarships, discounted tuition rates, participation in the Yellow Ribbon program and liaison with the U.S. Department of Veteran Affairs to help maximize their military benefits.
Lipscomb is a G.I. Job's top Military Friendly School and one of Military Times' Top 25 Best for Vets Business Schools. It was named by Military Times in 2017 the #3 Private School for Vets in the nation and #12 Best for Vets Campus in the nation and received a VETS campus designation from the Tennessee Higher Education Commission. Lipscomb provides a dedicated resource center, a veteran lounge, a dedicated resource center, chaplaincy program for veterans and military families and a Campus Veteran Organization among other programs and services.