Lipscomb athletics is strong on the playing field and in the classroom
Director of academics, coaches' commitment and new designated space ensure athletes continued academic success.
Kim Chaudoin |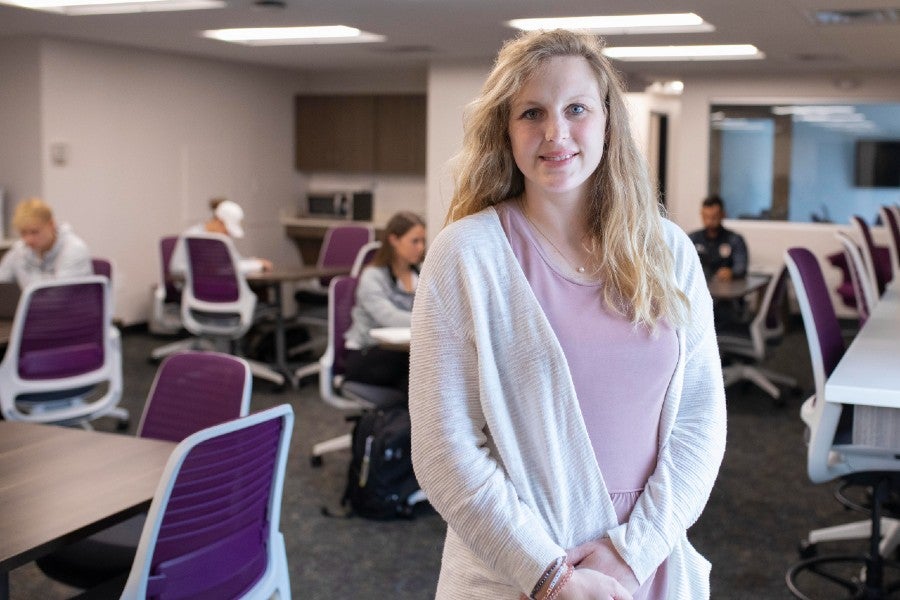 While Lipscomb University's more than 300 student athletes prepare their bodies to be their best on the field of competition through countless hours of practice and training, they are also preparing their minds to be the best in the classroom.
It's easy to see their success in both arenas, given Lipscomb's 92% graduation rate for student athletes.  And they continue to lead the way in excellence in the classroom, claiming the ASUN Conference Academic trophy six times, holding the most recent title awarded for the 2018-19 academic year.
A new-in-2020 designated study space for athletes in the Student Athlete Development Center, along with the continued commitment from coaches and faculty, promises to continue and enhance the Bisons academic excellence in 2021, says Director of Athletics Philip Hutcheson.
"Academic excellence is an integral part of the Bison athletics program and it is a standard that we expect of all of our programs," Hutcheson said. "It begins with our coaches recruiting athletes who are good students and who are committed to holding them to a standard of excellence in the classroom. 
"Many of our coaches go above and beyond in making sure their student athletes are making academic progress and studying. Our student athletes are committed to their academic success. They are disciplined and work hard to accomplish their educational goals. In addition, we as an athletics program support them through programs such as the Student Athlete Development Center. It is a collaborative effort."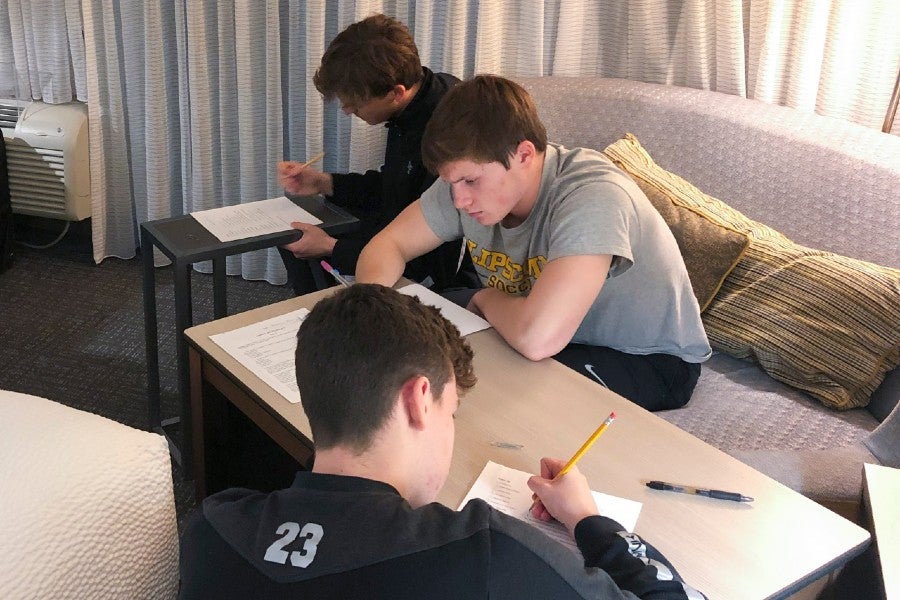 When student athletes are on the road or competing in post-season tournaments, academics are a priority. When the men's soccer team made school history in November 2018 by advancing to the NCAA Division I championship Sweet 16, head coach Charles Morrow made sure his team was not only ready for its biggest game in program history but that they were also preparing for final exams a few days later. 
"While the NCAA tournament and cross country travel seems exciting and glamorous, what most don't see and realize is that school, assignments, and tests do not stop for these players," explains Morrow.  
"The NCAA men's soccer tournament starts around the second week of November and ends around the first week of December.  It is the time of year, academically, where professors are cramming trying to get all the material covered in that last exam before Thanksgiving break and trying to get ready for finals after the break," Morrow said. 
"Our NCAA tournament run ended the Saturday before students returned on Monday. What I saw in the week before break and the week of break was nothing short of amazing."
Morrow credits Lipscomb's faculty with going the extra mile to work with student athletes to be flexible with their travel schedules, such as sending tests on the road to be proctored along with encouragement for the team to do their best on the tests and on the field. He is also proud of the ability of the players to focus and to have the stamina to be dialed in to game prep and academics.  After an NCAA tournament run that had the team criss-crossing the country from Seattle to Orlando to compete, the men's soccer team ended the fall 2018 semester with 3.65 team GPA, setting the bar high for others to follow.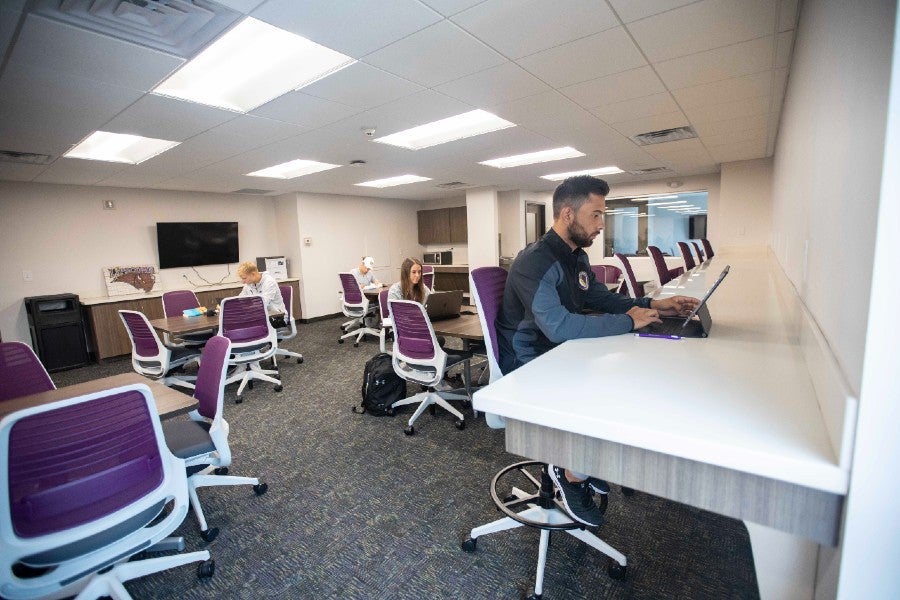 As part of the Lipscomb Athletics team for the past three years along with Lin Garner, who retired from the university in August, Grace Ann Miller, now associate athletic director for academics and senior women's administrator, helped bring national recognition to Lipscomb Athletics' academic excellence. She oversees the Student Athlete Development Center, a vital resource for student athletes even beyond the new space created last year from an existing office space. 
The center is designed as a hub for students to study but also to prepare for life after college. It offers study opportunities, spiritual formation activities, career skills training, instruction in life-skills areas such as personal finance management and a mentoring program. In the future she hopes to add an internship program. 
"Because of the time student athletes spend in practice and on the competition field, their schedules don't often allow them to be able to participate in many of the programs that other students do or to have the same opportunities to participate in internships, which provides valuable learning and professional experience," says Miller. 
"Because they do have a life after college, we want them to be able to have as much of the college experience as possible. Our student athletes also can successfully major in areas that require extra labs and requirements such as nursing and engineering to achieve their career goals while also participating in a fulfilling athletics experience."
In 2020, despite seasons cut short due to the COVID-19 pandemic, the academic accolades continued. Highlights include:
226 Lipscomb student athletes were named to the 2019-20 ASUN Academic Honor Roll for earning a minimum 3.00 GPA on a 4.00 scale during the 2019-20 academic year. Eighty-six percent of Lipscomb's athletes reached the threshold. 
The men's tennis team received a 2020 Intercollegiate Tennis Association All-Academic Team Award and six players earned ITA Scholar-Athlete distinction for having a cumulative GPA of at least 3.5 (individual) a cumulative GPA of 3.2 (team). "I'm so proud of the team for making the most of the moment," head coach Geoff Hernandez said. "Their season was cut short but still found a way to get another win. Academic success is one of the main goals of any student athlete, so this was a nice finish to the 2020 season. Winners win all the time."
For the seventh consecutive year the Lipscomb volleyball program was recognized by the American Volleyball Coaches Association (AVCA) with a Team Academic Award for its success in the classroom for the 2019-20 season. With a combined 3.59 team GPA for 2019-20, the Bisons were one of 227 Division I women's programs honored. 
The Lipscomb men's and women's track and field squad and three individuals were honored by the United States Track and Field and Cross Country Coaches Association with All-Academic awards. Courtney Brenner posted a perfect 4.0 GPA as a dietetics major and Brent Leber compiled a 3.96 GPA as an exercise science major. Both Leber and Brenner were named to the ASUN Indoor All-Academic team and CoSIDA Academic All-District, while Benner won the ASUN Indoor Scholar-Athlete of the Year award for the second year in a row. 
The women's basketball team was ranked eighth in the nation in the Women's Basketball Coaches Association's Academic Top 25 with a 3.714 team GPA. Lipscomb was the only team in the ASUN ranked in the top 25.
The women's golf team had a program-best five student-athletes named All-American Scholars by the Women's Golf Coaches Association for 2019-20. "I couldn't be more proud of how they represent the program and our athletic department every day in the classroom," says head coach Jesse Lawley. "It's such a privilege day in and day out to coach them, and this is a great representation of what Lipscomb women's golf stands for when we say student athlete."
The men's tennis and volleyball programs were recognized by the NCAA for scoring in the Top 10% of the most recent Division I Academic Progress Rates. Men's tennis earns its second Top-10 recognition in program history (2005-06), while volleyball makes its inaugural appearance on the list. Overall, Lipscomb has seen its department recognized 27 times since becoming a full Division I member in 2004.
For more news about Lipscomb Athletics, visit lipscombsports.com.