Lipscomb alumna Turnham leads NCAA D-1 Women's Basketball Committee
Lipscomb alumni are leading the way in their professions across the country and around the world.
Rhonda Minton | Office of Advancement |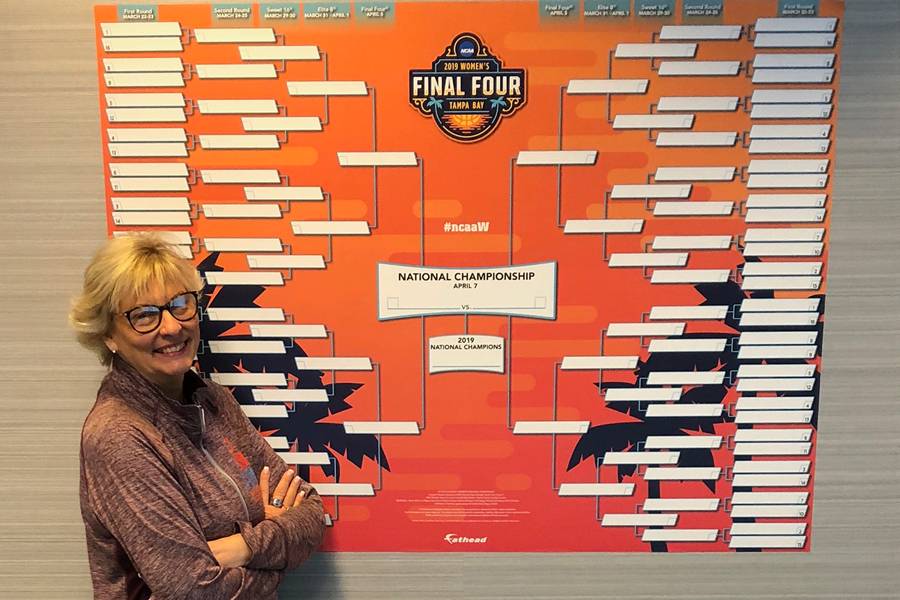 When it comes to advocating leadership opportunities for women in athletics, Lipscomb University alumna Diane Cummings Turnham ('80) is definitely a champion. As one who claims she "stumbled into college athletics," Turnham serves as senior associate athletics director and senior women's administrator at Middle Tennessee State University, and she is enjoying a nearly 40-year career that few can rival. 
Turnham's latest accolade involves her selection as chairwoman for the NCAA Division I Women's Basketball Committee for the 2019-20 season.
"When I sit back and think about it all, it's just incredible to me," she said during a recent interview at MTSU's Kennon Hall of Fame. "I started out with plans to be an elementary school teacher, because I love kids. 
"But God had a completely different plan for me, a plan far better than I could have ever imagined," said Turnham, who earned a Bachelor of Science degree in elementary education from Lipscomb. "He led me to women's basketball and college athletics, and as my career has advanced, I've always been willing to raise my hand and take on more."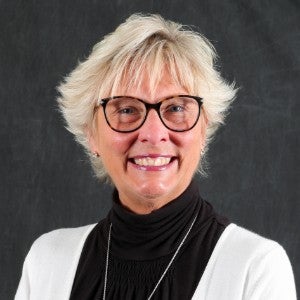 That "taking advantage of every opportunity" outlook led the former Lady Bison basketball player from her Lipscomb playing days and student teaching at Lipscomb elementary school, to enrolling in a master's degree program at Austin Peay State University. At APSU, Turnham was hired as an assistant basketball coach. 
After APSU, Turnham headed to MTSU in 1982 to work for women's basketball head coach Larry Joe Inman. Inman was her high school coach at Mount Juliet, and Turnham credits him with teaching her everything she knows about basketball. As she was accepting the position as MTSU's first full-time assistant women's basketball coach, Turnham was sitting with MTSU's athletics director Larry Earle, who revealed an additional element to the role.
"Coach Earle said, 'Did I mention we were going to let you coach volleyball, too?'" she said.  "I'd never played volleyball in my life, and I didn't know much about it other than I thought it had six players and used a white ball." 
Since that day in Earle's office, Turnham is approaching four decades in MTSU athletics. She built the volleyball program from the ground up, becoming the third winningest coach in the program's history. She helped lead the Lady Raiders basketball squad to eight Ohio Valley Conference championships and six NCAA tournament appearances. 
After stepping down from coaching, Turnham moved into administration, serving as assistant athletic director and compliance director. Turnham was elected into the Blue Raiders Hall of Fame in 2012. In 2014, she was promoted to her current position, where she also serves as the deputy Title IX coordinator for athletics. 
Her involvement in committee work for the NCAA began about 15 years ago. When Wright Waters, former commissioner of the Sun Belt Conference, mentioned an open opportunity on the NCAA Division 1 Women's Soccer Committee, Turnham again raised her hand. She served on the soccer committee from 2004 to 2008, leading as chairwoman for the 2008 season. From 2009 to 2012, Turnham served on the NCAA Division I Women's Volleyball Committee, serving as its chairwoman for 2010 to 2012. 
This year is her fifth and last year to serve on the women's basketball committee. Turnham said her role as chair is to run the meetings and "keep all of us on the committee moving in the right direction." The committee work is a "labor of love" that requires a lot of work and time. When basketball season starts, Turnham said she'll see around 300 games a year. 
"My family basically ignores me from Thursday through Monday nights during the season," she said with a laugh. "But I want to see every team that could be considered for the tournament. Each of the committee members invests the hours to get it right."
Turnham admits that being behind the scenes of the NCAA tournament is an incredible experience. However, her true joy comes from helping develop, encourage and promote young women into leadership positions in athletics. During a recent presentation to young professionals, Turnham said she stressed the importance of looking for opportunities to get involved, volunteering for projects and taking initiative to create a fulfilling career. 
"You have to get out there, build your skills, network and put effort into developing relationships to help get you where you want to go," she said.
"The passage of Title IX gave women equal opportunity in athletics, and there's a great need in keeping great women in college athletics leadership roles," she said. "I'm proud of where women's basketball is today and where we can take women's athletics as a whole. We're doing a lot of the right things through the program build future leaders, and that's important to the future of the women's game."