LIFE offers first-of-its-kind master's degree
Kasie Corley |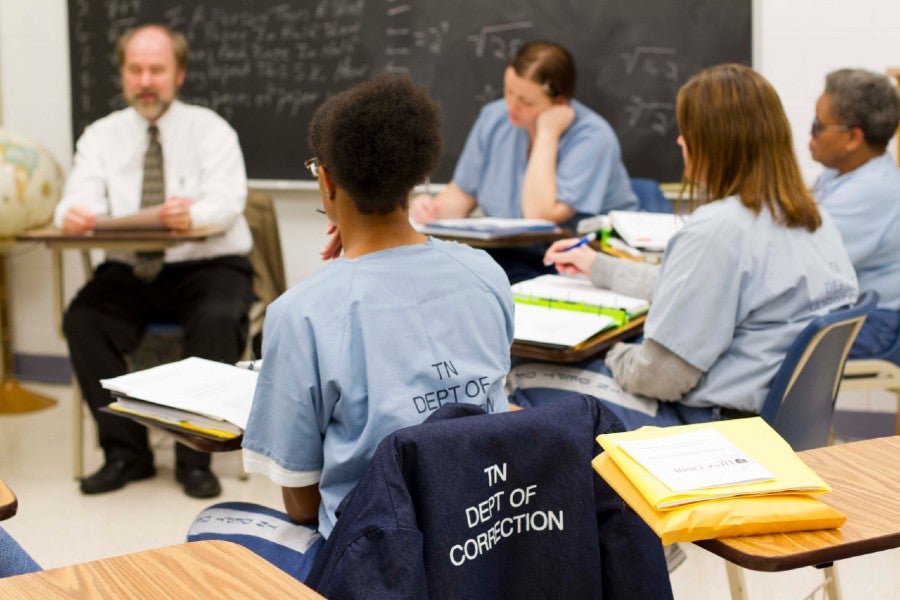 Master of Arts in Christian Ministry will teach TPW residents to minister effectively behind prison walls
Lipscomb University's LIFE program (the Lipscomb Initiative for Education), a unique academic experience where traditional students enroll in liberal arts courses held at the Tennessee Prison for Women and study alongside those who reside in the prison, has taken a new step into graduate education this summer.
Eight traditional graduate students are enrolled alongside nine TPW residents in the new Master of Arts in Christian Ministry with an emphasis in spiritual care, which will hold all its courses at the prison over a four-year period.
According to research by LIFE program director Kate Watkins, there is only one other for-credit higher education program in a U.S. prison that offers master-level courses on-site and that program does not incorporate interaction with traditional students.
Since 2007, the LIFE program has provided for-credit associates and bachelor's courses to almost 40 TPW residents. Four of those enrolled in the master's program received their bachelor's from Lipscomb this past December, a degree they spent 10 years working on from within the prison walls.
The TPW students often inspire the traditional students to work harder in their courses and to appreciate the life opportunities they have had, Watkins said. "TPW students never take the opportunity for higher education for granted" she said.
Lipscomb's traditional students are afforded an eye-opening experience to get to know and befriend their classmates who reside at the prison. Traditional students indicate that participating in the LIFE program has affected their life choices well after completing the class, she said.
"Students in the LIFE program often conclude that regardless of where they live, inside or outside of the prison, they are more alike than they are different," adds Watkins.
Now the TPW students with a bachelor's degree have the opportunity to move on to a master's degree.
Housed in the Hazelip School of Theology, this degree will use a cohort model, with 36-hours of courses to provide a deeply communal learning experience over the period of several years. The curriculum addresses biblical interpretation, theological reflection, religious and cross-cultural dialogue, spiritual direction, coaching skills, conflict management and other forms of pastoral care.
For traditional students, the degree is designed for the individual who desires to be better equipped to be present for others in a spiritual way, such as elders, therapists, business professionals, school teachers, etc. If one wants to learn to listen and love well, the prison is a good place to do this, Watkins said.
"This degree is for the person who finds themselves doing theological work without formal theological training," Watkins said. Professionals such as therapists and educators and lay church leaders often find themselves in this position, she said.
Inside the prison, TPW residents have just as many opportunities to minister among their fellow residents as those outside the prison, she said. "If these women could be equipped with the skills to be mini-chaplains inside, imagine the opportunities they will have to spread the leaven of love and faith throughout the prison."
Nashville marriage and family therapist Terra Tucker is one of the eight traditional students enrolled in the new offering. A volunteer in the LIFE program for three years, her decision to enter the master's program was easy. "I prayed about it and God was like, 'Yes.' Being able to learn with these women, the spiritual aspect of that, it's just priceless," she said.
Tucker describes the unique experience available in only this format. "God changed my heart through being there and taught me more about His love, His mercy, His grace, and how He loves people."
Tucker felt she was called to ministry before she was called to be a therapist. "I believe that if you're called to ministry, and God is nudging your heart, that this would be the best opportunity to learn through this master's program," she said.
Outside students in the program do have additional logistics to consider in regard to arriving and departing class. "Yes, you go through security. Yes, you get patted down. It's comparable to going through airport security to get to class, but it's worth it," explained Tucker.
"This is a Kingdom kind of opportunity. I believe in it because something gets your heart. It's something God does. It changes your perspective on that environment. It's life altering. I don't think there is anything that can compare.
"For years, I've seen personal situations where having the information, training and skills for pastoral care was very important," said Watkins. Often situations of loss, crisis and struggling. "This program allows all students to learn from the narratives of others, the richness of hope, and the presence of God."