IDEAL program serves as model, partner for Beirut university
Kim Chaudoin |
When Lipscomb University's College of Education launched the IDEAL (Igniting the Dream of Education and Access at Lipscomb) Program in 2013, administrators believed the program would open doors for students with intellectual and developmental disabilities. 
In January 2014, the first cohort of students enrolled in the IDEAL program and since that time, 55 students have earned their Certificates of Career Exploration. While at Lipscomb, these students have grown in knowledge, obtained job experience, learned life lessons, developed independence and gained confidence as part of their college experience, providing a good foundation for what is next on their life's journeys.
But program organizers also dreamed of inspiring other colleges and universities to launch similar programs so that even more students across the country and around the world have an opportunity to experience college. That dream became a reality this past fall with the launch of a similar program at Notre Dame University-Louaize (NDU), in Beirut, Lebanon. 
Deborah Boyd, dean emerita of the College of Education, and Misty Parsley, director of special education programs at Lipscomb and IDEAL faculty director, have worked with officials from the Lebanese Society for Educational & Social Development (LSESD) since 2019 to provide guidance and expertise in developing a similar program at NDU. This spring, Lipscomb signed an agreement with LSESD to be the curriculum partner for the program, which is called IDEAL/SKILD (Smart Kids with Learning Differences), and started with nine students in the fall.
"We are honored to partner with our colleagues in Lebanon to help establish a program there to reach students who are eager to learn but who may not have the opportunity to pursue their dreams of attending college," says Boyd. "It has been very meaningful to have the opportunity to share our experiences, best practices and lessons learned from our experience at Lipscomb to help shape the IDEAL/SKILD program at NDU."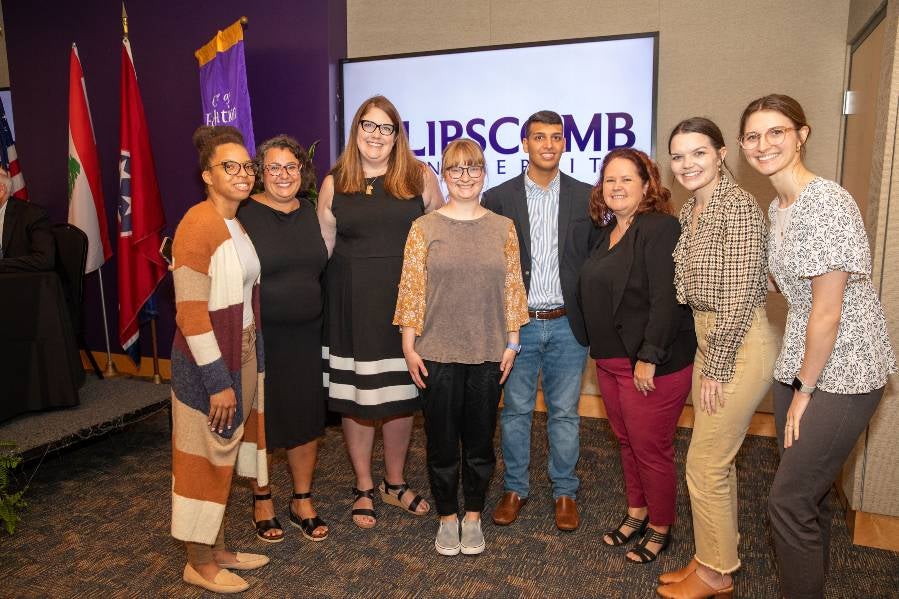 "From the very beginnings of Lipscomb's IDEAL program, we have hoped that what we were doing here would be a model for and inspiration to others who want to serve those with intellectual and developmental disabilities," adds Parsley. "It is humbling to know that what we are doing at Lipscomb is literally making a difference in the lives of others thousands of miles away."
Nabil Costa, CEO of LSESD, learned about Lipscomb's program and initially reached out to Boyd to learn more about Lipscomb's IDEAL program. Costa is dedicated to working with students with disabilities because his son, Christopher, has autism. Costa and Father Bechara Khoury, president of Notre Dame University-Louaize, visited Lipscomb in December to meet with IDEAL faculty, staff and students to learn more about Lipscomb's program and to tour the campus. Costa returned to Nashville in May with his son to formally sign a memorandum of understanding between LSESD and Lipscomb to be curriculum partners and to provide an update on the first year of the NDU program.
Costa first connected with Lipscomb's College of Education about four years ago when he was on campus meeting with someone in the College of Bible & Ministry. He inquired about any programming Lipscomb had in place for intellectually and developmentally delayed students. 
"So he was delivered into Deborah Boyd's office when she was dean and she called me and a few others from the College of Education to meet with Nabil, who shared his dream, and this collaboration began," recalls Parsley. 
Parsley explains that at the time of the visit Costa's son, Christopher, was nearing high school graduation and he thought, "there's got to be something next" for him.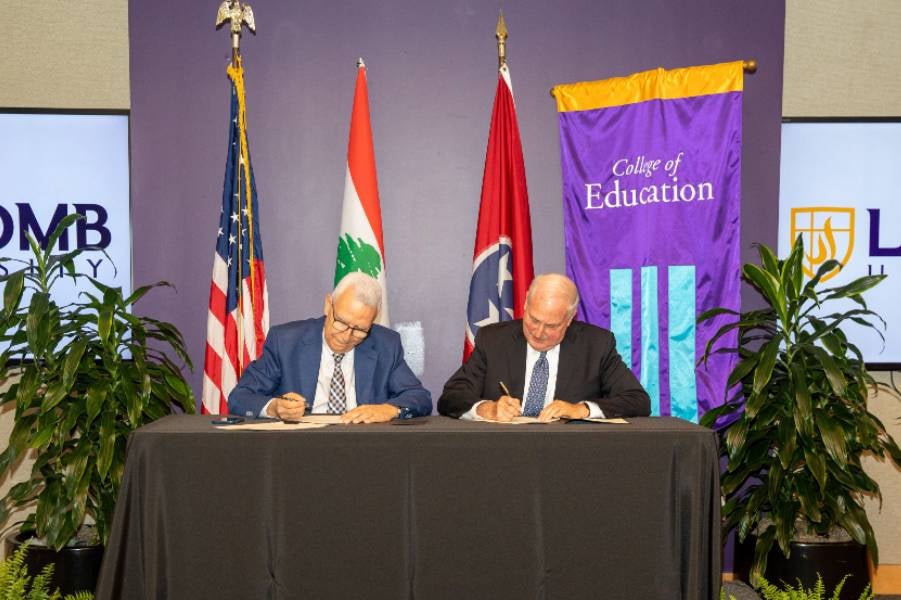 "So, we told him all about the IDEAL program," she says. "And I think from that moment, his dream was to bring the IDEAL program to Beirut, so that students like Christopher could go to college as well. He fell in love with the IDEAL program here at Lipscomb and knows how important that is to our university and to our students. Inspired by his son, Nabil had a passion to enhance services for people with disabilities in his country. I was inspired by his passion."
In fall 2019, Boyd and Parsley had plans to visit Costa in Beirut to provide counsel for developing a program similar to IDEAL there. Then an economic crisis erupted that led to major protests and other unrest in Lebanon, and they decided to postpone their trip. And then COVID-19 hit. So, Boyd and Parsley have yet to make that trip. 
But the Lipscomb team has done "everything we can to help them build the IDEAL program in Beirut," says Parsley. They have shared materials and curriculum, hosted someone from the NDU team on campus for a week, had several zoom calls over the last year, have been available via email to answer questions and "lots of prayers."
"We're just really excited that it has happened and that Nabil has made his dream come to fruition," reflects Parsley.
Costa shared his gratitude for Lipscomb's partnership in bringing a college program for those with intellectual and developmental disabilities toLebanon. 
"I cannot tell you how much I appreciate all that you have done. There is no way to value what you've done … there is no value in dollars. It's precious. You have transferred the passion, the heart and most importantly practical Christianity to our students in Lebanon," says Costa. "Thank you from all my heart … you are a gift from God. We are indebted to Lipscomb for all you have given to us."
Nabil's son, Christopher, is currently enrolled and just completed his first year in NDU's IDEAL program. 
"I like the program because it has allowed me to enter university," he shares during the visit to Lipscomb. "Thanks to the help of Lipscomb University, I have seen many doors open for me and my fellow classmates. We have been able to participate in many internships and learn life skills and personal skills. This program has brought so much happiness to my life. And I just want to say thank you, for me and my fellow students."
Learn more about Lipscomb's IDEAL program here.