Health science programs consolidated into renovated Hughes Center
The James D. Hughes Center, a 23,500-square-foot building nestled between the Nursing and Health Science Center and the Pharmaceutical Sciences Research Center, was renovated this past summer to become the hub of all of Lipscomb's health science programs on campus.
Janel Shoun-Smith | 615.966.7078 |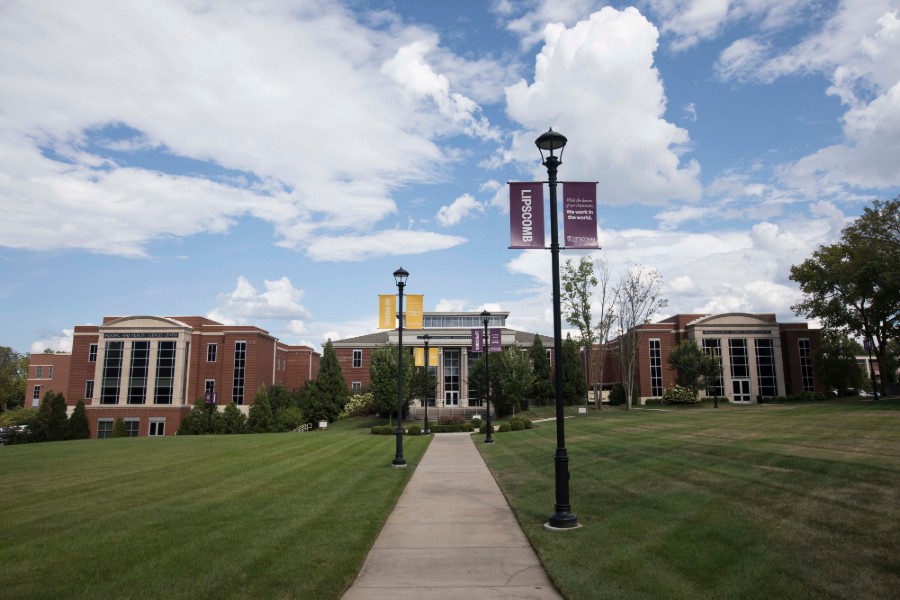 The James D. Hughes Center, a 23,500-square-foot building nestled between the Nursing and Health Science Center and the Pharmaceutical Sciences Research Center, was renovated this past summer to become the hub of all of Lipscomb's health science programs on campus.
The new School of Physician Assistant Studies (launched this past fall), the Department of Nutrition and Kinesiology and the vice provost's office for health affairs, are now all located in Hughes, positioned within a line of buildings that also serves The School of Nursing, the College of Pharmacy and pharmacy research.
The renovation provided new faculty offices, three classrooms and five spacious labs: the anatomy lab for all health science programs, the nutrition program's foods lab and the kinesiology program's cardiopulmonary-metabolic, strength and conditioning and body composition, all with a modern professional look that reflects the cutting-edge research and instruction going on within the building.
"This consolidation is part of a strategic plan which creates expanded resources and collaboration for growth," said Roger Davis, vice provost for health affairs. "With faculty from multiple disciplines in closer proximity, the potential for the sharing of lectures, practice laboratories, classrooms and research facilities is greater. It also provides synergy for broader faculty interaction and collaboration to enhance interprofessional education opportunities, the lynchpin for progressive models of health science education.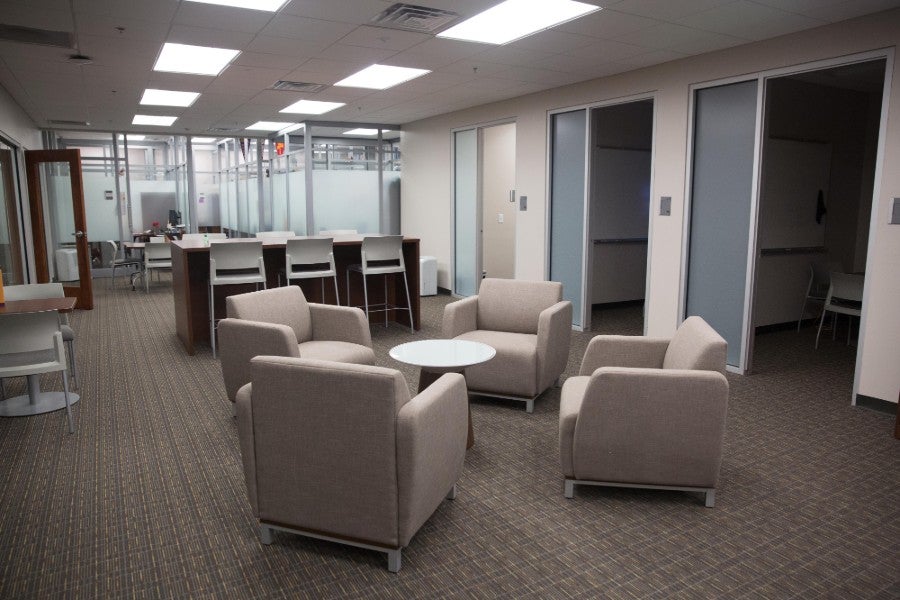 "With the Hughes Center an environment has been created for significant new permanent laboratory space, and concentration of these assets contributes to a more efficient and cost-effective process for education," he said.
The anatomy lab is large enough to allow every PA student hands-on dissection with one cadaver for every five students, a ratio far above most other physician assistant programs, said Stephen Heffington, program director of the PA school.
"This lab is really our centerpiece. It is one of the best you can find at a PA school not associated with a medical school," he said.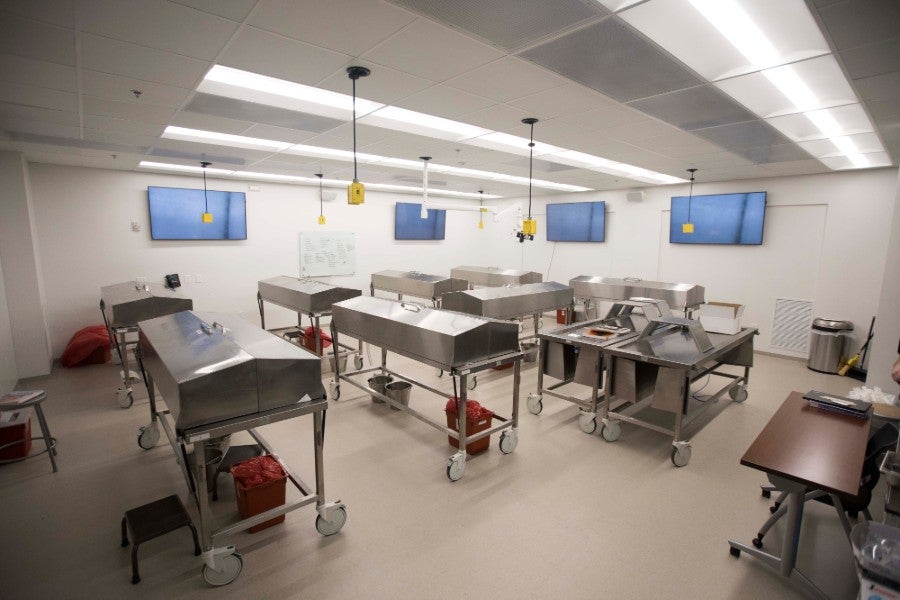 It also includes an overhead, mobile camera and a handheld camera, both with wireless links to six 65-inch TV screens throughout the lab so students can see and compare multiple dissections and demonstrations, as well an environmental control system that reduces fumes by circulating air every two minutes.
"The new anatomy lab will serve as the cornerstone for all future growth in Lipscomb's health science education programs," said Davis, who has advocated for a new cutting-edge anatomy lab for a decade.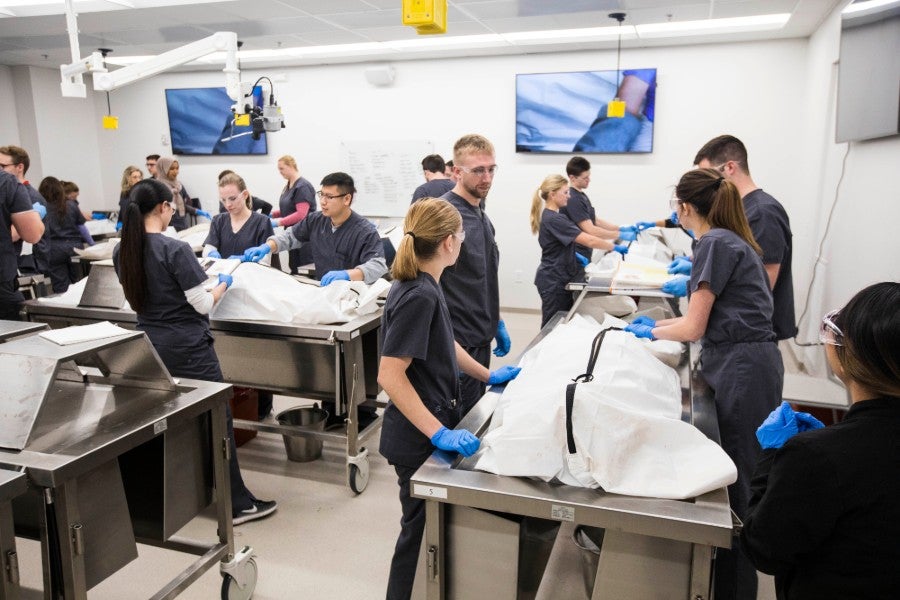 The foods lab is used by nutrition majors, sports nutrition dietetic interns who serve Lipscomb's athletics department, students who take Basic Foods as a science and math elective and students enrolled in the cooking skills course in the IDEAL (Igniting the Dream of Education and Access at Lipscomb) program for young adults with intellectual and developmental disabilities.
The lab includes a large pantry space, cubbies for students' belongings and an Americans with Disabilities Act-compliant station. Mobile furniture allows for multiple uses for the lab and more collaboration among students, and the vaulted ceilings allow for a lot of natural lighting, an aspect students enjoy, Marshall said.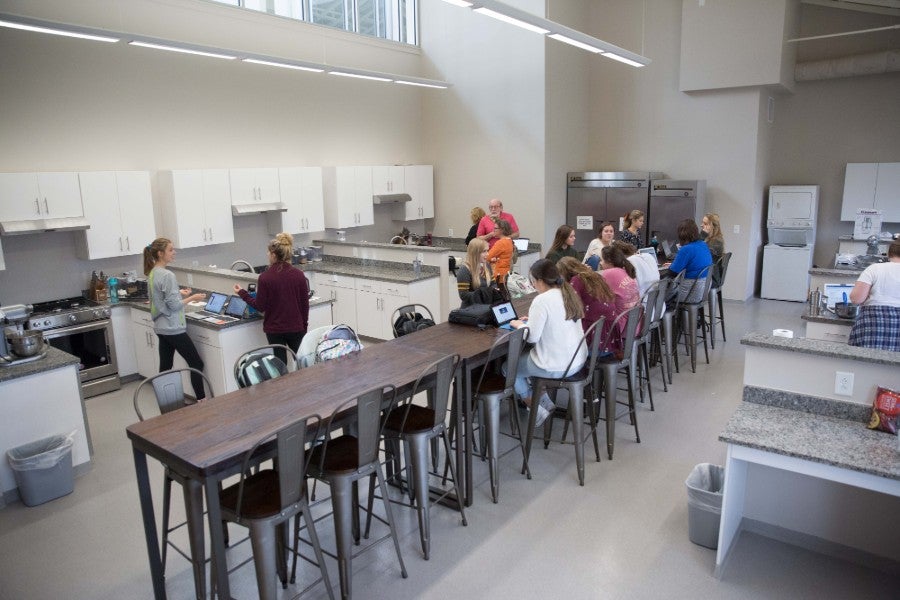 The foods lab features six cooking and prep stations, allowing up to 24 students to use the space at one time, said Autumn Marshall, chair of the nutrition and kinesiology department. Each station features stainless steel gas appliances, granite countertops and enough space for each student group to maneuver.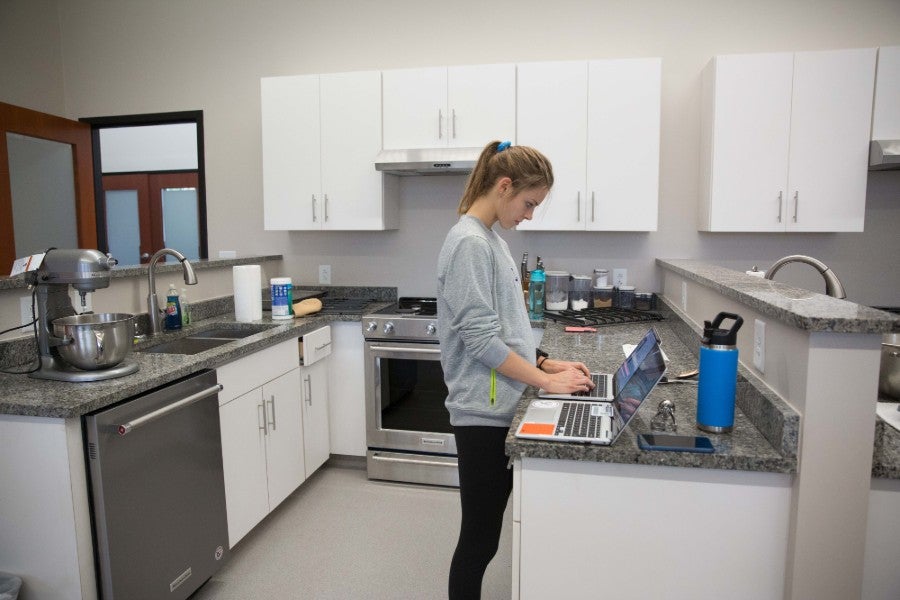 Two new treadmills; a spirometry system to test lung function; two weight racks; leg press, leg extension and lateral pulldown machines and a full set of adjustable dumbbells, have been added to the extensive equipment the human performance labs already had available for students to use in their research studies, said Ruth Henry, vice chair of kinesiology and nutrition.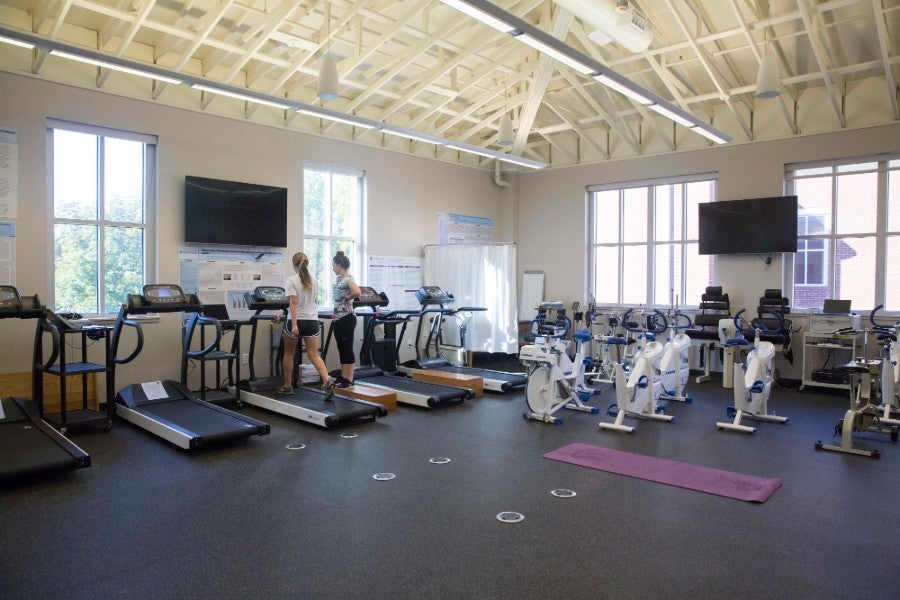 Hughes allows for more square footage in all three kinesiology labs and a blood draw area, five treadmills, nine stationary bikes, EKG equipment and the spirometry equipment in the third-floor cardio-metabolic lab. This lab includes three TV screens that maximizes professors' ability to teach techniques and protocols while students are using the equipment, said Henry.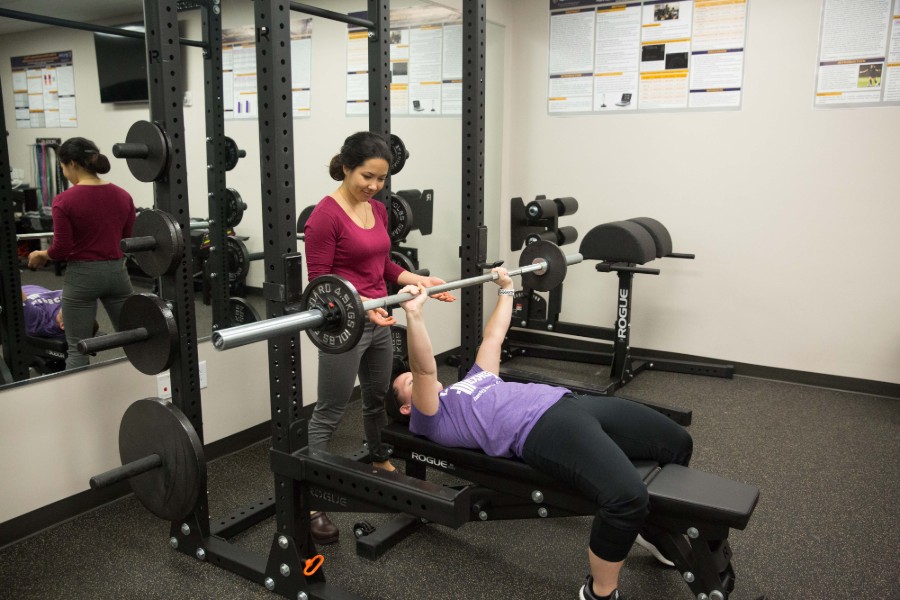 New equipment in the strength and conditioning lab "allows us to do prolonged resistance training interventions, instead of just investigating how the body responds to one bout of exercise," said Jeremy Townsend, assistant professor of kinesiology who oversees the lab. "This semester we have also added the capability to perform muscle biopsies, allowing our research teams to not only measure functional applied outcomes of various interventions, but to explore the biological mechanisms responsible for these outcomes."
The body composition lab, with a DEXA (dual-energy x-ray absorptiometry scanner), two InBody Bioelectric Impedence Analyzers and a Body Pod for air displacement plethysmography, was provided a more private set-up, for the convenience of research subjects and the researchers.
In addition to the vice provost's office, Hughes now holds 22 offices for faculty, a space for the director of interprofessional education and several common areas and kitchen facilities for students to study, take breaks or relax.