Graduation files: Thompson seeks to serve others with grad degree, LIFE experience
Kim Chaudoin |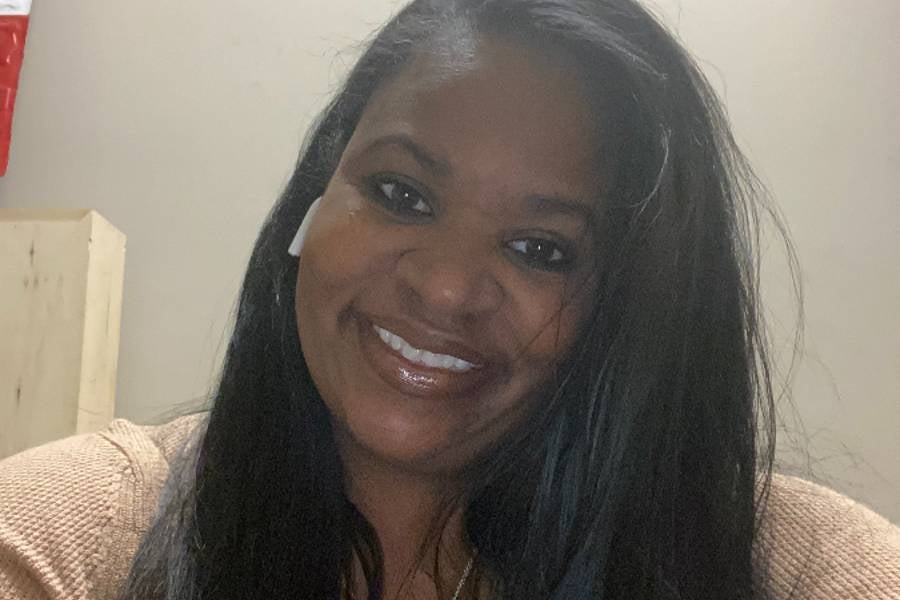 When Adrianne Thompson walked across the Allen Arena stage to receive her diploma on Dec. 18, it symbolized much more than the culmination of several years of hard work and study to complete a Master of Arts in Christian Ministry (MACM). It was a moment of redemption. 
"To walk across that stage … it means that God's promises in Isaiah 43:1-2 are true and are true for me, too," Thompson explains. "'...Fear not, for I have redeemed you; I have called you by your name. You are mine. When you pass through the waters, I will be with you; And through the rivers, they shall not overflow you. When you walk through the fire, you shall not be burned.'"
A Knoxville native, Thompson received her undergraduate degree in social work from the University of Tennessee-Knoxville in 1993. Nearly three decades later, she completed her graduate degree from Lipscomb University. The quest to earn her master's degree began not on a traditional campus with ivy-covered walls or through a robust online program. It began in the Debra K. Johnson Rehabilitation Center (DJRC) in Nashville, where Thompson was a resident. 
In 2018, Lipscomb University launched the first-of-its-kind graduate program in a prison in the nation when they began the MACM program through the Lipscomb LIFE program at DJRC. Lipscomb LIFE is an initiative in which "inside" students, residents of Debra K. Johnson Rehabilitation Center, and outside students, traditional Lipscomb University students, take courses alongside one another inside the facility and earn college credit. 
Thompson began the program as an inside student in May 2018 as a member of the program's first cohort. She began work on her master's degree one course at a time, every Wednesday night for nearly three years.
With graduation, her success serves as a beacon of hope to her friends who remain inside. — Kate Watkins, former executive director of Lipscomb LIFE
"Working on a master's degree as an inside student provided me with a sense of normalcy," she says. "For those two hours I could mentally escape the chaos of the inside and feel human again."
The LIFE program provided Thompson more than just an opportunity to make academic progress toward a degree. 
"The LIFE Program was the place where God's goodness was apparent in the midst of all my suffering. It was the place where I allowed myself to embrace my flaws and to learn to become unapologetically whomever God was destined me to become," says Thompson. "And, it created a space that allowed my authentic self and my flaws to collide while creating a dance that became magical once I learned to follow God's lead."
On April 15, 2021, Thompson was released. Upon her release she set a goal to complete her master's degree by the end of fall semester — only eight months later. So she enrolled at Lipscomb this past summer as a traditional student — an outside student — and took full time loads for the summer term and fall semester finishing the task she started several years earlier in the most unlikely of places. As a member of the first MACM cohort at DJRC, she also made university history as the first graduate of this unique program.  
Kate Watkins, former executive director of the Lipscomb LIFE program, says Thompson is a role model for others and her journey provides hope to those who need it most.
All it takes sometimes is just one person to believe in your potential. — Adrianne Thompson ('21)
"From the beginning, Adrianne humbly committed herself to excellence in the academic process although higher education in prison is challenging without access to the internet. As a student she quickly became a teacher to her faculty and a model of tenacity for her classmates," Watkins says. 
"With graduation, her success serves as a beacon of hope to her friends who remain inside. They know that the odds were against her and she did it anyway," she continues. "Her success will bolster them on their hardest days. I have no doubt that graduate Adrianne Thompson will use her education for the good of others as she seeks to bring God's Kingdom to earth as it is in heaven. We are so very proud that she is a part of the Lipscomb University community and celebrate that she is the first graduate of this unique program."   
As a newly minted graduate, Thompson says she now plans to "advocate, support the community and work with men and women returning to society by marrying both my degree in Social Work with my Christian Ministry degree" and to be a light to others as the LIFE program was to her.
"Prison is a place where you are stripped of all dignity and self-worth," Thompson explains. "You begin to scrutinize yourself and wonder if you will ever be as sharp as you once were or even accepted. Returning citizens can galvanize the workforce with programs like the Lipscomb LIFE Program and Lipscomb University. All it takes sometimes is just one person to believe in your potential."