From the graduation files: Flynt seeks to serve others in the nursing field while competing on the track
Judson Chaudoin |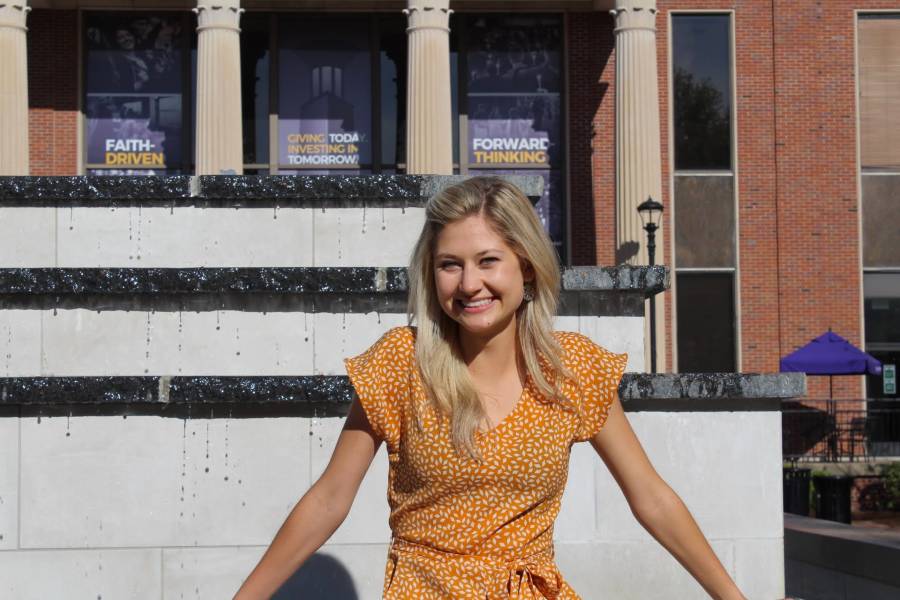 When Lauren Flynt is not competing in a track meet, conditioning in the weight room or practicing with her team, she is hard at work earning her nursing degree. And on Friday, May 7, Flynt will successfully cross the finish line as she receives her Bachelor of Science in Nursing degree during commencement.
A native of Lawrenceville, Georgia, Flynt is a member of Lipscomb's cross country team and the indoor and outdoor track and field teams. In the fall, she competes in the 5000m and 6000m cross country events. During the winter indoor track and field season and the spring outdoor season, Flynt competes in the mile, 3000m and 5000m events. "Being a part of these teams, I compete year round," she explains. "We are kept busy between practicing daily, both running and weight training, and traveling to races on the weekends."
Flynt did not decide to pursue a nursing major until the summer before her junior year. Originally a dietetics major, she decided to make the switch after taking a required microbiology course.
"When I was 16, I had an experience as the patient in the hospital, and my wonderful team of nurses and healthcare professionals inspired me to pursue a healthcare and helping profession," says Flynt. "While taking microbiology over the summer, a class I needed for my dietetics degree, my eyes were opened to the vast world of knowledge in health that I was missing perspective of. I felt empowered when I learned about the details of life and the human body. I realized that the role of nursing perfectly couples this empowerment of knowledge with humility of servanthood, carrying a holistic approach to patient care. Pursuing a nursing major is the best decision I have ever made."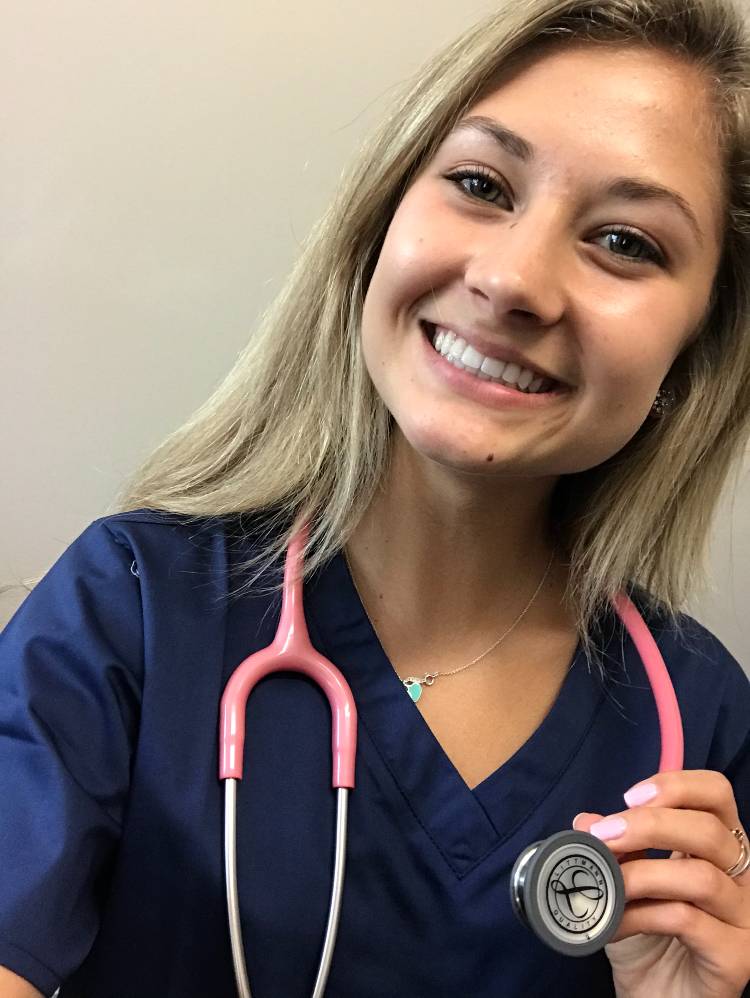 Initially, Flynt doubted her ability to be a nurse because she admits she was scared of blood and needles among other aspects of the profession. "Something I learned, though, is this is a muscle that can be trained," she explains. "A little change in perspective and compassion for the person you are caring for can go a long way. As our executive director Dr. (Chelsia) Harris always says, 'God does not call the equipped, he equips the called.' It is a blessing and honor to be called to this profession."
As a student athlete competing on three teams, pursuing a nursing degree may seem challenging. "Focus, dedication and perseverance" are key attributes to complete a nursing degree, she says, and her experience as a student athlete prepared her for "doing hard things."
"Luckily, my sport prepared me well in building these qualities and gaining confidence in my ability to do hard things," admits Flynt. "Although it has been a challenge and a difficult balancing act at times, I believe athletics contributed to my ability to be successful in school, and it has been truly rewarding. The greatest challenges presented in the busy schedule, and devoting equal amounts of focus, energy and determination to both aspects of my life." 
Joining Flynt on her journey through the nursing program are her best friends and fellow teammates, Grace Lahey and Kayla Rudie. "We spent many weeks of running 60+ miles together, studying on our long bus rides for competitions, and completing our long clinical hours at the hospital together. I am so thankful for them," she says.
Flynt says Lipscomb's School of Nursing has been like a community to her, but the ones she will miss the most are her cross country and track and field communities.
"My teammates and coaches have made a significant impact on me, and I am most sad to say goodbye to them," admits Flynt. "'It's not about where you are, it's who you are with.' I believe that this statement is true. It's the relationships that have made my experience at Lipscomb so special. 
Flynt is excited for her future, yet is extremely thankful for the opportunities afforded her and the friends she gained at Lipscomb. In July, Flynt will move to Dayton, Ohio, to begin a nurse residency program in the cardiovascular intensive care unit at the Miami Valley Hospital. 
To learn more about Lipscomb's School of Nursing, visit lipscomb.edu/nursing.