From the graduation files: Commercial music program celebrates milestone with 17 grads
Music has long been a foundational component of liberal arts at Lipscomb University.
Kim Chaudoin |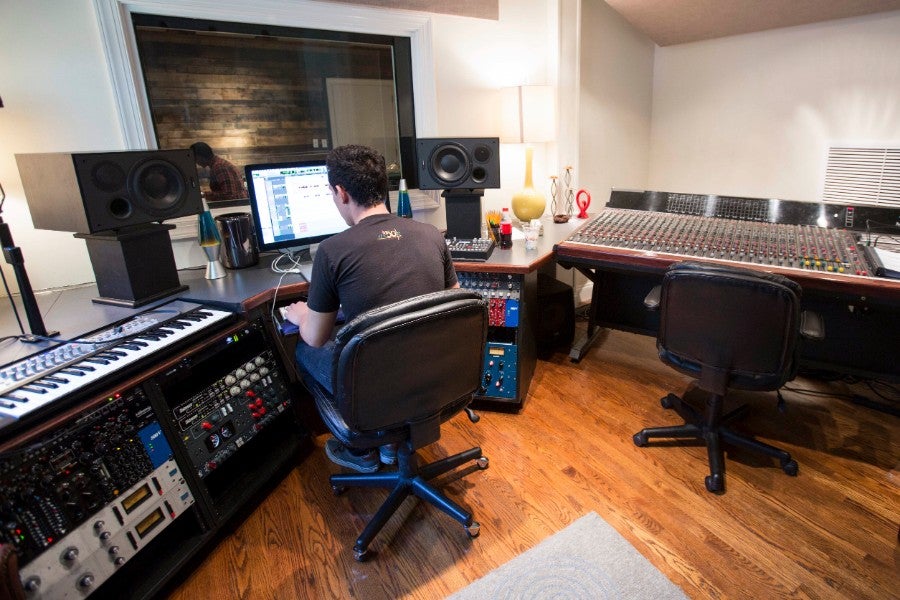 But school officials had a dream to expand those offerings by tapping into the university's location in Nashville — Music City USA ... the mecca for country music and a hub for artists of all genres — and the resources, expertise and opportunities it can offer students wanting to pursue careers in the industry.
And a star was born with the launch of Lipscomb's contemporary music program with the vision that it would quickly grow into a thriving part of the university community. The program — now known as the commercial music program — is housed in the George Shinn College of Entertainment & the Arts' School of Music and officially opened its doors fall semester 2015, offering concentrations in songwriting and music production. Since that time students from across the country and around the world have come to Lipscomb to be part of this program. 
On Saturday, 17 students will walk across the stage of Allen Arena to receive their Bachelor of Arts or Bachelor of Music degrees in commercial music, with some completing their academic requirements in August. They include Bachelor of Music: siblings Delaney, Erika and Zach Daves, who comprise the musical group Daves Highway, Brandon, Mississippi; Corey Miranne, Grant Parker, Ben Roberson and Hunter Taylor, Nashville; Freddy Schuler, Franklin, Tennessee; Chelsey Sutton, Pegram, Tennessee; and Delany Ziebarth, Pakenham, Canada; and Bachelor of Arts: Gage Lance, Springdale, Arkansas; Trevor Liebrand, Upper Marlboro, Maryland; Marissa Mansion, New Orleans, Louisiana; Ella McKelvey Horn, Franklin, Tennessee; Elmer Serrano, South Fallsburg, New York; Piper Smith, Knoxville, Tennessee; and Caris White, Bloomfield, New Jersey. Leading the way for these students were graduates Jacalyn Thompson, May 2018, and Luke Sumner, December 2018, after having completed the program ahead of schedule and graduating early. 
Not a bad start for the program, which is located across the street from the Lipscomb campus in the CoHo — a house is set up with recording rooms, practice areas and editing suites in addition to offices and meeting rooms similar to those found on Nashville's Music Row, giving students a realistic learning lab. And in May 2017, Lipscomb University was given the historic Sound Emporium, one of Nashville's vibrant recording studios for nearly 50 years. Through the partnership with the studio, students have the opportunity to work shadow some of the industry's leading sound engineers, producers, managers and artists in the recording studio setting.
"As with any new program, we've learned over the last four years the kinds of things that work well in our particular context, and those that don't," said Donna King, assistant professor and academic chair of the School of Music. "These students have had this wonderful attitude about being a part of something new and helping us build a program from the ground up, which will have an impact on students for years to come."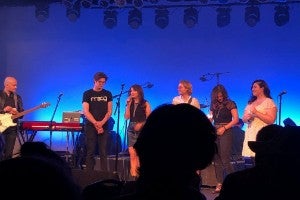 "The most important thing that has happened with the growth in our first four years is that we have gotten a strong sense of what we can do well for our students, and are now able to make decisions about marketing, recruiting and curriculum based on that identity," said King. "We are a mentor-based program that actively engages students in creative work from their first few weeks on campus. During the last year as I've interviewed potential faculty, I've noticed that others in the industry are becoming aware of that identity as well — and they are excited about it. I've been humbled by the performers, songwriters, producers and industry executives who have been eager to come and spend time with our students … teaching, mentoring and helping them make important connections."
Lipscomb's School of Music offers Bachelor of Music degrees in composition, classical performance and commercial music as well as choral and instrumental music education; Bachelor of Arts degrees in classical or commercial music and an interdisciplinary major in worship ministry; and a Bachelor of Science degree in music. In summer 2017, Lipscomb's School of Music was recognized by SuccessfulStudent.org as one of its top 25 programs in the country. Other institutions on the top 25 list included The Juilliard School, Curtis Institute of Music, the New England Conservatory of Music, Berklee College of Music, the University of Rochester's Eastman School of Music, the Oberlin Conservatory and the University of Southern California's Thornton School of Music among others.
The commercial music program's founding leader was music industry veteran Charlie Peacock. In fall 2017 he passed the baton as director of Lipscomb University's School of Music to Grammy winning producer Brown Bannister, who has nearly four decades of experience in the music industry. Bannister is one of the most successful music producers in the contemporary Christian music world, having sold more than 50 million records.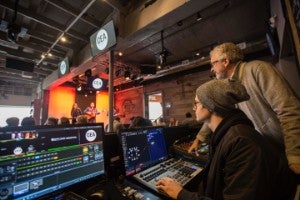 "I initially chose Lipscomb's music program because of Charlie Peacock's involvement. He is a friend and mentor to my sisters and I, and he invited us to come be a part of this first class," said Zach Daves, who wants to be a professional touring musician with Daves Highway and a session guitarist after he graduates. "Although being part of a pioneering program can be taxing, it has been an incredible journey. I'm very thankful to have been a part of this program, and that I got to do it with my sisters. Daves Highway will never forget Lipscomb University."
Daves said he biggest takeaway is to be present. 
"Always show up. Show up early and stay late. Just be there," he said.   
Chelsey Sutton learned about Lipscomb's contemporary music program when she graduated from high school in spring 2015. It helped her find a direction for her dreams. 
"My high school graduation was at Allen Arena. I had stayed after our rehearsal to practice the song I was singing at the ceremony, and I happened to hear about the program that day," she recalled. "Up until that day, I was terrified and discouraged because the only thing that I've ever even considered pursuing is music, however I hadn't found any program or campus that felt like a good place for me."  
Sutton, who grew up around Lipscomb's campus, said she didn't consider attending the university because of what she thought was "the lack of a music program that felt like it was a good fit for me."
"So when I heard about the commercial music program the day of my high school graduation, and how it had just happened to come into existence, I knew that I was supposed to be at Lipscomb. A few weeks later I met with Charlie Peacock, played him a couple songs, and in August I was attending Lipscomb University as a contemporary music major," she said. 
The people I have met in this program will be people that I will create with, call for help, or run an idea by for the rest of my life. — Chelsey Sutton
Sutton said the secret sauce of Lipscomb's program is the community.  
"The 'thing' that makes our program special, to me, is the community," she said. "We have a truly phenomenal team of professors, mentors, adjunct professors and fellow students. I have never been afraid to reach out to any of them. The people I have met in this program will be people that I will create with, call for help, or run an idea by for the rest of my life." 
She also credited Brown with taking the individual needs and goals of students into account when shaping the direction of the commercial music program.
"He wanted to know us in order to know how to help us move forward. He has been shaping the program by hearing what our needs are, and what we want to know about the music industry moving forward," recalled Sutton. "You will never find a more personable, caring, inspiring and truly encouraging and loving program than the one here at Lipscomb. Brown, in tandem with Donna King and Dr. Ben Blasko (director of instrumental studies), are the people that made it possible for us to feel confident in our education and future. Truly, you will hear those names mentioned in some Grammy speeches someday. We made a pact."
Her biggest lessoned learned is resilience.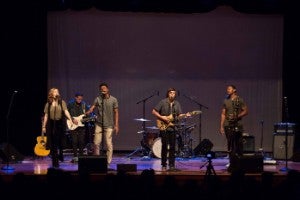 "My biggest takeaway from the program is the importance of resilience," said Sutton. "Resiliency is key. This is a lesson that will stick with me forever. I think I speak for all of us when I say that we are truly astounded at how vastly this program grew and strengthened in such a short amount of time. In some ways, I think we're all a little jealous that we don't get to stick around and watch it grow."  
The program is designed to give students a real-world experience found literally as close as a mile down the road from the Lipscomb campus. The 2013 Nashville Music Study, sponsored by the Nashville Area Chamber of Commerce in partnership with the Music City Music Council, found that the music industry helps create and sustain an estimated 56,000 jobs within the Nashville area, supports more than $3.2 billion of labor income annually and contributes $5.5 billion to the local economy for a total output of $9.7 billion within the Nashville metropolitan statistical area.
"In Nashville there is a real opportunity for budding independent, entrepreneurial musicians to learn their craft, to gain valuable experience and to pursue careers that will help fill the workplace demand for all facets of the music and entertainment industry," says Mike Fernandez, dean of the George Shinn College of Entertainment & the Arts. "Lipscomb's School of Music is training the next generation of artists and industry professionals by giving them opportunities to not only learn from experts in the field, but to give them hands-on opportunities to experience the many facets of the industry that are right here in our backyard."
King said the School of Music's commercial music program is still in its beginning stages with new initiatives and plans on the horizon including continuing a relationship with students once they graduate.
"We're already planning ways to continue this mentoring with a program for alums. This idea is still in the development stages, but we want to have a couple of meetings a semester where they can come, network, talk about challenges and work through some of those with an industry guest who can help them navigate some of the early ups and downs of the music business."
Learn more about Lipscomb's School of Music . 
 
— Photos by Kristi Jones; commercial music final concert submitted by Donna King