Graduate Spotlight: Pediatrician pursues MBA to find solutions to medical challenges
Kim Chaudoin |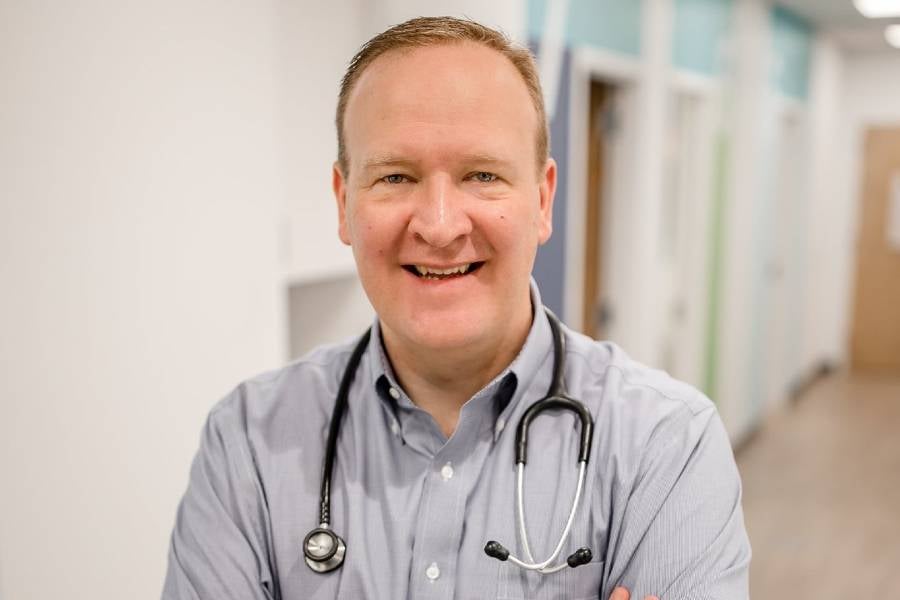 Scott Huitink has a passion for serving others that goes to his very core. He served his country in the U.S. Army, and he chose a career in medicine so he could serve young people through his pediatric practice, Compass Pediatrics in Gallatin, Tennessee. 
When running into challenges in the medical industry, Huitink believed the solutions to these obstacles lay in the business realm. To find these solutions so he could serve his patients more effectively, Huitink embarked on the pursuit of a Master of Business Administration (MBA) degree in Lipscomb's College of Business nearly two years ago. This spring, Huitink is celebrating the completion of this degree. 
"I truly believe the problems in medicine are not a lack of science solutions but a lack of business solutions. My personal frustrations and many of the frustrations of my colleagues are not related to how to help heal a patient, but how to navigate the labyrinth of payer issues that complicate everything from what can be done to see a patient to what tests to do to where a patient can get additional imaging done if needed, to what medications are 'authorized' by someone who may or may not be trained in pediatrics," says Huitink. "I pursued an MBA degree because I wanted to have both better business knowledge as well as improve my network of people who have some connections to the Nashville healthcare (and insurance) industry."
Huitink's journey to a career in medicine began more than 25 years ago. A native of Arkansas, he earned his undergraduate degree from Wheaton College and he dreamed of going to medical school. In 1997, he received a Health Professions Scholarship from the Army to attend medical school. Returning to his home state, Scott earned his medical degree from the University of Arkansas College of Medical Sciences before beginning his military medical career. 
Training ground in Iraq
Following medical school, Huitink began his payback period with a military pediatric residency with the San Antonio (Texas) Military Pediatric Center affiliated hospitals. 
"I had an amazing experience in medical school and in residency," he recalls. "Then, 9/11 happened early in the third month of my military residency. I quickly saw a change in how being in a military training program was truly different from my classmates who were doing civilian residencies as my teaching faculty began serving in overseas deployments."
I pursued an MBA degree because I wanted to have both better business knowledge as well as improve my network of people who have some connections to the Nashville healthcare (and insurance) industry. — Scott Huitink
After graduating residency, Huitink was selected to fill a general pediatrician slot in Heidelberg, Germany, where he says he became proficient at treating and resuscitating newborns at the hospital, adolescent health issues in a school-based clinic and handling a wide variety of pediatric pathology. A year after moving to Heidelberg, Huitink was deployed as part of Operation Iraqi Freedom at the peak of fighting in Ramadi, Iraq. As a lead physician supervising two physicians, three physician assistants, a physical therapist, dentist and nurse, he was awarded the Army's Bronze Star Medal for his service and leadership while delivering modern day battlefield medical care in a hostile environment.
"I took care of more trauma and concussions than I can remember, learned a lot about military structure and developed a deep respect for our nation's warfighters," explains Huitink. "My time in the military was something I never would have chosen--it was a million dollar experience I wouldn't have paid a nickel for. I'm thankful for what I learned during that time and can see now how it prepared me for where I am today."
Following his military service and prior to moving to Tennessee, Huitink worked as a pediatrician in Waco, Texas, where his entrepreneurial spirit led him to co-founding an applied behavioral analysis (ABA) therapy company to meet the needs of children in the community with autism.
A new professional chapter begins 
"After working in a variety of atmospheres and getting burned out to the point of considering leaving medicine completely, I reevaluated the many variables that led to the burnout and my dissatisfaction with medicine and decided to open a clinic," says Huitink. 
In August 2019, Huitink launched Compass Pediatrics with his colleague, friend and business partner, Mary Kathryn Oliver, CPNP. They had worked together in another clinic and knew they had different, complementary skill sets that would be conducive to opening a business together. 
"Our mission is to serve, educate and advocate for our patients and the community in which we are located. We were the first pediatric clinic in (Sumner) county and possibly middle Tennessee to implement telemedicine," says Huitink. "We offered telemedicine when we launched, not knowing it would become a standard way of practicing medicine with the onset of the Covid-19 pandemic. We were the first privately owned clinic in the county to offer Covid vaccines and provided it to those who were high-risk long before we were able to give it to our pediatric patients."
When I step back and reflect on the past, I remember how I considered quitting medicine three different times and was at a conference to get out of medicine in 2018 when I felt like God was telling me to start a clinic. When I set up Compass Pediatrics, I knew it was my calling. — Scott Huitink
"This was one way we served our community beyond our immediate patient base," he continues. "We have been a trusted partner for parents seeking help with their children's mental health needs and have helped guide many through the diagnosis and treatment of anxiety, depression and ADHD."
 
Huitink says that his team is critical to the success of the clinic. 
"I can't do my job without my whole team. I've worked at places where it is all about a physician or the physicians, or all about an administrator's numbers being met. I've learned that to provide the best care everyone has to be working together for a shared purpose that is much greater than the number of patients seen," he explains. "Whether I'm seeing the patient, one of the Pediatric Nurse Practitioners is seeing a patient, the nurses are checking patients in and giving immunizations or answering patient calls or the front desk is handling billing issues and helping with all the insurance hassles, we all have a role to facilitate the needs of the patient."
A step in the right direction
This month, Huitink was one of 52 individuals selected by the U.S. Small Business Administration as a 2023 Small Business Person of the Year. He says this recognition is a validation that he has followed the right path. 
"When I step back and reflect on the past, I remember how I considered quitting medicine three different times and was at a conference to get out of medicine in 2018 when I felt like God was telling me to start a clinic. When I set up Compass Pediatrics, I knew it was my calling," Huitink shares. "Since launching the clinic, I have been very fulfilled in partnering with parents in the care of their children and leading the team around me." 
"To get this award is like a mile marker telling me I'm going in the right direction. I'm extremely analytical so it was a huge step of faith for me to take the risk and go into the kind of debt necessary to start the clinic," he continues. "I see this award as a sign of God's favor and further evidence of the power of faith. My hope is that the recognition, the experiences I've had, and the business knowledge I've learned will be able to help others who desire to impact their community with their skills and calling."
Huitink says his wife, Rachelle, and their three children have been ardent supporters of his pursuits. "She has often done double-duty while I'm in class, working on a paper, or handling issues with patients or having business meetings for the clinic," he says. "It's not cliche--there should be an award for spouses who enable their other half to get the spotlight in times like this. I've got great kids, too. They have been great encouragers. This award is a one-time thing, but having a wife and family who has been on your side every day is better than any award will ever be."
I am so incredibly thankful this MBA introduced me to Lipscomb and the unique school and faculty that make it exceptional. I am proud to be a Lipscomb graduate. — Scott Huitink
Practical MBA program
When Huitink decided to pursue a graduate business degree, he chose Lipscomb because it offered an in-person MBA program and accepted his Post-9/11 GI Bill Yellow Ribbon benefit. He says the program has been "incredibly practical" with class projects being utilized to address challenges in his practice and to put the foundational work together for a second clinic. 
"Every semester there was a group project that had a direct impact on the direction of my business," says Huitink. "Additionally, so many discussions were beneficial in regards to how to approach different business problems I have faced in the past two years. The MBA program has been exceptional and so much more practical than I could have ever imagined. Without hesitation, I genuinely can say my classmates in my cohort have inspired and impacted me. Many of the conversations we had in class were encouraging or challenging for me to take back and apply to my clinic. I'm hoping the faculty will allow ongoing conversations as I feel like I have barely scratched the surface of what I can learn from them."
Huitunk says he has been impressed with Lipscomb. He is thankful for the Veterans Services team and for having access to the Veterans Services Resource Center for studying and working while on campus. He also has deep appreciation for his academic experience.  
"The College of Business is a gem. I didn't fully understand what I signed up for when I agreed to do the PMBA and I have been truly impressed with the faculty's interest in my learning and development as well as that of my classmates," he says. "I didn't pursue an MBA at Lipscomb as much as Lipscomb provided access to the MBA I desired. I am so incredibly thankful this MBA introduced me to Lipscomb and the unique school and faculty that make it exceptional. I am proud to be a Lipscomb graduate."