Graduate programs set all-time enrollment record this fall
The university had its largest-ever graduate student enrollment in fall 2020 with nearly 1,900 students.
Kim Chaudoin |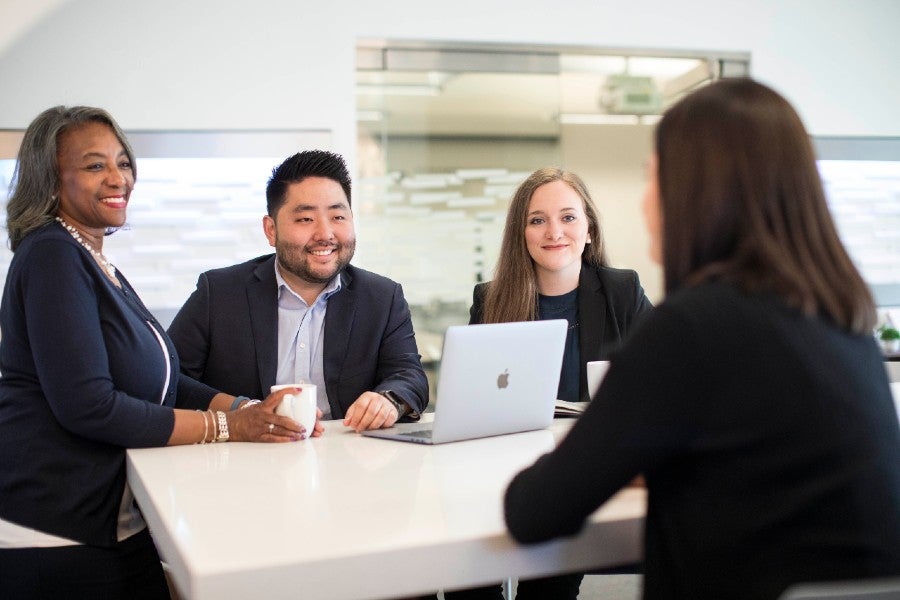 As universities across the country faced declining enrollments this fall due to the impact of the COVID-19 pandemic, Lipscomb celebrated record numbers topping 4,800 students for the first time in school history. Contributing to this record success is increased enrollment in Lipscomb's graduate programs. 
Over the past three years Lipscomb's graduate programs have experienced remarkable enrollment growth with a 25% increase in new students since fall 2018 and has its largest-ever enrollment this fall with nearly 1,900 students. This success is the result of several years of implementing a new vision for graduate recruitment, says Jason Hamilton, assistant vice president of graduate and corporate recruiting.
"For the last few years we have made strategic changes to our processes and approach to graduate recruiting," says Hamilton, who has led Lipscomb's graduate recruiting efforts since March 2018. "We knew that it would take several years to see the fruits of our labor, but I believe this fall we are seeing it. Making sure everyone knows the direction we're heading and have the ability to speak into it has been important. I think people definitely understand where we're going. With the success we have seen this fall it's kind of a full circle moment."
Hamilton attributes recent success to several factors, but says centralizing and consolidating the institution's graduate recruiting efforts laid a solid footing to build on for future success. Prior to Hamilton's arrival at Lipscomb, graduate enrollment officers were physically spread across campus and embedded into college or program staff. A variety of tactics were used to identify prospective students, strategies for recruiting and enrolling students, and application processes among other practices unique to each college. 
A centralized approach
"Lipscomb is known for its innovation and for being able to see a need in the marketplace and to quickly develop a program to meet that need in our community," explains Hamilton. "In doing so, as new programs were created and needed to grow, each program or college developed a process for recruiting students for those programs. It worked well for a number of years. But as we looked to build an even stronger graduate enrollment management strategy, we believed centralizing all of the professionals who had been serving in a recruiting capacity across campus would benefit the programs themselves and the university as a whole."
By centralizing the recruitment process, Hamilton says his team has been able to implement best practices in recruiting tactics, utilizing data, streamlining the application process, developing strategic communication plans for all programs and consistent personal contact with prospective students while keeping strategies specific and tailored to the unique nature of each program. The team also physically relocated from their various locations across campus into a central graduate admissions hub located on the north side of campus.   
 
"I understand that it was difficult to make this transition for some who had been part of a college or program staff," he recalls, "and it was easy to want to see instant results from our restructuring and new vision for graduate enrollment. But in recruitment, it's the long game and the payoff on the investment doesn't happen quickly. I just encouraged our team to believe and to stick with it and now they are seeing the fruits of our collective efforts."
Hamilton has led enrollment and recruiting efforts at the University of the South, one of the most prestigious colleges in Tennessee, and served as vice president of enrollment management and marketing at Hollins University, a woman's institution located in Roanoke, Virginia. He has seen the benefits of a centralized approach and implemented strategies that have been part of his success previously. 
Fueling the enrollment growth
In addition to a centralized graduate recruitment approach, Hamilton says several other factors have contributed to recent enrollment growth. Today, Lipscomb offers more than 200 programs of graduate studies leading to master's degrees, graduate certificates, Education Specialist degrees and doctoral degrees. The variety of quality programs that meet workplace needs that Lipscomb offers also fuels enrollment numbers. 
An increased focus on strategic marketing has also made an impact. Hamilton, in partnership with University Marketing, has identified publications, social media platforms and other strategic places to have a presence to develop brand awareness for the graduate programs.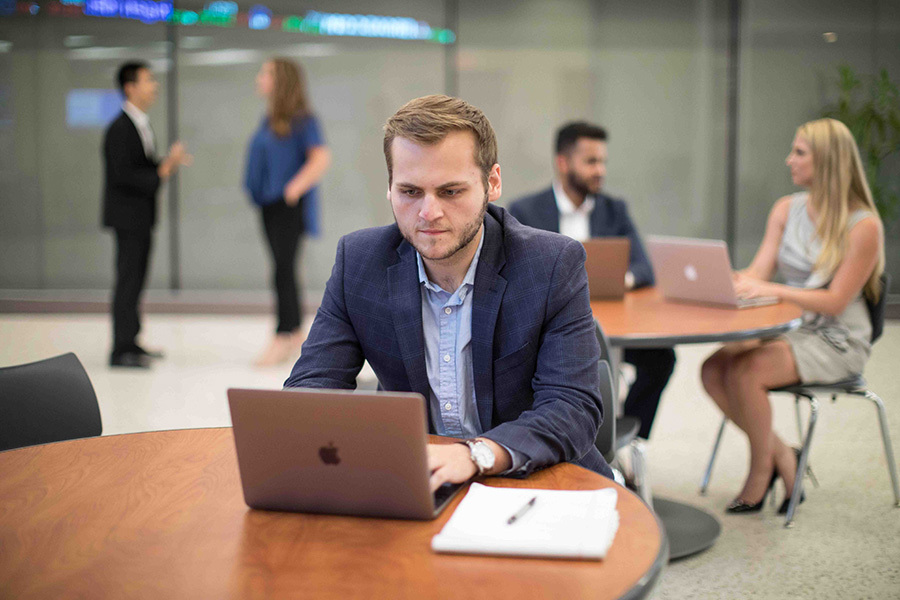 "We now have a consistent, year-round digital marketing presence," he says. "We have increased our presence and have used a mix of platforms, utilized the latest strategies such as retargeting across all graduate programs. This is producing new inquiries, which is resulting in new applications that we can directly tie to those marketing efforts."
Developing corporate partnerships to engage in the city of Nashville and to create greater awareness of Lipscomb's graduate offerings and connecting them to workforce needs is also one of Hamilton's strategic initiatives. This year, Lipscomb became the exclusive education industry partner with City Current Nashville and in the future will serve as host to a variety of events, including their monthly business breakfasts. Hamilton says colleges such as the College of Education and Pfeffer Graduate School of Business have "worked tirelessly year in and year out" to develop partnerships with organizations in the community, which leads to greater awareness of those programs and to new students. 
Even with a more strategic, cohesive approach, Hamilton says the key to successful recruiting is still personal relationships. 
"It's always about relationships," he explains. "Typically we travel to graduate college fairs or host in-person information sessions to meet prospective students. We build pipelines with department chairs, academic advisors and others. In this season much of our relationship building is happening virtually, and our recruiters are working diligently to build these relationships." 
Hamilton credits Lipscomb's reputation, quality education and uniqueness as significantly contributing to his team's successful recruiting strategies. "That is the foundation," he says. "If we are renovating a house … you can put up new walls, change windows out and things like that but you do that while building on top of the foundation of the house. The foundation has already been laid … the sense of community and relationships that already exist here on campus for all of our students."
Hamilton adds that Lipscomb's Christian education is also a unique factor that, regardless of the program a student chooses, will give them an education infused with elements of a values-based education, ethics, professionalism, how to treat others, how to use talents and gifts to serve the community and other impacts.
Hamilton says all of those factors have contributed to the enrollment success this fall.
"It's been a combination of all of those things. We started by adding all the right ingredients into the mix," he continued. "It wasn't just one lever that we pulled or can point to and say it was this that resulted in this growth. We continue to have our current recipe of strategies, and also continually ask ourselves what additional activity we might be able to add to maximize our efforts and meet the goals of each program."
Recruiting is total campus effort
The work has been a total team effort, Hamilton admits.
"The graduate admissions staff has done exceptionally well. We have great team members. All of the kudos go to the graduate recruiting team because they are the ones day in and day out on the ground," he says. "But it's also a collective success, because it's not just graduate admissions. It's also the program directors, the faculty members and the administrators in the various colleges who help us get students registered, answer the questions that can have more meaningful impact on the prospective student coming from a faculty member and then the admissions part of the process. It takes a campus to recruit and retain students. So it's definitely been a team effort."
Growing the graduate student population is a long term institutional strategy. Hamilton says when planning for the future he invests time researching new program possibilities, analyzing each existing program to determine the best approach for growth, looking at trends listening to the needs of the marketplace and studying research on emerging skills needed in the workplace and trying to ensure that Lipscomb is a leader in that process. While looking to the future for strategic growth, Hamilton also has to stay focused in the present. With multiple entry points throughout the year for Lipscomb's graduate programs and a number of programs averaging just one to two years to complete, the recruiting cycle never stops. 
Hamilton and his team are fueled by their firm belief in the value of graduate education. 
"There will always be discussions about the cost of graduate education and affordability," says Hamilton. "But you have to consider the value proposition of graduate education. We have a staff member who coined a saying that 'graduate education doesn't cost, it pays.' Research shows that the higher your level of education, the higher your capacity for earnings and success. So we are trying to make sure we are an affordable option that provides a high quality, high value education that pays off in the short and long term."
To learn more about Lipscomb University's graduate programs that open doors of personal and professional opportunities, visit www.lipscomb.edu/admissions/graduate-admissions.