Freshman now admitted directly to the School of Nursing
Direct admission gives student nurses a defined path and a cohort mentality.
Janel Shoun-Smith | 615.966.7078 |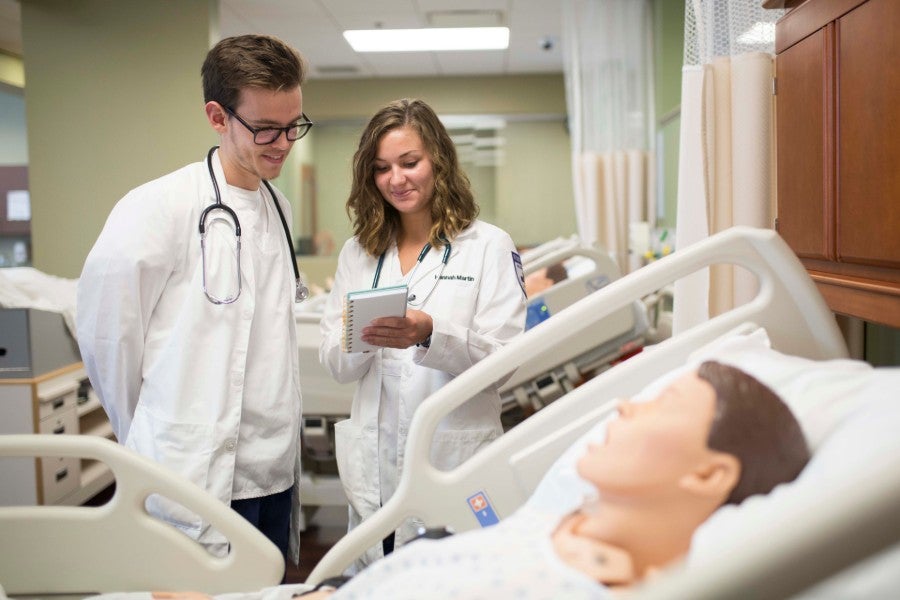 This past fall, the first group of students was admitted to the School of Nursing as incoming freshmen, the beginning of a new direct admissions policy designed to build community among student nurses and keep them passionate about entering the nursing profession throughout the four years of the program.
Since it was established, Lipscomb has enrolled students in the BSN program at the beginning of their junior year. Now students will enroll as a nursing major as incoming freshmen and complete a mid-point readiness evaluation before their junior year in order to move forward in the nursing program, said Dr. Roger L. Davis, vice provost for health affairs at Lipscomb.
"This new approach gives student nurses a defined path, a cohort mentality," said Davis. "This will give them an identity as a health professional earlier in their journey."
To ensure a strong community identity among student nurses at every level, Executive Director Dr. Chelsia Harris made a point to personally greet every nursing class and every incoming student in the fall of 2019. The school is working to ensure all freshman and sophomore nursing majors have mentoring opportunities with faculty and upper-classmen, and it held various student networking events in the fall. Freshmen and sophomores are also now invited to join the Lipscomb Student Nurse Association, Harris said.
"When a student feels a connection, whether it be with a mentor, a fellow student or just an overall spiritual connection, that's how we retain an incredible community," she said.
The School of Nursing, housed in the College of Pharmacy & Health Sciences, provides a state-of-the-art nursing education while providing each student with individual support and guidance that enables them to become the best nurse possible.
 
The school offers a four-year Bachelor of Science in Nursing program for traditional undergraduate students and transfers. Students have the opportunity to "practice before they practice" in an on-campus facility that includes a state-of-the-art, high fidelity patient simulation lab. The school also offers an online RN-to-BSN program designed to help equip and empower Registered Nurses with an Associate Degree desiring to advance their career. The RN-to-BSN program may be completed online in as few as 18 months.
  
Lipscomb's School of Nursing is recognized by the industry's most demanding organizations and regulators as top quality. The program holds accreditation from the Accreditation Commission for Education in Nursing. The program's 2018 graduates have a 97.3 percent pass rate on the NCLEX licensure exam and 100 percent job placement.