Freshman Joao Ribeiro is golden at Abu Dhabi World Pro Jiu Jitsu Championships
Kim Chaudoin |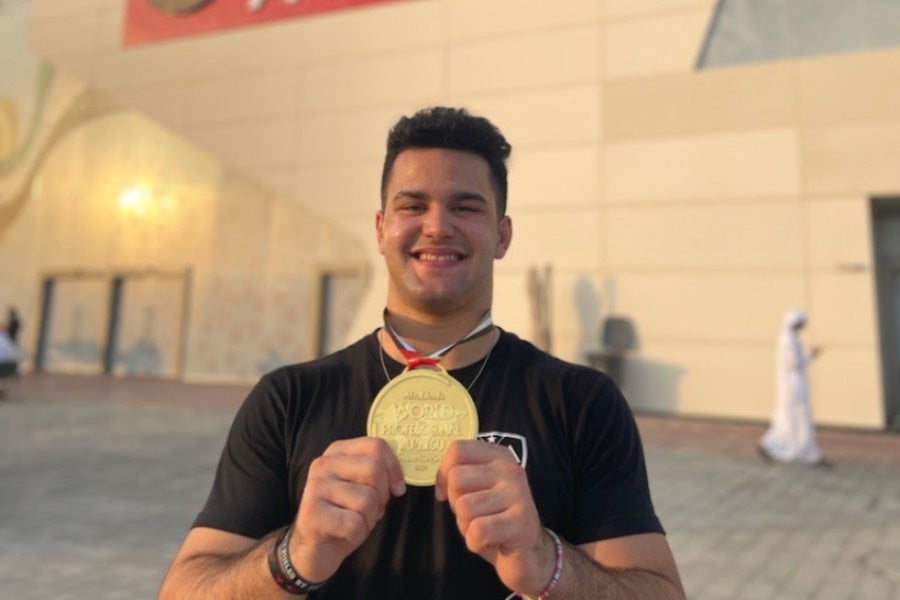 Before Joao Ribeiro was old enough to walk, he was already preparing to be a world champion Jiu Jitsu athlete one day. 
Last week, Ribeiro, an 18-year old Lipscomb University freshman, fulfilled that lifelong quest at the Abu Dhabi World Pro Jiu Jitsu Championships by earning the gold medal in the purple belt 120 kg division.
From his earliest memories as a child growing up in Rio De Janeiro, Brazil, Ribeiro watched his father training day after day, year after year, perfecting his skill at Jiu Jitsu, a martial art that focuses on technique and strategy that derives its name from the Japanese language meaning "gentle art." 
"I have been on the mats ever since I can remember, I have plenty of pictures of me in gis, which are the uniforms we use when training, on the mats way before I could walk," recalls Ribeiro. "This was because of my dad, he also grew up training, and when I was born he wanted to make sure that I was involved in the sport."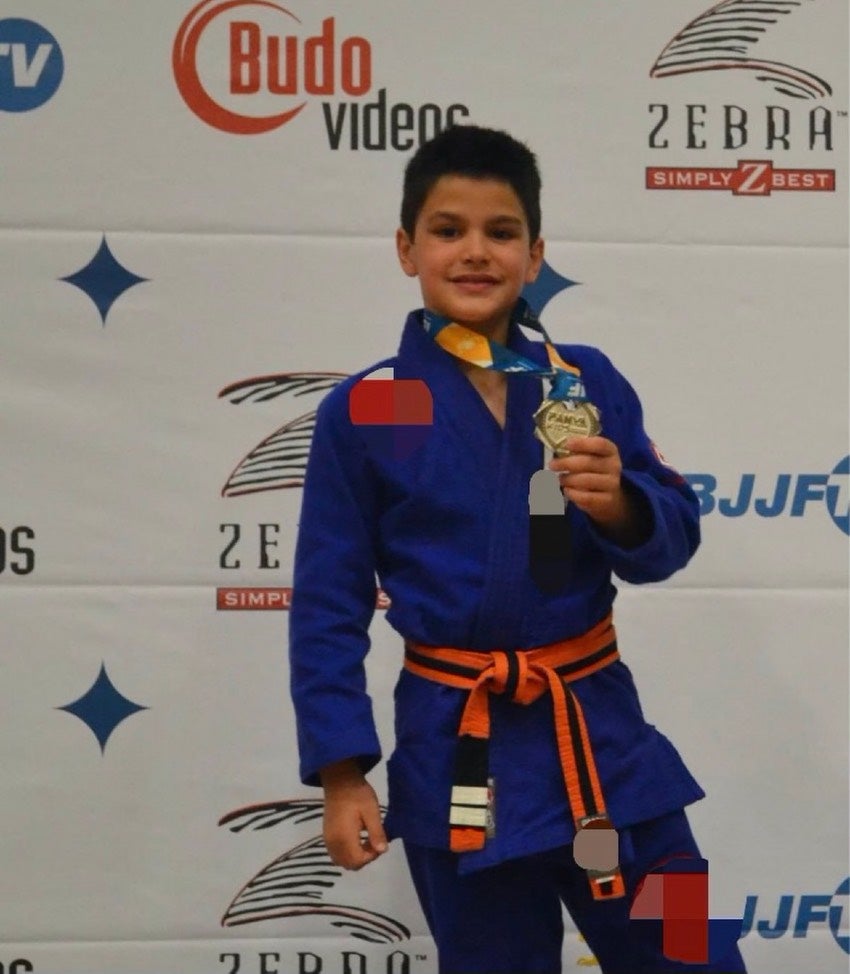 Jiu Jitsu is a way of life for Joao and his family. His father, Marcelo, is a fourth-degree black belt who began his practice of the sport as a young boy and began teaching it at age 16. Ribeiro's family moved from Brazil to the United States with the goal of bringing Brazilian Jiu Jitsu to America. First the family settled in Florida, then moved to Texas and then in 2011 moved to Nolesville, Tennessee, to open a studio in the Nashville area. They own and operate the RMA Jiu Jitsu gym in Nolensville, where Ribeiro and his younger brother, Gabe, help their father as coaches.
For many years, Ribeiro has been training for the world stage. As a high school student, in a gym set up in his garage with a large blue mat on the floor, he trained with a friend at 5 a.m. about six days a week practicing the same moves over and over, teaching his muscles to instinctively respond to the moves of an opponent. Today, Ribeiro's intense training regimen includes doing cardio three days a week along with wrestling two days a week, and practicing Jiu Jitsu six days a week, two to three times a day, and adhering to a strict diet. 
Ribeiro explains that in Jiu Jitsu, one's professional career starts at the blue belt level, which is the second belt for adults. A black belt is the highest level one can achieve.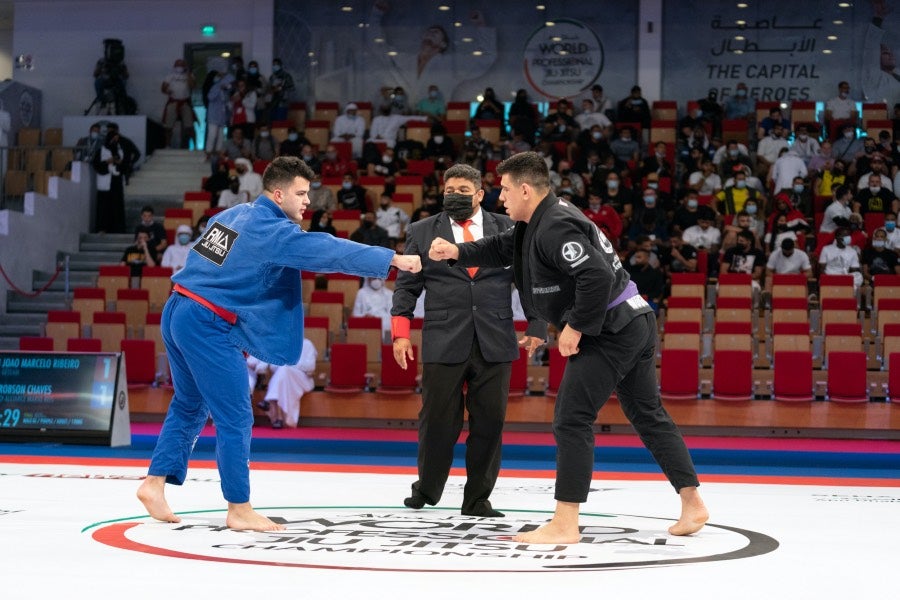 "This is where my results in tournaments started to matter, in the two years that I had my blue belt my biggest accomplishments were getting second place twice and third place once at the International Brazilian Jiu Jitsu Federation (IBJJF) World Championship," he says. 
Soon after, Ribeiro earned his purple belt and said his career "started to take off." In his weight class of 95 kg he was undefeated for most of the year and was successful in tournaments, including winning double gold at the IBJJF American Nationals and second and third place at the IBJJF Pan American Championship. 
On Nov. 12, Ribeiro travelled more than 7,500 miles to compete in the 2021 Abu Dhabi Professional World Championship to try for gold on the world stage. After having moved up from the 95 kg division in the previous tournament, Ribeiro was ready to compete in the 120 kg class. He won five matches — including two submission wins — en route to the gold medal and being named world champion in his division. He was the only representative of the United States to take first place in any of the adult divisions in this year's tournament.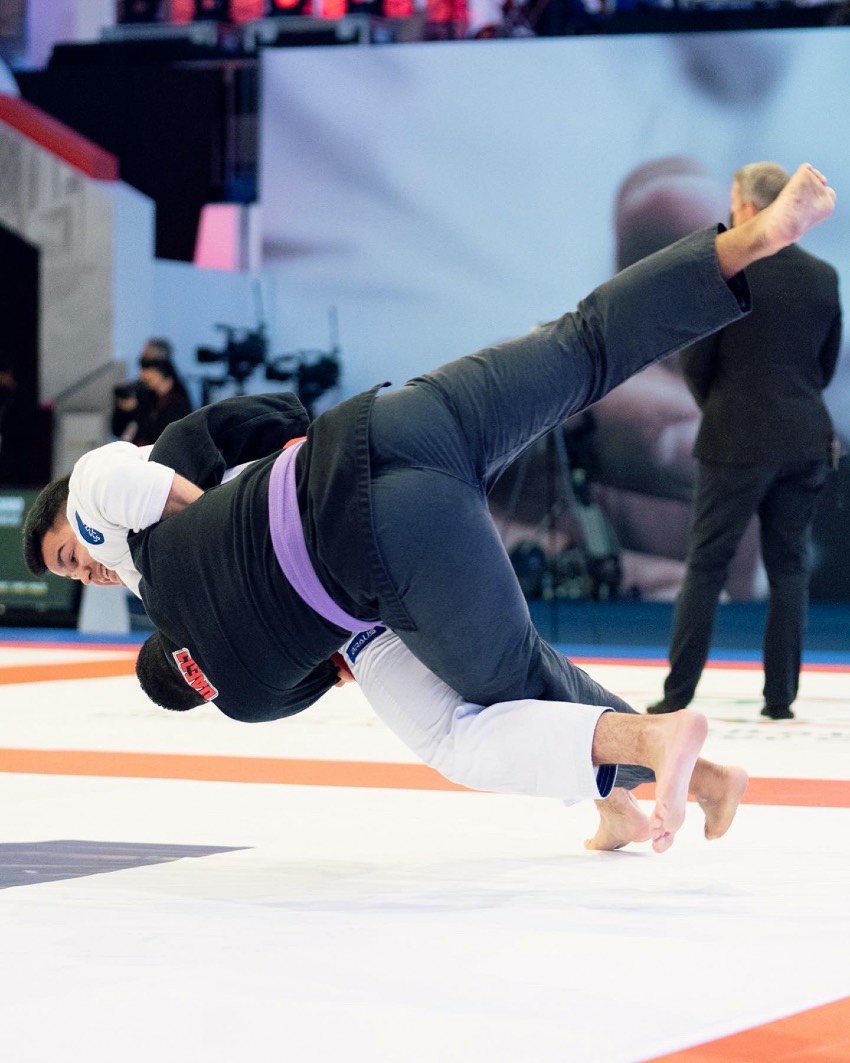 "As a kid I had always dreamed of being a world champion and especially being the only American to get a gold medal, it meant a lot to not only represent my country but to also to accomplish a dream I've had since I was a little kid," says Ribeiro. "Accomplishing my dreams has also allowed me to inspire the next generation by showing them that anything is possible, and that no dream is too big."
"Travelling to Abu Dhabi was an amazing experience and it was the first time I had been out there to compete," he continues. "I love seeing other cultures and having different experiences like that so it was awesome to be able to do that through my sport. We got there a couple days before so we could get used to the ten-hour time difference, and because of that we were able to explore the UAE a little including Dubai which was really pretty!"
Although Ribeiro has been named a world champion in his sport, he has no plans to rest on his laurels. He wants to earn his black belt and continue to compete at the highest level. While preparing for the last few weeks of the fall semester and final exams, Ribeiro is also getting ready for another big test — "the biggest tournament of the year" — the IBJJF World Championship Dec. 9-12 in Anaheim, California. 
While there are several martial arts to choose from, the core values of Ribeiro's father's teachings of Jiu Jitsu are what drives Joao's passion for the sport.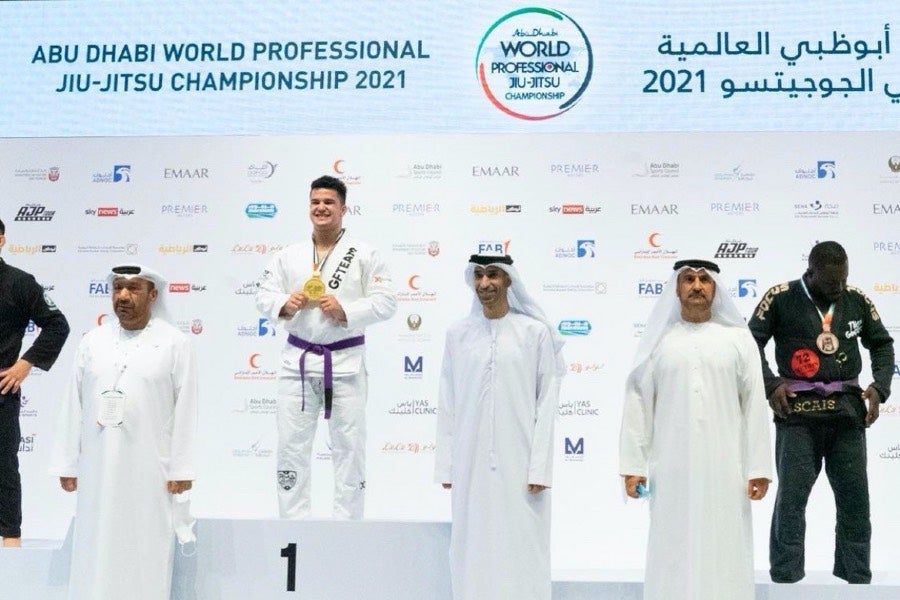 "My dad always teaches Jiu Jitsu from the perspective of three core values — loyalty, respect and love. It is one of the best martial arts in the world because it shows a really great message. We are taught never to instigate a fight but rather taught how to deal with difficult situations and defend ourselves along with others," says Ribeiro. "Along with this belief, I also got into the competitive side of the sport and I've been hooked ever since." 
When Ribeiro graduated from Nolensville High School this past May, he decided to pursue his college education at Lipscomb. He was familiar with Lipscomb as his mother, Renata, earned her undergraduate degree in psychology and organizational leadership from the university in 2019. He says he was looking for a college close to home and that would also "support my growth in my religion."
A double-major in marketing and finance, Ribeiro says he wants to use the skills he learns at Lipscomb to own a successful Jiu Jitsu gym like his father someday. 
"I have really enjoyed the community that is at Lipscomb and all of the classes and professors have been great and they always seem like they want to see you succeed," he says.
— Photos courtesy of Joao Ribeiro