Freshman design project powers up Nashville's homeless to succeed
Solar panels designed for micro-homes provide comfort and crucial connection for homeless at Sanctuary.
Janel Shoun-Smith | 615.966.7078 |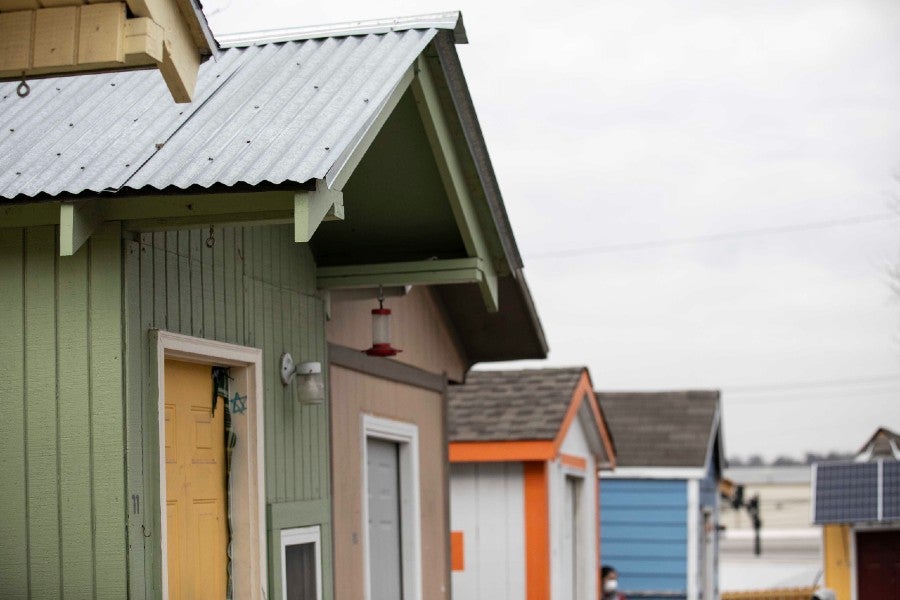 For Nashvillians who are homeless in today's world, it doesn't take much to make a big improvement in their lives. A fan, a lamp, a cell phone charger. These simple items could mean the difference between success in life and livelihood or continued homelessness.
Lipscomb University's engineering freshman in fall 2020 didn't know a great deal about their chosen major yet when class started in August, but they did know enough to become a blessing to the residents of Sanctuary, a micro-home village for the homeless on the property of the Green Street Church of Christ in Nashville. 
Sanctuary provides 15 micro-homes to Nashvillians suffering homelessness, and this past fall the mechanical engineering majors' Introduction to Engineering Class came up with plans to provide electrical power to the micro-homes, providing enough wattage to power a fan, lighting and cell-phone chargers.
Throughout this winter and spring, David Elrod, dean of the Raymond B. Jones College of Engineering, and other engineering faculty and students are installing solar panels and an electrical system for the 6x12-foot micro-homes one at a time. During the spring semester, the college is hosting three work days at the site during Lipscomb's Bison Break days, when classes are cancelled.
This summer, engineering faculty hope to host a mission opportunity to build a covered, open-air pavilion, also with solar power, to allow residents access to small kitchen appliances and in increased number of cell phone chargers, said Fort Gwinn, associate dean of the college and teacher of the mechanical engineering class that took on the Sanctuary project.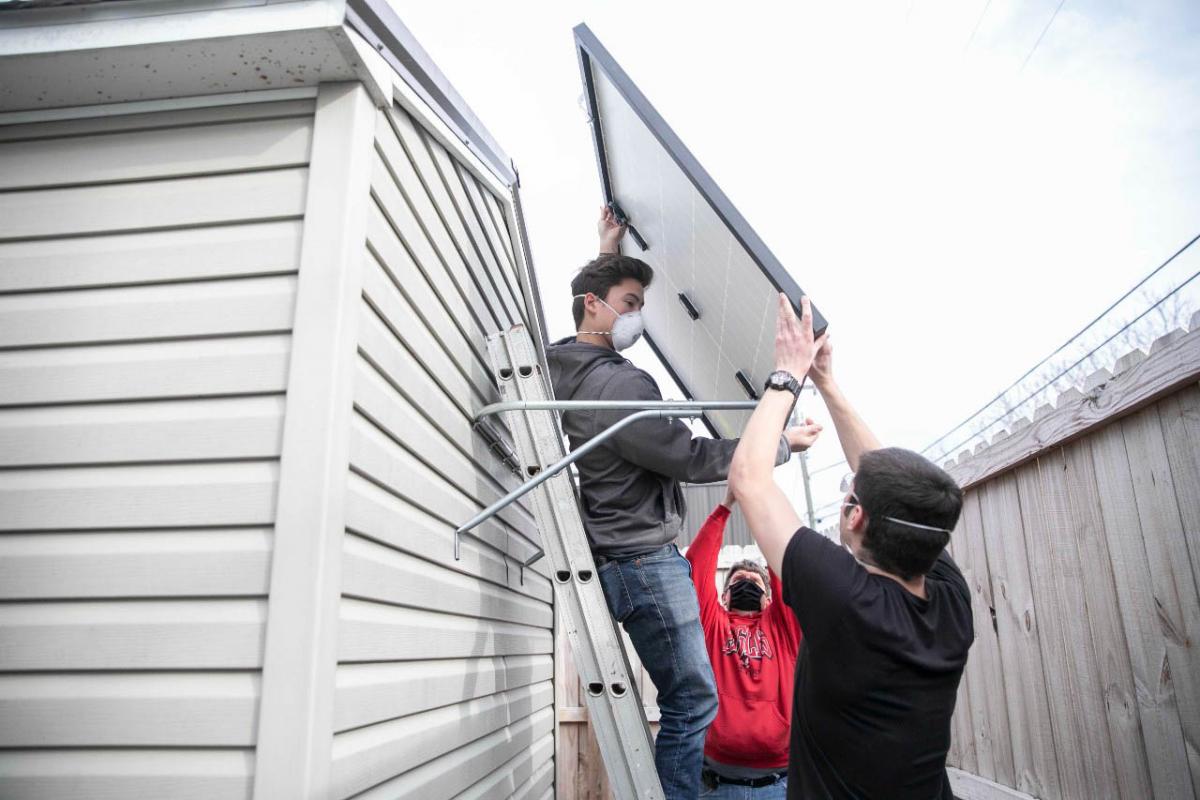 The project is organized by the college's Peugeot Center for Engineering Service in Developing Communities, which has expanded its focus on local projects during the Covid-19 pandemic. Funding was provided by Otter Creek Church of Christ, in Brentwood, which has partnered with the Peugeot Center on other efforts.
The Sanctuary power project is just one of the real-world, service-oriented design projects that every Lipscomb engineering freshmen experiences in the Introduction to Engineering labs in their first year of college. Students in other labs designed solutions for children with cerebral palsy in developing countries and a light-duty bridge for pedestrians in Honduras.
"Throughout the engineering design process, students gain valuable skills toward their career like quality teamwork and communication skills, ethical and responsible decision-making and an ability to persevere through obstacles," said Kirsten Dodson, assistant professor whose freshman students designed a modular back brace, a speech therapy tool, an orthotic brace and a head rest system for a wheelchair for children with cerebral palsy.
"We believe it is imperative for students to learn these skills early in their collegiate career so that they can practice them frequently alongside their engineering knowledge throughout their time in the program," she said.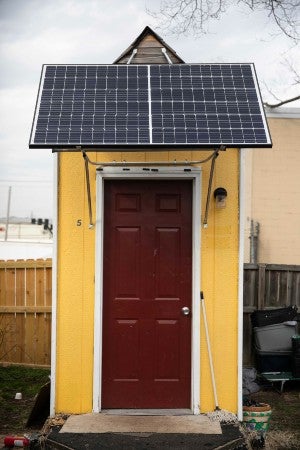 "We try to make all of our freshman-year projects service-oriented, with a chance to experience the engineering design process from start to finish as well to show how engineers serve humanity," noted Gwinn.
"Solar is a good freshman project because it is mostly modular and the components are fairly well-known," he said. "The project also gave me the opportunity to explain that engineers can't be one-dimensional. They have to understand the other dimensions, like the electrical circuit work included on this project, to work in teams."
Gwinn's students broke into three teams to address how to power each micro-home to provide basic ventilation, a design for the future upgraded pavilion (It is currently made from PVC pipe and a tarp.), and a standardized design for a micro-home that the Green Street church could share with others to replicate the Sanctuary model.
In the research phase of the design process, students heard from Caleb Pickering ('03), a history graduate of Lipscomb who now serves as a deacon for the Green Street church located at 146 Green Street, Nashville.
Green Street's ministry to the homeless grew out of an initiative called Fools for Christ that Pickering started while a student at Lipscomb. In 2015, a partner ministry donated the first six micro-homes to sit next to the church, and the rest have been built by partners over the years, including Otter Creek Church of Christ.
The micro-structures provide basic protection from the weather and a safe place to sleep and lock up belongings, but now with solar power, they will be more comfortable in the summer and winter. The church provides periodic access to showers and meals.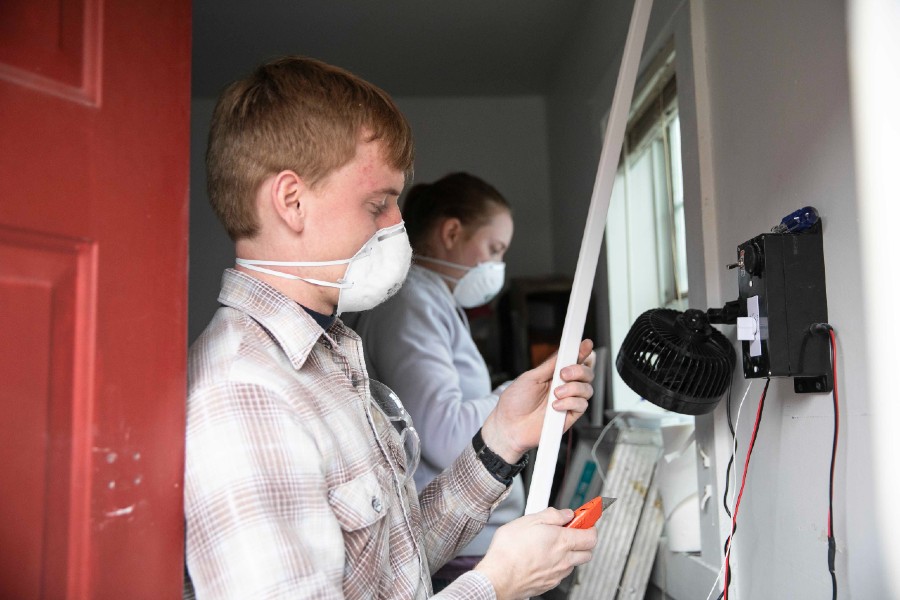 As the student teams progressed through the design project, the solar panel team decided a priority should be providing enough power to operate a small fan for ventilation, which would not only provide comfort for residents but would also prevent mold, thus increasing the longevity of the micro-structures, said freshman Bibiana Zermeno-Magana of Lebanon, Tennessee.
Working on the Sanctuary project allowed her to really appreciate the "importance of finding renewable that in the long-run will help alleviate damage," she said.
It also helped her realize that "becoming an engineer is about what your client needs. If you don't know that, then you will do the research," she said.
Besides making the micro-homes more comfortable, electrical power allows residents to use and charge their cell phones, which, according to Pickering, are "now more of a necessity than a luxury," as they are a vital connection to social services and potential jobs for those suffering homelessness.
Richard Blake Crews, a Sanctuary resident of one of the powered micro-homes in December, said he was going through hundreds of batteries every two or three weeks in order keep a flashlight and his cell phone operating before the solar panels were installed. Being able to charge up his phone at night ensures his alarm will go off in the morning so he can be up and out early to his day labor job.
"So far it has been great! I have not run out of power yet. I have been able to charge my phone, and it's crazy to walk in and be able to turn on the light," he said. "It's allowed me to save up money so I can get back on my feet and get out of here."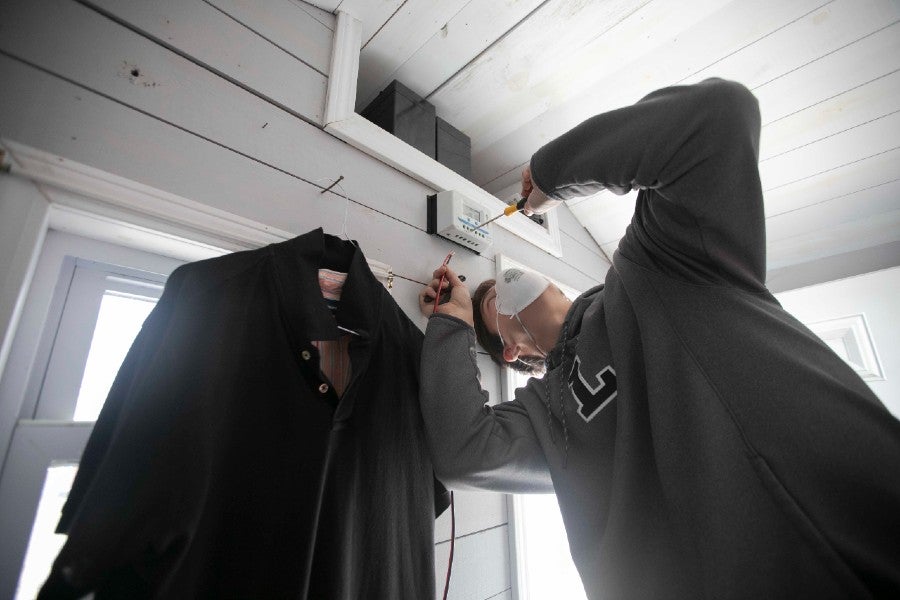 --Photos by Kristi Jones