Former NFL player Trent Dilfer named head coach of Lipscomb Academy's football program
NFL veteran quarterback Trent Dilfer has been named head coach of Lipscomb Academy's football program, head of school Greg Glenn announced today.
Kim Chaudoin |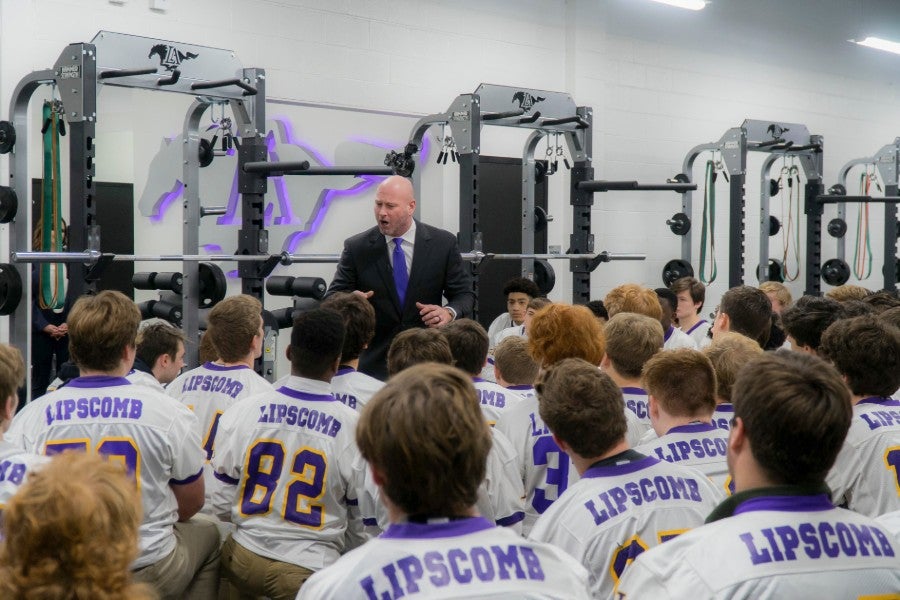 NFL veteran quarterback Trent Dilfer has been named head coach of Lipscomb Academy's football program, head of school Greg Glenn announced today.
A former Super Bowl-winning quarterback, Dilfer was an analyst for a variety of ESPN programs. The 14-year NFL veteran joined ESPN in July 2008, the same day he announced his retirement from the National Football League. Dilfer played for five teams during his career, including the Tampa Bay Buccaneers (1994-99), Baltimore Ravens (2000), Seattle Seahawks (2001-04), Cleveland Browns (2005) and San Francisco 49ers (2006-2007). Dilfer led the Ravens to a 34-7 victory over the Giants in Super Bowl XXXV. The 1997 Pro Bowl selection finished his career with 20, 518 passing yards. Dilfer was the sixth overall pick by the Buccaneers in the 1994 NFL draft out of Fresno State University. In 1993 he led the nation in passing efficiency and set the NCAA record for consecutive pass attempts without an interception (271) that would stand until 2007.
"My family and I are honored to be part of the Lipscomb community, and we believe that God has led us specifically to this community at this time," said Dilfer. "The commitment Lipscomb Academy is making to build a premier football program is humbling and energizing but most importantly it's foundation is in building players into servants of Christ. I am fully invested in using the vehicle of football to teach the young people in our program to chase their human potential relentlessly. We will be great in football, but more importantly our football program will represent what is best in this great city of Nashville."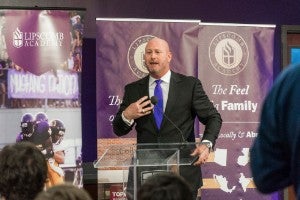 In his work with ESPN, Dilfer was featured on Sunday NFL Countdown during the NFL Season and the game site portion of Monday Night Countdown. He was heavily involved with ESPN's coverage of the NFL draft including anchoring SportsCenter's "On The Clock" segments and served as the NFL analyst for days two and three of Live Draft coverage. Trent also contributed to NFL Live, NFL PrimeTime, Audibles and a variety of ESPN Radio programs. Dilfer was nominated for a Sports Emmy award following the 2011 season.
Dilfer has been awarded and recognized for his accomplishments on the field, as well as, off the field. In 2003, he received the NFL Bart Starr Award followed by the Seattle Seahawks Ed Block Courage Award. As a result of his commitment to make a positive impact on communities and generosity to many charitable causes, Coach Dilfer received the San Francisco 49ers Walter Payton Man of the Year and the Aptos Chamber Community Hero Award in 2006. Dilfer has made it his mission in life to "give back" and has become a positive role model, coach and mentor for upcoming High School Quarterbacks through ESPN's Elite 11.
During the NFL off-season, Coach Dilfer also runs QBEpic along with NFL Network's Bucky Brooks. The mission of the organization is to create an ecosystem that nurtures young athletes to reach their own personal potential and appreciate their own unique journey.
"His experience gives him a unique knowledge not only of the game but also about how to develop players to pursue their goals as well. His experience along with his enthusiasm and love for students and his commitment to our mission will be beneficial as he leads this program," said Roller. "We look forward to the way Coach Dilfer will lead this program, continue to build on its long success and to engage with those who have been a part of this program in years past."
Dilfer succeeds Scott Tillman, who announced in November he would no longer be serving as the head coach. Tillman led the Lipscomb Academy football program for six years following the death of longtime Lipscomb Academy football Coach Glenn McCadams in 2013. During his six seasons leading the program he compiled a 35-32 record and led the team to six consecutive state playoffs including the TSSAA Division I-3A state playoff quarterfinals (2014) and Division I 4A state playoff second round (2015). Also during this time the Mustang football team was Region 10-3A co-champions (2014), Region 6-4A runners-up (2015) and undefeated Region 6-4A champions (2016). Tillman was named TSSAA Region 6-4A Coach of the Year in 2016.
Dilfer and his wife, Cassandra, have four children, Madeline, Victoria, Delaney and Trevin.
For more information about the Lipscomb Academy athletic program, visit www.lipscombacademy.org.