Former Bison, legendary athletic administrator receives Chicago Shining Light Award
Kim Chaudoin |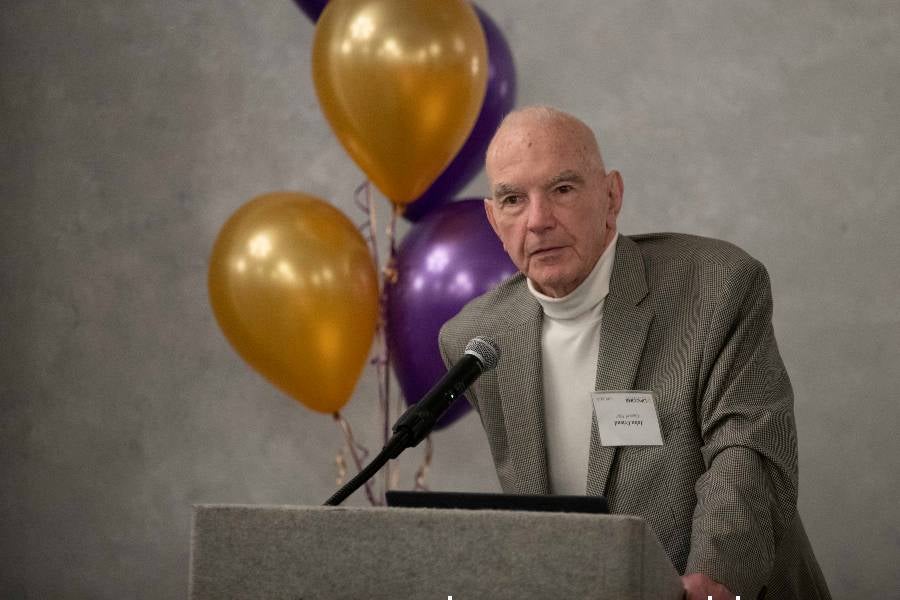 The latest stop on the Be A Light tour was Chicago, Illinois on Tuesday, Nov. 1, where alumni, prospective students, donors and friends gathered to hear the latest updates from Lipscomb University. 
As President Candice McQueen has challenged the Lipscomb community to be a light, at each stop on the tour someone in that community is selected to receive the Shining Light Award to recognize someone whose life — and light — shines brightly in the community and in their service to others. 
Lipscomb alumnus and legendary athletic administrator John Friend was honored as the recipient of the Shining Light Award for the impact that he is making in the Chicago area and beyond. 
Friend has devoted his career to shaping the lives of student-athletes and high school and collegiate athletics programs. 
He is director of athletics emeritus at Purdue University Northwest located in nearby Hammond, Indiana, where he is a consultant and chief fundraiser for the athletic department, a position he began in 2007 after a 21 year career as the school's athletic director. In July 1980, Friend began his time at Purdue Calumet, as the institution was known until 2016, when he was named athletic director and administrator of the Fitness and Recreation Center. In April 1984, he was elected the district chair of the N.A.I.A. District 21, the top administrative position in the 22-member association of small colleges in Indiana.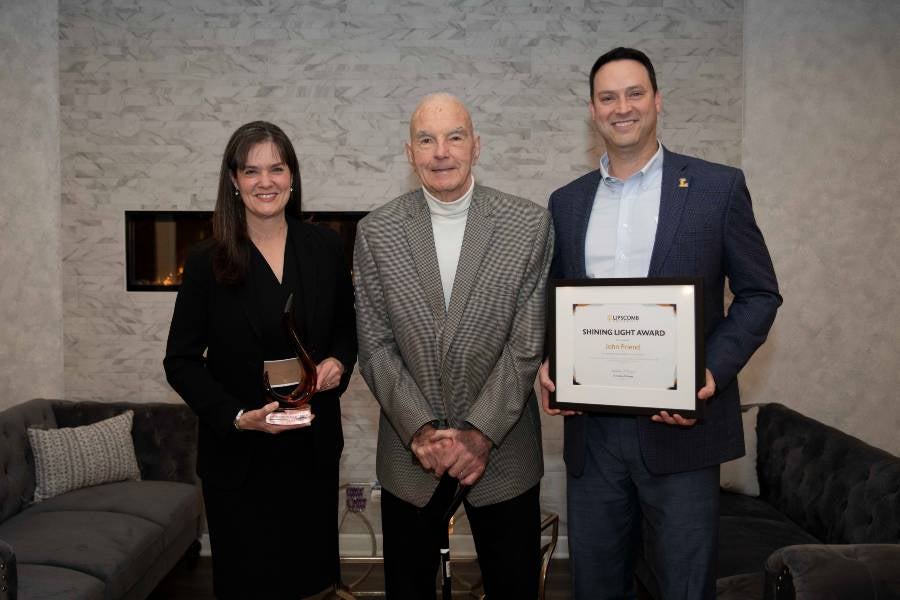 A native of Cedar Lake, Indiana, Friend was a football and basketball standout at Crown Point High School in the early 1950s, earning mention on the all-state teams in both sports. He took his talents to the then-David Lipscomb College where he attained all-conference recognition in basketball, while also being named captain and MVP of the 1957 Bison team. In 2011, Friend was inducted into the Lipscomb University Athletics Hall of Fame. 
After graduating from Lipscomb in 1957 with a Bachelor of Arts degree in physical education and history, Friend went to Southern Illinois University where he coached freshman basketball, assisted in football and received a master's degree. Following a short stint at Merrillville High School, he moved to Pepperdine University (Los Angeles) as a freshman basketball coach, assistant football coach and instructor of physical education. His freshman basketball teams were some of the winningest in Pepperdine history. 
In 1962 Friend returned to the Calumet region as assistant football and basketball coach at Hammond High School. Then, in 1964, Friend was summoned to help open a new high school in Munster where he led the physical education and athletics program to become one of Indiana's strongest prep powers, including nine state champions in the school's 18-sport varsity program. He coached both football and basketball in his first two years at Munster, before concentrating on football for the remainder of his 16-years there. He wrapped up his prep coaching career with an overall record of 119-32, including seven Lake Suburban titles, over 25 all-state recipients and eight teams ranked in the state's Top 10. He then moved to collegiate athletics as he began his career with the Purdue system. 
Friend is known as one of the top football minds in the nation and has spoken at clinics from coast to coast and in Canada. A number of his articles have been featured in football publications and his textbook entitled "Coaching Youth Football" was adopted as the National Pop Warner coaches' manual in 1977.
The legendary athletic administrator has received numerous honors for his exemplary work in the field, having been inducted into the NAIA, Chicagoland Collegiate Athletic Conference, Purdue Calumet, Hammond, and Munster Halls of Fame. He has also earned numerous PUC Administrator of the Year honors and served as the NAIA District 21 Chairman for a number of years. In recognition of his service, Friend has also had several courts, buildings, parks and awards named in his honor. 
— Photos by Kristi Jones