First 10 LaVelle Scholars selected for scholarship for MCAT study
LaVelle Scholars program helps students to reach their medical school dreams.

Janel Shoun-Smith and Keely Hagan |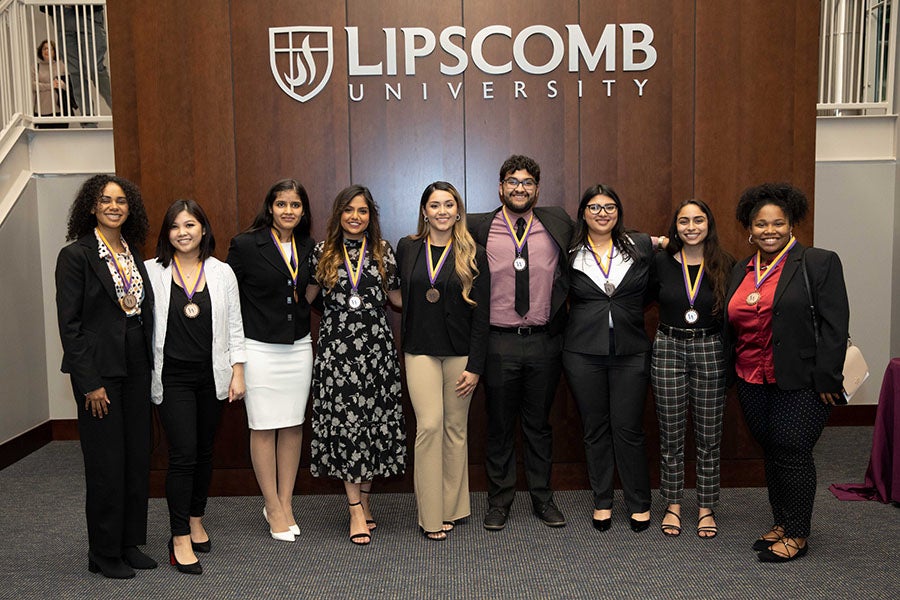 Ten students, all first generation college students, are one step closer to becoming doctors and potentially changing their family's future thanks to two donors who have funded scholarships for them to take a crucial study course for the Medical College Admission Test (MCAT).
Dr. David LaVelle and his sister, Soozie Lowry ('79), funded the LaVelle Scholars program, which allows the College of Liberal Arts & Sciences to give selected students the funds needed for the cost of the Princeton Review MCAT study course, normally a ticket price of $750 for Lipscomb students.
The purpose of the LaVelle Scholars program is to assist qualified pre-health professions students who demonstrate financial need to pay application and testing expenses associated with gaining admission to health professions schools. Student awards are funded by the Herman G. LaVelle Jr. MD Health Professions Student Assistance Funds. Selections are made by Lipscomb's Health Professions Advisory Committee.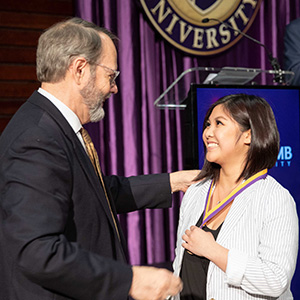 "The purpose of the fund is to be that lift, hopefully for a first-generation premed student at Lipscomb, to make it easier for them to work hard and be successful. That's what this is all about," said LaVelle. "I would love to someday hear about a student who worked hard, did well on their MCAT, did well in their studies and became the first generation in their family to get into medical school."
LaVelle and Lowry created the LaVelle Scholars program to honor the life and legacy of their father Herman G. LaVelle, who was the first in their family to go to college, thanks to financial aid through the G.I. Bill. His education as a physician changed the trajectory of his entire future family, said David LaVelle.
After spending four years working for a high GPA, putting in lots of volunteer hours, gaining a variety of skills and experiences and developing academic talents, students wanting to become doctors must also obtain a high-level score on the MCAT to be competitive. Only 40.8 percent of all students who took the MCAT during the 2021 application cycle were accepted into med school.
The university provides a foundational education for about 40 students a year who go on to attend medical school, said Dr. Kent Gallaher, associate dean of the College of Liberal Arts & Science.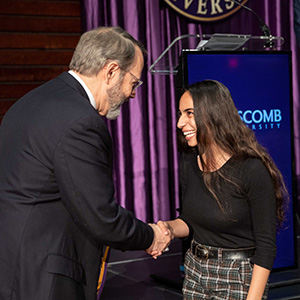 The new LaVelle program is designed to help alleviate one of the major obstacles to attending medical and health profession schools; the expense for preparing for the MCAT.
A negotiated partnership between Lipscomb and Princeton Review and contributor funds from the J.S. Ward Society has reduced the $2,500 cost of the course to $750 for Lipscomb students. The LaVelle Scholars program eliminates all costs for the 10 scholars, who are in financial need yet demonstrate great promise.
The Bison Docs program, which teams up medical professionals with Lipscomb pre-med students to serve as mentors, was established this past school year to address the second obstacle: lack of a role model in the medical field. 
Over the years, LaVelle has been a guest speaker in Lipscomb's class designated for pre-med students and in the biology program, and is now a volunteer mentor in the new Bison Docs program.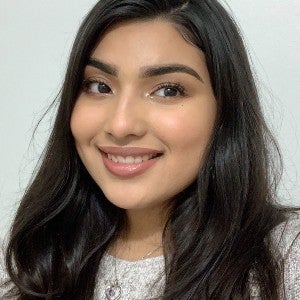 Lavelle Scholar Megan Guzman, a senior majoring in neurobiology, plans on getting a master's in biomedical/biomolecular science next fall before applying to medical school. 
Her parents are immigrants from El Salvador. "My father has a neurological disease—myasthenia gravis—which… greatly impacts his quality of life," said Guzman. "Through my father's disease, I have developed a passion for medicine which is why I decided from a young age to become a doctor in order to serve those underrepresented in medicine."
"I saw how my father was treated by physicians and the divide between language and socioeconomic barriers, so I would like to provide accessible health care for those that I can, even if it is just understanding them in their native language in order to get a better diagnosis and treatment experience," she said.
"Being a first-generation Hispanic female student, there are plenty of statistics I work hard to break in order to succeed," she said.
LEARN MORE: Read more about Megan Guzman, May 2022 graduate and LaVelle Scholar.
In the 2021-22 school year, the LaVelle Scholars program benefitted 10 students who were able to take the course for free. The 2022 LaVelle Scholars and their majors are Guzman and:
Niyati Pathak, who grew up in India, is a senior majoring in biochemistry and was previously named a Ward Society summer research fellow, which offered the opportunity to study COVID-19 and cancer for a summer at Vanderbilt University.
Gabriela Hinojosa, a neurobiology major, is a first generation immigrant from Mexico whose family moved to the United States when she was three years old. 
Jayla Fisher, a senior biochemistry major, would like to study non-invasive cardiology.
Kamakshi Nitinkumar Patel is a senior and first generation college student whose parents immigrated from Gujarat, India, in 1993. Patel says, "I would like to go on to serve my community back in India and provide the same opportunity to kids that my parents formerly gave me."
Alexus Brown, junior biochemistry major, is a first generation student of color who was born and raised in Lebanon, Tennessee. Her passion for studying medicine was sparked when she suffered a stroke in childhood and was diagnosed with an ASD and nephrotic syndrome.
Lily Dao, a Nashville native, has parents who are originally from Vietnam and raised her to be  bilingual in Vietnamese and English. She hopes to become an OB/GYN. "I enjoy learning the mysteries behind medicine and modern science," she said. "I want to be able to make a change not only for myself but also for those around me."
Mohraeil Endraws, a molecular biology major, is from Egypt and hopes to specialize in emergency medicine or pediatrics and work for Doctors Without Borders providing health care services to those in crisis all over the world.
Sam Attalla, a junior molecular biology major, was born in Egypt but has lived in Nashville since the age of 1. He hopes to become a surgeon. "I feel as though getting the opportunity to help others when they may be at their lowest or most vulnerable point is something that when approached with respect, care and responsibility is unique and fruitful," he said.
Tarek AlHamami, was born in Damascus, Syria, and moved to the U.S. at the age of 17. He wants to study neuropsychiatry and has already done work in a cancer research lab.
LEARN MORE: Read more about David LaVelle and the LaVelle family history.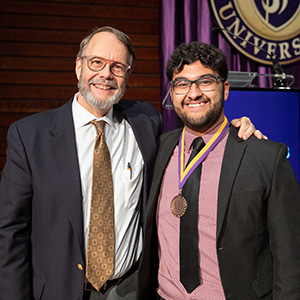 LaVelle is a retired orthopedic surgeon who practiced in Memphis. His grandfather, Herman LaVelle Sr., lacked a formal education himself but had big dreams for his children and grandchildren. With his father's encouragement and paid tuition from the G.I. Bill, Herman LaVelle Jr. earned his medical degree to become an otolaryngologist.
"Dad was the first LaVelle to go to college, and every LaVelle after him not only went to college but most also got at least a master's degree. In one generation he changed the trajectory of our family," he said.