Engineering alumna Christie Clayton ensured a firm foundation for supertall NYC skyscraper
One of Lipscomb's earliest engineering grads kept the trains running safe and consistently during construction of a high-profile future skyscraper in the Big Apple.

Janel Shoun-Smith | 615.966.7078 |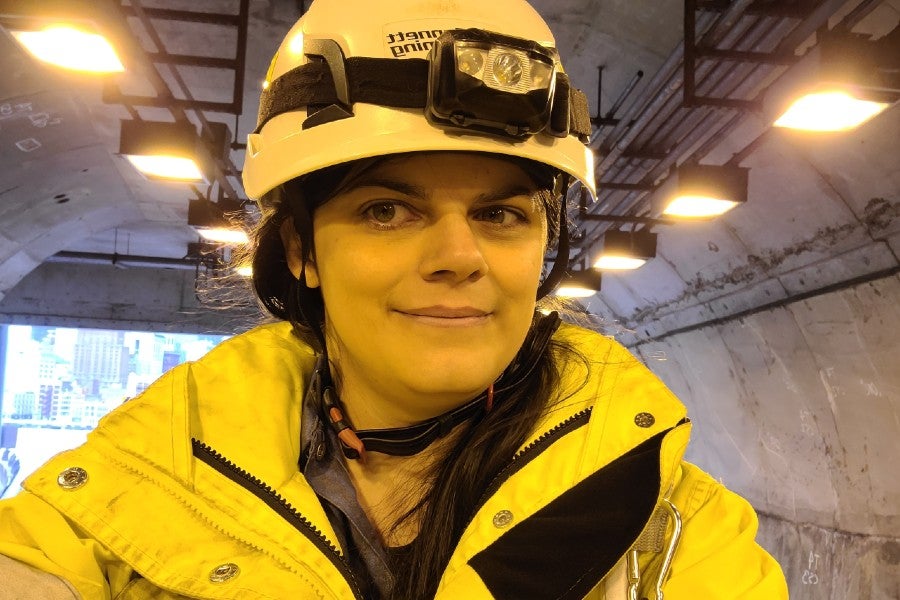 So what does an international firm do when they want to build a 1,425-foot tall skyscraper in New York City? Demolish the 707-foot tall skyscraper they already have, of course.
JP Morgan Chase carried out the largest planned demolition in history between 2019-2021 to dispense with its existing building at 270 Park Avenue. In order to rebuild the new headquarters, however, the company had to work with Metro North Railroad, as the original building was built on top of the city's famous railroad system.
The foundations for the new building, located about two blocks from Grand Central Terminal, had to be threaded through the train shed running beneath Park Avenue.
So who did Metro North look to, to make sure the massive engineering and construction project worked for both JP Morgan Chase and the railroad?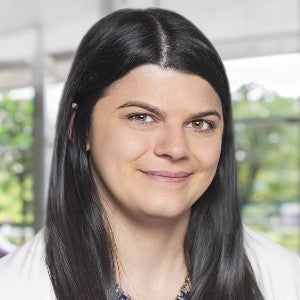 That would be Lipscomb alumna Christie Clayton ('06), one of Lipscomb's earliest engineering graduates and a tunnel expert at Gannett Fleming, a nationally recognized engineering firm. She was intricately involved in making sure what will be the fourth largest building in New York City (It won't be complete until 2024.) stands on a firm foundation.
And it all started with the fact that as a child, she couldn't sleep in the car.
Clayton's father, Gary Clayton, is an engineer for the West Virginia highways department, and on road trips, when little Christie was wide awake, he would tell her about how the road curved, why the hills look like they do, how the exit ramps work.
It instilled in her a desire to go into engineering herself, but she wanted to go into chemical engineering. That was the plan, even though at the time she arrived at Lipscomb, it only had an engineering mechanics program. She planned to transfer as a junior.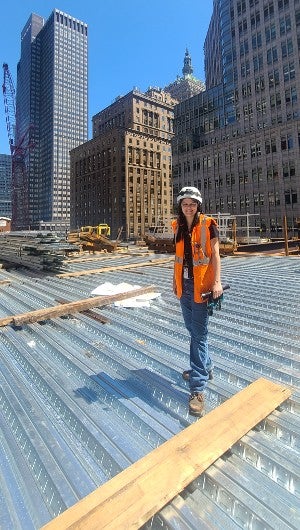 But Lipscomb's community, and the advice of her mentor Fort Gwinn, now associate dean in the Raymond B. Jones College of Engineering, won her over and she ended up graduating with her degree in engineering mechanics. Lipscomb's engineering faculty became a family for her at a time of searching in her life, she said.
"Dr. Fred Gilliam (former Dean of the College of Engineering) once called me because I overslept for an 8 a.m. exam. That is not something you get at other schools," Clayton said. "They never gave up on me. I was not a great student, but they never gave up on me and they never let me give up. I was very attached to them and I needed them in my life."
Clayton likes to call herself "Lipscomb's first civil engineer," even though her degree was in engineering mechanics, because immediately upon graduating Gannett Fleming lured her to come work for them—on highways. Just like her dad. She later passed her civil engineering licensing exam to become official.
"What I found in my career was that the best opportunities came when I said, 'Yes'", said Clayton. "When someone said, 'Hey, do you want to learn this?' I just said, 'Yes!'
"So the tunnels part came when someone remembered six years into my career that, "Hey! You basically have a mechanical engineering degree!' Tunnels have a lot of mechanical engineering components, so they said, 'You should come work on our project.'"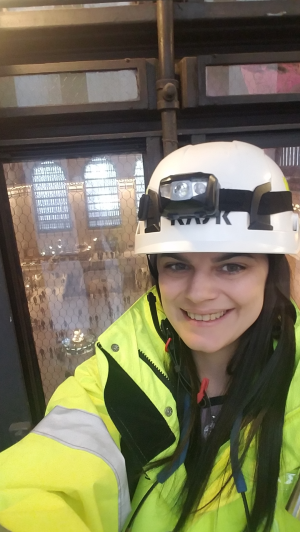 Tunnels, Clayton said, are projects that involve all engineering disciplines. They involve a structural component to hold back the earth, a roadway and its drainage involve civil engineering and the mechanical and electrical components are the lighting, ventilation, and life-safety features, she explained.
Over time, she became involved in rehabilitating tunnels and evaluating them for needed updates, a role that became in-demand after a few high-profile tunnel accidents in the U.S. resulted in new federal tunnel inspection requirements. So when Metro North came to Gannett Fleming to borrow an engineer to help ensure the railroad could operate safely and efficiently during the construction of the foundation for the new JP Morgan skyscraper, Clayton was the obvious choice.
Park Avenue in New York City, is actually a bridge, Clayton explained. In 1910, to fund the construction of Grand Central Terminal, the railroad sold the air rights to developers to build buildings over the tracks. Air rights give purchasers the right to build in the empty space above the earth's surface.
"The trains actually run through the buildings' basements," Clayton explained. "These properties are now incredibly valuable. Everyone wants the biggest, tallest and shiniest building."
Clayton and her Lipscomb alumnus partner Dr. Michael Burkitt ('04) moved to New York City for three years for her to oversee the railroad project and for him to take on a fellowship in infectious disease at New York Presbyterian-Weill Cornell Hospital in Manhattan. Both experienced the Covid-19 outbreak in New York City, which added delays and challenges to the above-ground portion of the construction project and added new significance to Burkitt's fellowship in infectious diseases.
Clayton was part of the demolition project, where the original JP Morgan building had to be dismantled piece-by-piece while 12 train tracks operated underneath, she said. All the designers and contractors would bring their plans for the foundation work among the tracks to Clayton for review. She had to draw on all her varied engineering experience as well as business acumen to keep all the parties involved happy.
"We got the old building down, and while bringing it down, we also brought the new foundations back up, which were a lot bigger. You had to thread the foundations between the railroad tracks.
"It's fascinating to be part of changing the skyline of New York city, while at the same time working within the confines of one of the most historic structures in the world," said Clayton, who calls herself a "tunnel geek". "It was also fast-paced and always brought a new challenge, figuring out how to do things in very tight spots—and during the pandemic!"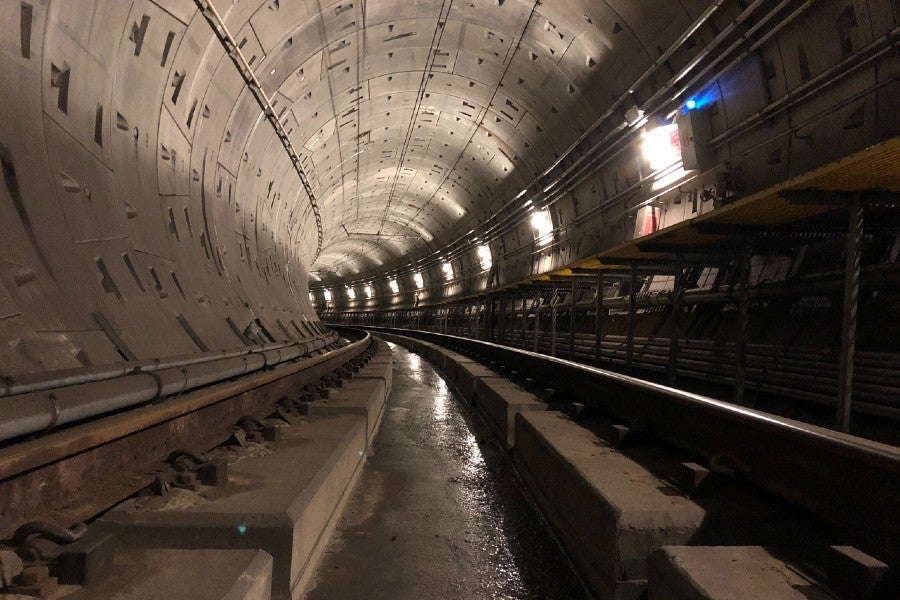 Clayton and Burkitt moved back to Pittsburgh several months ago and now Clayton is back to work inspecting and evaluating tunnels, including a safety study of all Washington D.C.'s roadway tunnels.
Now she and her dad both regale the family with their engineering tales. Ironically, despite the wide breadth of his experience, the only type of engineering projects her father has never worked on is tunnels.
Clayton was part of only 12 engineering majors in her class. She is very proud of how the program has grown into its own college with its own headquarters building and 215 majors in mechanical, civil, computer and electrical engineering, she said.
Now she is providing the same rock solid foundation she received at Lipscomb to infrastructure projects throughout the East Coast.