Education professor honored with Mary Morris Award
Roger Wiemers has served society through ministry in India and mentorship of students.
Janel Shoun-Smith | 615.966.7078 |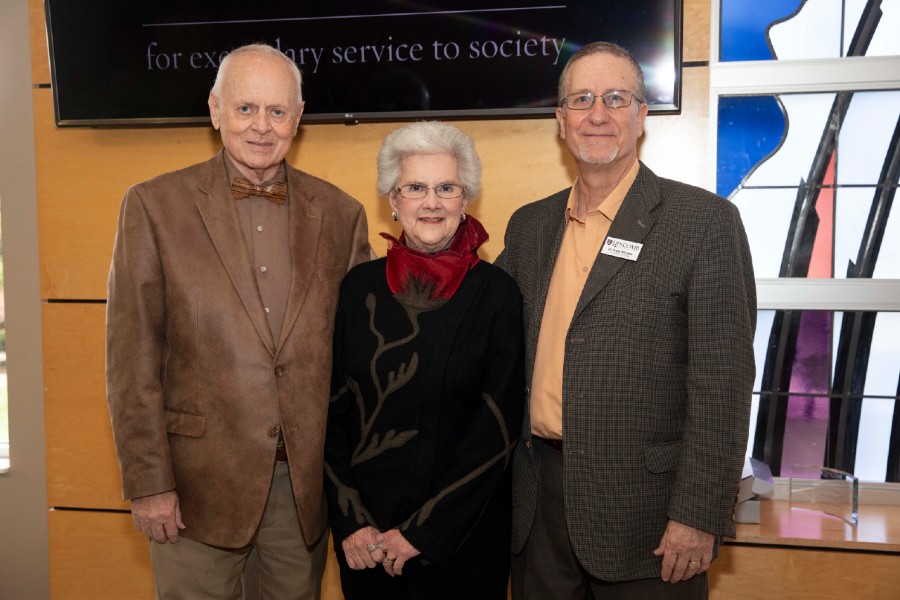 Roger Wiemers, professor with the College of Education and founder of Tamar Ministry in Mumbai, India, was honored as the 2020 Mary Morris Award winner, presented in memoriam to Dr. Mary Morris, another member of the faculty in the College of Education who passed away in 2005.
The Mary Morris Award for Exemplary Service to Society is given each year to a member of the Lipscomb family who has demonstrated a dedication to service in the community.
This year's recipient, Wiemers, spent decades as a missionary in various countries. He first traveled to India in 1984, and was then called to Papua New Guinea from 1989-1991. After he travelled back home, he learned that a group of Lipscomb students were located in Prague, Czechoslovakia, so he travelled with them from 1992-1994.
In 2007, Wiemers was deeply moved to begin a work in India called the Tamar Ministry in Mumbai with his friend P.D. Prasada Roa. Having daughters of their own, they were heartbroken by the plight of young girls in India who were victims of sex trafficking and forced into a life of prostitution.
Through the ministry's safe housing, spiritual guidance, job training and education, many women have been delivered from a life of prostitution and have come to know Jesus and His love for them. In addition to the women being served, Tamar provides care and support for the children of the women. 
Roger travels each year to Mumbai to provide leadership and encouragement to the women and the ministry team. He has led a number of short-term teams through Lipscomb missions to Mumbai to work directly with the women and children.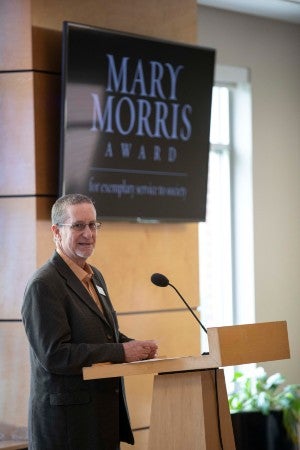 His local community service consists of tireless work on behalf of refugees here in Nashville. At Woodmont Hills Church in Nashville, he has been instrumental in beginning an outreach program to refugee families. He has connected with other groups and nonprofits in our community such as the Tennessee Immigrant and Refugee Rights Coalition in order to leverage service to refugee families.
Weimers has also served as a shepherd for many years at Woodmont Hills where he has volunteered countless hours to meet the needs of the church community as an adult Bible class teacher, member of the missions committee and small group leader. He has a gift for connecting with people in meaningful and transformative ways, said those who nominated him.
Weimers has served on the Lipscomb Institutional Review Board for nearly 10 years, having served as chair for four years. 
"Weimers is a model professor who is beloved by the hundreds of Ed.D. students who have enrolled at Lipscomb University and taken his classes," said Trace Hebert, director of the doctoral program in education. "Roger for many years has been serving and working with doctoral students in our community involved in educational leadership programs, first at Tennessee State University and then at Lipscomb. 
"His gentle, Christ-like manner reflects the love of God to students who might not be open to learning about it in other ways. He mentors new faculty members in much the same way, maintaining an openness that welcomes newer colleagues who seek guidance. He willingly and humbly shares his knowledge, wisdom and expertise and is a quiet and powerful example in doing so."
The Mary Morris Award for Exemplary Service was established by the family of Mary Morris, faculty member in the College of Education and founder and director of the Center for Character Development at Lipscomb, who died in 2005 due to cancer.
Each recipient of the Mary Morris Award has demonstrated a spirit of volunteerism, engaged in meaningful civic activities in the community that help spread God's light, demonstrated a commitment to Christian missions wherever they may be, has been an advocate for Lipscomb University, and has exhibited vision in creating new avenues to expand Christian principles in unconventional ways.
Past winners of the Mary Morris Award for Exemplary Service to Society include Charles Bone and his team at Bone McAllester Norton, the students who established Ed Pack Global, Carrie Thornthwaite, Rob Touchstone, Caleb Pickering, Richard Goode, Brett Flener, Kim Tucker, Tom Burton, Lindsey and Andrew Krinks, Jon Lee, Randy Steger and Nancy Moon Gonzalez.