Collegiate 100 chapter honors students with special pinning ceremony
Lipscomb University's Collegiate 100 chapter held its second annual induction and pinning ceremony on April 23.
Cavin Jacobson |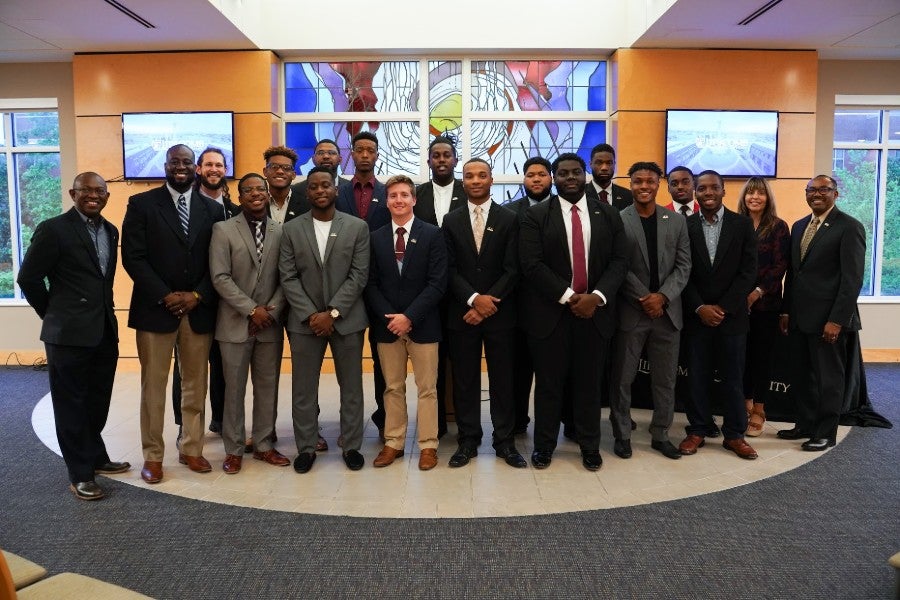 Six students were inducted into the chapter and were honored alongside the current chapter members. The 2019 inductees are Josh Hayslett, Alex Newsome, Trey Phillips, Gianni Rodgers, Will Ukazim and Canaan Wilson.
Collegiate 100 is an auxiliary program of the 100 Black Men of America, a civic organization whose goals are to be positive role models for African American children and teens. The Lipscomb program is supervised by the 100 Black Men of Middle Tennessee chapter.
The mission of Collegiate 100 is to prepare and guide college students to transition into leadership roles in their community. The chapter leads mentorship programs for young African Americans, as well as receiving mentorship from the members of the 100 Black Men of Middle Tennessee Chapter.
"It was such an honor to be inducted into the Collegiate 100. It's a nationally recognized organization that stands for positivity. I'm excited about the service we'll get to do in the future," said Phillips, one of the new inductees.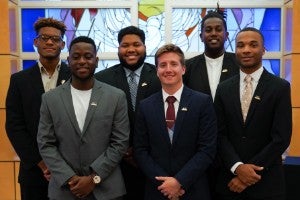 Lipscomb President L. Randolph Lowry gave the opening remarks for the ceremony, and Harold Robinson, director of Greek life at Vanderbilt University, gave the keynote address. Lori Adukeh, the executive director of 100 Black Men of Middle Tennessee, gave the closing remarks at the ceremony.
"I was honored to help welcome our new brothers. We have a lot of real work ahead of us and there is strength in numbers. Adding to our numbers will help us significantly with our tutoring and mentoring efforts," said Noah Kimbrough, president of Lipscomb's Collegiate 100 chapter.
Collegiate 100 accepts members of all ethnic backgrounds, but the organization does only allow men to participate in this program because its mission is specifically geared towards giving young black men specifically male role-models whom they can look up to and aspire to emulate.
"As chapter adviser, it's such a privilege to work with these tremendous young men," said Reggie Blair, senior director of admissions and advisor for Lipscomb's Collegiate 100 chapter. "The pinning ceremony is special because it officially affirms their involvement with the organization and gets them excited about civic engagement. They all have bright futures ahead of them and I just want to keep them encouraged."
 
Want to know more information on Lipscomb's Collegiate 100? Visit www.lipscomb100.org.
To learn more about Lipscomb's Office of Intercultural Development, visit www.lipscomb.edu/intercultural.