Business student sees opportunity during quarantine to help the people of Rwanda
Aidan Miller uses his Kwizera coffee brand to raise money for food packages for Rwanda families.
Janel Shoun-Smith | 615.966.7078 |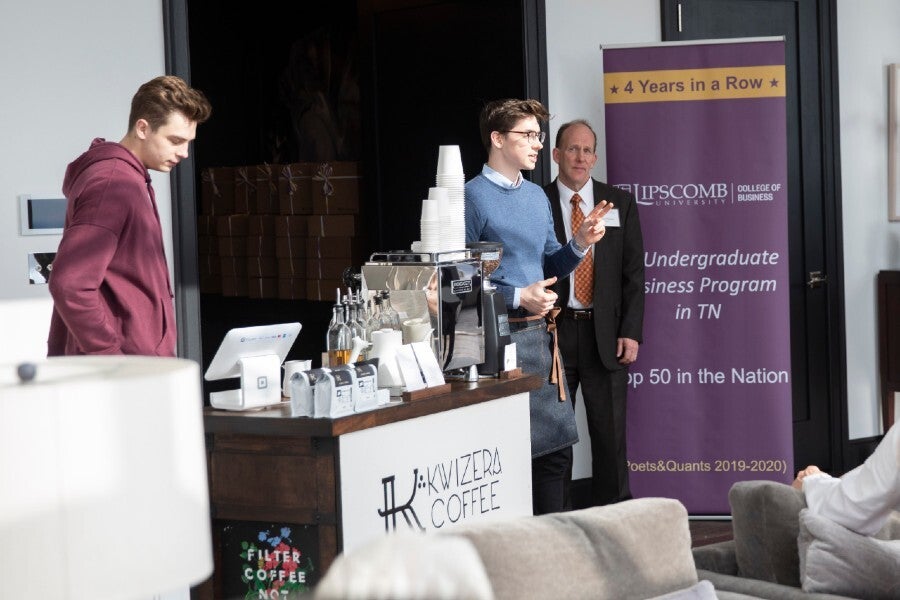 As the son of 20-year missionaries in East Africa, Miller is acutely aware of the effects of poverty and unemployment on the population. As an award-winning competitive barista and the founder of coffee shop Crema in Rwanda, he also has a vast knowledge of coffee: the taste, the sources and serving methods.
As a freshman in the College of Business, Miller brought together his two passions into one unique Nashville business, Kwizera Coffee, where the purchase of bags of coffee and booking the mobile espresso bar directly contributes to hope creation programs in Rwanda East Africa. He launched and operated Kwizera throughout the 2019-2020 school year.
And then, like all Lipscomb students this spring, he found himself having to learn a business lesson much sooner than expected: how to adapt to a market severely curtailed by quarantine restrictions in Nashville.
Miller was forced to stay in Nashville for the summer due to travel restrictions and had few prospects for his Kwizera coffee cart due to restrictions against large gatherings. However, instead of obstacles, Miller saw opportunity.
"One thing I realized through talking with friends, is that if you are not an essential worker, a lot of us are just sitting at home, but we want to be able to help and a lot of times we don't know how," said Miller.
So Miller reached out to his Kwizera vendor, the Franklin-based Honest Coffee Roasters; to Homewood Church of Christ in Birmingham, which has supported his missionary parents throughout their stay in Rwanda; and to Virunga Valley Academy in Musanze, Rwanda, where his parents work; and the team created a way to use Kwizera coffee to raise funds for food packages for Rwandan families during the pandemic.
They created a 10-day food package for one family that includes corn flour, rice, beans, cooking oil, salt, soap and two face masks. The purchase of one bag of Kwizera coffee ($16.50) provides the funds for half of the package. Donations can also be made through the Kwizera website.
Prior to the pandemic, Kwizera coffee purchases and bookings benefitted programs to provide jobs and youth empowerment programs in Rwanda. But after conferring with his partners, Miller saw that urgent need at this time of crisis was for food and hygiene products.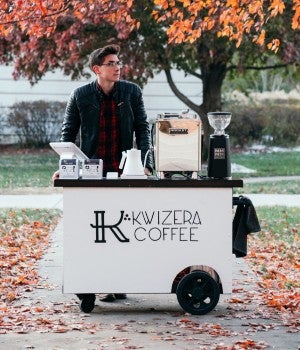 Many Rwandans live day to day based on income from small, personal business operations, said Miller. The COVID-19 pandemic has made many of these business activities impossible, placing families in a vulnerable position. "Even as lockdowns begin to be eased throughout the continent, it will take time for families who have had no work for two months to re-establish themselves," Miller said.
Even before beginning his freshman year at Lipscomb, Miller had already established a coffee shop in Rwanda in 2017 (now employing 14 people) and competed in several African barista competitions, becoming the fourth-ranked barista in Africa (the first in Rwanda), he said. He went through rigorous training from the Specialty Coffee Association to become certified and open his coffee businesses.
"I have always loved coffee's ability to connect people," Miller said. "It is something that everybody shares, no matter where you are in the world. People just come together over a cup of coffee and share ideas and gather in community, I think that is super powerful. I think we can leverage coffee to have an impact in the world."
Kwizera in Kinyarwanda (the language of Rwanda) means "hope" or "belief."
Miller was drawn to attend Lipscomb because of its Business As Mission program, training students in how to make a positive impact on society as well as a positive impact on the bottom line. He came to Lipscomb knowing he wanted to start a coffee business of some type.
"I love business and I love ministry, and I want to use my business as a vehicle to advance the community of God," he said.
In his first semester Introduction to Entrepreneurship class, his student group drew on his ideas to sell coffee sleeves from his Kwizera cart in Bison Square as part of a class project. He refined his idea during those months and began booking his mobile espresso bar for local corporations and events, operating from December to February before bookings began to slow due to restrictions.
"One thing Lipscomb has been good at is helping us understand that you have to change your business model at times," he said. "That is more relevant in these times when everyone is trying to figure out how do we sell the product we want to, but in these market conditions. Lipscomb helps its students learn how they can take their business idea and adapt to the changing markets."
Despite having to adapt for the moment, Miller plans to continue Kwizera throughout his college career, hoping to have multiple coffee carts to be booked around the city. This summer he is advancing his plans through a part-time job at a local coffee company and continuing to mentor Rwandan entrepreneurs through video-conferencing.
"A lot of the professors in the business school have been so kind to introduce me to people and pave the way," Miller said. "Especially when you are just starting, you can't do this by yourself. Lipscomb is doing a great job to create a community to help students advance their ideas and businesses.
"Partnering with our roastery and creating this campaign gives me a way to help people, and other people can come alongside us and help in what we are trying to do by buying our coffee or donating," said Miller. "Those of us here who are so privileged to be close to grocery stores and to be in the comfort of our homes, we can help and can use what we do have to help those who don't have."
— Video by Davis Brown; Photos by Kristi Jones