Bisons start quest for back-to-back NCAA tournaments Monday night
The road to the NCAA men's basketball tournament begins in Allen Arena Monday night
Kim Chaudoin |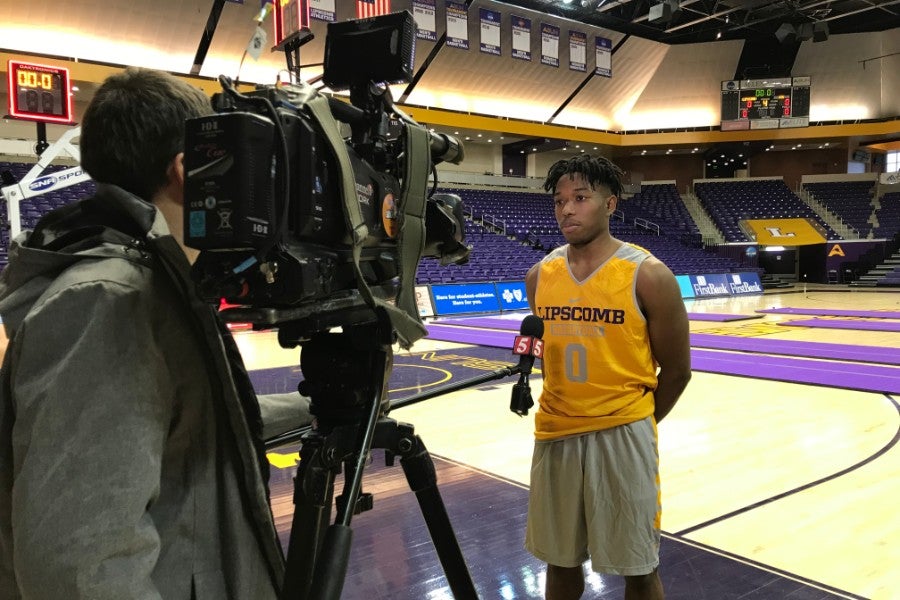 With a solid win on the road at the University of North Alabama Friday night, the men's basketball team begins its journey to a return trip to the NCAA tournament at home Monday night. 
The win gave the Bisons a share of the ASUN regular season conference title. It is the first ASUN regular season title for the Bisons since 2009-10 and their third in program history. The win also gave Lipscomb the No. 1 seed and home-court advantage in the ASUN tournament. The stakes? A return trip to the NCAA. 
The Bisons open ASUN tournament play against No. 8 seed Kennesaw State Monday, March 4, in Allen Arena. The two teams played twice during the regular season — on Jan. 21 when the Bisons won 86-57 and on Feb. 16, the Bisons defeated Kennesaw State on the road 83-67. Monday night's ASUN first-round action tips off at 7 p.m.
Fans can watch Monday's quarterfinal on ESPN+ .To purchase tickets visit www.LipscombTickets.com or call 615-966-HERD (4373). 
Monday's meeting will be the 29th contest all-time between the two schools with the Bisons owning a 21-7 advantage in the series after having won 16 of the last 18 against the Owls. They have won the last six matchups against Kennesaw State by an average of 15.2 points. The last time Lipscomb entered the ASUN tournament as the top overall seed in 2010, it also had a first-round matchup against No. 8 Kennesaw State. The Owls would go on to upset the Bisons 72-69.
Earning the No. 1 seed in the conference tournament this season is something Head Coach Casey Alexander hopes will bring Lipscomb fans out to support the team. 
"To go through the grind of a 16-game ASUN conference season and to finish the regular season with a tie for first and to get to play home games in the tournament is important to us and is a nice accomplishment," he said. "I hope our fans and supporters will reward these players for what they have accomplished by showing up and not taking anything for granted about what round it is."
It's a three-game season right now as far as we are concerned. — Coach Casey Alexander
Rob Marberry, a senior forward who is averaging 14.6 points per game this season for the Bisons, said although earning home court advantage is special, they have to keep focused. 
"This is a big accomplishment for us and for this senior class," he said. "This means a lot to us. But we have to focus on the next game. So Monday's game is the most important thing for us right now."
Junior guard Kenny Cooper said having been through the NCAA tournament experience last season is an advantage, especially on a team with a roster filled with veteran players including five seniors. 
"We know what it takes to be prepared for the tournament," said Cooper, who is the assists leader for the Bisons this season. . "We have so many returning guys with that experience - who know the mentality that we have to take into these three games. It all starts with how we approach it, and we can't get complacent." 
"Having the home court advantage is huge," he continued. "Our fans will show up and they will show out. It's going to be loud in here and hopefully win a championship in here with all of our fans."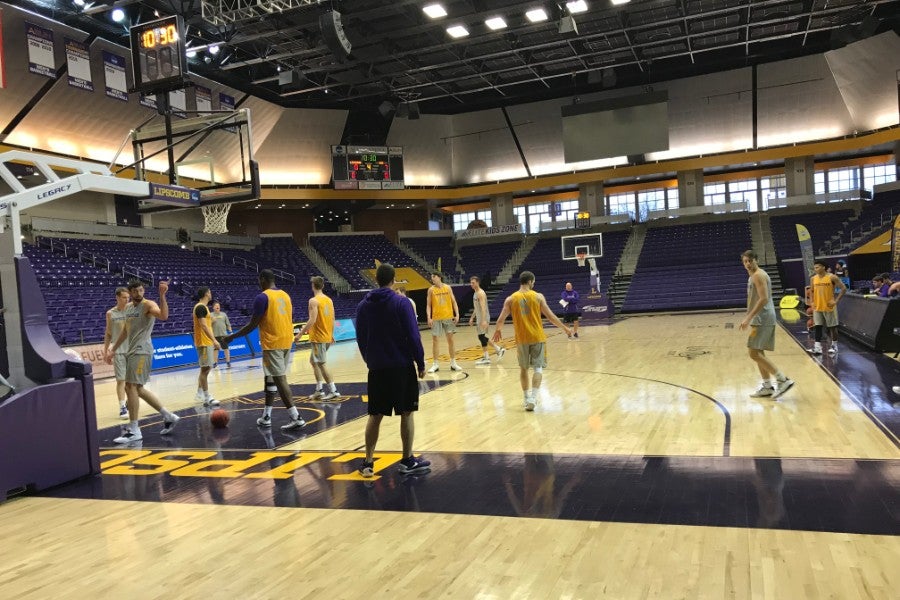 Though playing in Allen Arena is a plus, Alexander said the Bisons have room for improvement and are just working to get ready for a Kennesaw State team that he said is playing a little differently than earlier in the season with faster transitions, a strong point guard in Tyler Hooker and experimenting with different line ups. 
"Every game presents new and interesting challenges, and this one will be no different," said Alexander. He also said the Bisons need to work on their defense.
"I would like to see us be more consistent and to be the defensive team that I felt like we were for the first 20 or so games of the season," he continued. "I don't think we've lost our touch. Just within games we have had segments where we haven't been as good. So that's a key for us moving forward to have that consistency on that end of the floor making teams earn what they get. We've allowed them to get things a little too easily."
The Bisons have lost two of its last five games after a blistering 11-game winning streak. Those losses have "brought us down to earth a little," said senior guard Garrison Mathews. 
"With those losses, we've tried to go into each day trying to get better," said Mathews, who leads the team in scoring and is averaging 19.8 points per game. "It has helped us focus and play better as a team."
Alexander is just taking it one game at a time. 
"It's a three game season right now as far as we are concerned. We will see if we can make the most of it," said Alexander. "That's what basketball tournaments are for. You see upsets in conference play and in the NCAA tournament. It's a 40-minute game. The best team doesn't automatically win in a 40-minute game. Anything can happen in a 40-minute game regardless of seed. That's how we approach it. We've got a lot of unfinished business. We've got a lot of goals out there for us. The Monday game against Kennesaw is all that matters right now. And we need to be as good as we can be in that game. We need to be as sound and as solid as we can be in that game. We need to play with great energy in that game. And I think if we do that, that give us our best chance to win."
The winner of Monday night's game will advance to take on the winner of the first-round game between No. 4 Florida Gulf Coast and No. 5 NJIT. The Bisons lost on the road to FGCU 61-67 on Feb. 20 and defeated NJIT 81-77 at home on Feb. 25 during their second meetings in the regular season.