Biology alum Davison published in world-renown scientific journal Nature
Logan Butts |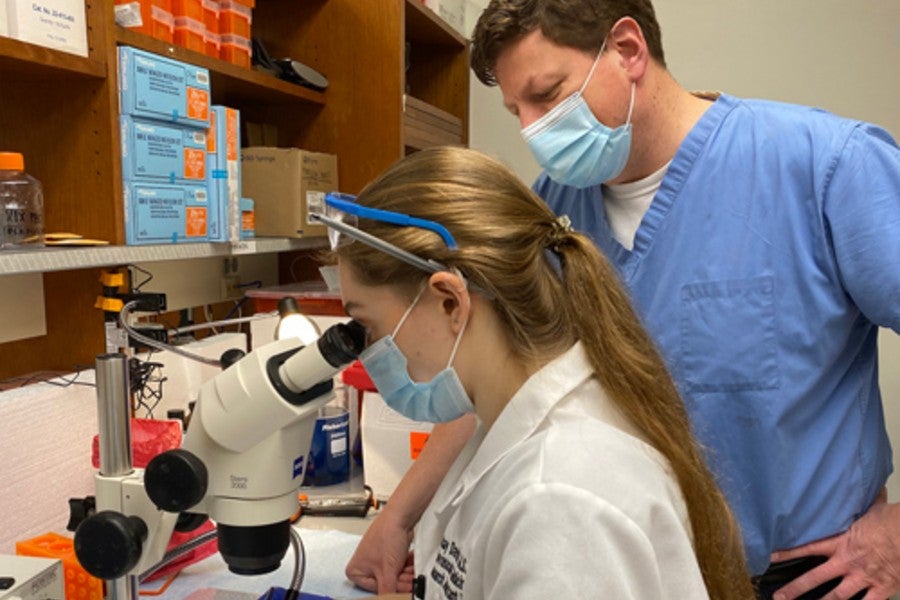 Most researchers spend years trying to make it into Nature, one of the world's most renowned scientific journals. For Lindsay Davison ('17, '18), that distinction came with her very first publication. 
"It is the most surreal experience," Davison said. "I have never been so humbled. My childhood, I kind of grew up with a huge love of scientific journals. My dad, who is my hero, has always subscribed to the actual physical journals of science. And we read them our whole lives. I always dreamt of being published in a scientific journal." 
Davison was one of the co-authors of a study on the effects of progeria on mice. Progeria, a rare genetic disease that causes accelerated aging, is one of the leading causes of heart disease among humans. 
Other co-authors on the study include Dr. Francis Collins, the Director of the National Institute of Health (NIH) and former director of the International Human Genome Project, and Dr. David Liu, who discovered the pioneering "base-editing" technique. Davison found her name alongside giants of the field on her first journal publication.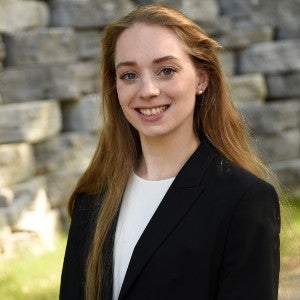 "It was unbelievable," Davison said. "At first, I was like that has to be a mistake. I remember when my PI (principal investigator) Dr. Jonathan Brown told me that I was going to be an author, I thought he was pulling my leg. I was like 'that's not real. That's a movie. That's not going to happen to me.' It still does not feel real. I'm so humbled, and I'm so excited, and I'm really, really grateful.' 
Brown, who was also one of the co-authors of the paper, and Davison currently work together at Vanderbilt, where Davison is a research assistant and Brown is an assistant professor of medicine in the Division of Cardiovascular Medicine. 
Davison credits her time at Lipscomb in helping her reach this point in her career - in ways both purposeful and incidental. 
When asked how she ended up at Vanderbilt, Davison points to fellow Lipscomb graduate Rachel DeMarco ('18) who gave Davison's name to Dr. Brown during a job interview. 
"She did not have to give my name in that interview; she chose to," Davison said. "Wow, I mean, what a huge thing. I think that really underscores the kind of community at Lipscomb. It is the most special and incredible place in the world." 
Davison spent five years on Lipscomb's campus, earning a Bachelor of Science in Biology and a Master of Biomolecular Science. In the master's program, she pursued a laboratory research track. 
During her time as a Bison, Davison worked as a lab assistant for Dr. Amanda Williams ('03), where she happened to spend a lot of time working on a specific type of western blot that would rear its head again in the lab at Vanderbilt.  
"I had a lot of this one particular type of western blot, which is the method of protein detection, and I loved it," Davison said. "It's kind of a bear of an experiment, but in my opinion, it's really fun, and it's kind of artistic almost, so I've always really been drawn to it. And this project came to a point where they needed a large amount of western blots. So my boss and I would come in and just do really intense experiments for what felt like days on end, and with the data that we generated, we actually were able to contribute a figure." 
Davison didn't just learn about western blots from Williams. She helped Davison start her research career by throwing her into the deep end and taking Davison under her wing. 
"Amanda Williams is one of the most wonderful, supportive, inspirational women I've ever met," Davison said. "She is on fire for science, and her joy and her excitement and her curiosity are so contagious. And I can truly say that about all of the biology professors - Dr. Conway, Dr. Williams, Dr. Lowrance, Dr. Lewis."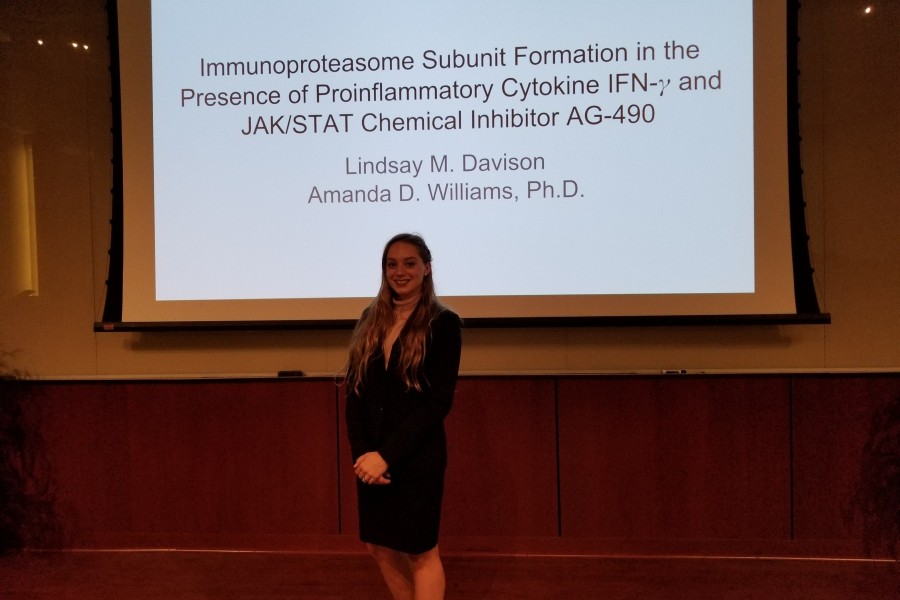 Davison says that she would not be where she is without the Lipscomb biology department. 
"I feel like this is not so much my publication. I feel like this is all of Lipscomb's," Davison said. "This is the biology department's. This is all ours. This is not just mine. Every single professor touched this, through me, through inspiring me, through being kind, through cups of coffee in their offices, through words of advice, and through supporting me and counseling me and advising me and through cheering me on. I mean, there are no words, words fail for how much I owe this to them. I really do feel so thankful." 
After spending all those years reading publications with her dad, Dr. James Davison, a retired emergency room doctor, and after all that time spent working on research in the labs at Lipscomb, Davison can now say she's already accomplished one of her biggest life goals. 
"It feels like a daydream," Davison said. "I kind of wait to wake up. And what a fantastic way to bring Lipscomb to the forefront. Without the education and the people of Lipscomb behind me and helping me at literally every step of the way, I never would have made it. Between the Lord, my husband, my dad, and the biology department, we all got this paper."