Animation program features faculty with deep Disney roots
If Disneyland is the "Happiest Place on Earth"TM for millions of families each year, then Lipscomb University is surely the happiest place on earth for budding animators.
Kim Chaudoin |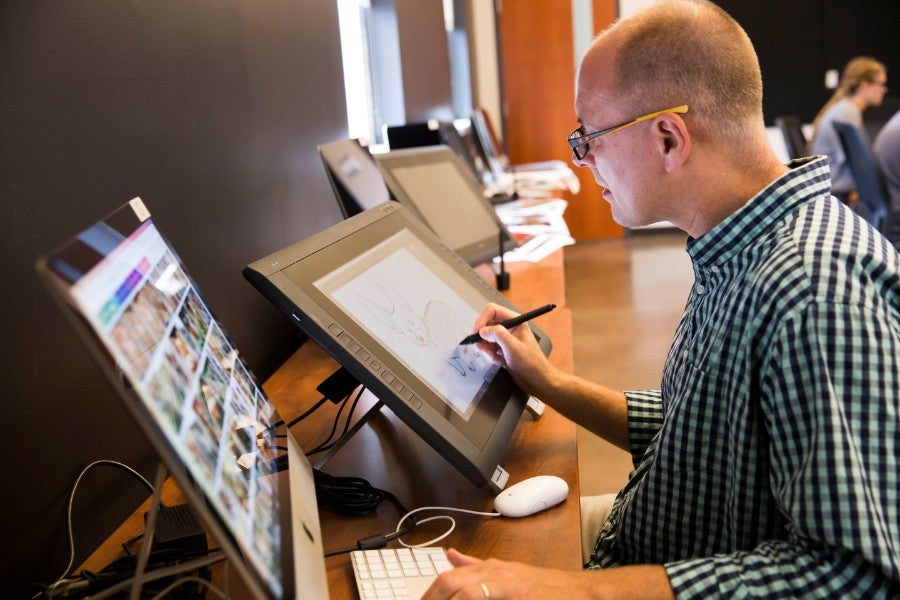 Since the earliest days of animation, Disney artists have been pioneers in the field developing innovative ways to deliver entertainment to audiences while creating some of the most beloved characters. Now, Lipscomb is giving students who want to pursue careers in animation a unique opportunity to learn from artists who have been on the front  lines at Disney, as well as other production houses.
Four years ago Tom Bancroft brought a vision to life for Lipscomb's George Shinn College of Entertainment & the Arts to offer a unique academic program to prepare students who want to pursue careers in animation. What he has created is a program whose faculty and guest lecturers include former and current Disney animators, Big Idea Production artists and numerous other industry-proven leaders and that has at its core a faith-based perspective. 
It is a very specialized program that approaches animation education with an infusion of fundamental art techniques such as perspective, figure drawing, film elements and movement.  And, the program has grown quickly from eight freshmen when it began four years ago to more than 22 freshmen this past fall. 
"I am very pleased with where we are today," says Bancroft. "We have gone further in a relatively short period of time than I thought possible. The word is out that Lipscomb University is a place to seriously study animation from some of the best artists in the industry. I think we are the only program in the world to have four Disney artists on faculty! Students are coming from across the country to be part of this program."
For more than 25 years Bancroft has been creating animated shorts, films and features in the animation industry. Much of that time was spent working for Walt Disney Feature Animation, where he was animator on four animated shorts and eight feature films including Beauty and the Beast, The Lion King, Aladdin, Pocahontas, Mulan and Brother Bear.
I am very pleased with where we are today. We have gone further in a relatively short period of time than I thought possible. The word is out that Lipscomb University is a place to seriously study animation from some of the best artists in the industry. — Tom Bancroft, founder of Lipscomb's animation program
He left Disney in 2000 to follow his heart and help Big Idea Productions, creators of the popular VeggieTales animated series, create its first feature film, Jonah: A Veggietales Movie. While there he also directed and co-created the popular 2D animated video series Larryboy Adventures. 
He is right at home in the classroom, as he has literally written the textbook for budding animators.
His popular character design instruction books, Creating Characters with Personality and Character Mentor have become the most recognized books on designing characters for animation, video games, comic books and cartooning and are required textbooks at many art schools around the world.
Because of the popularity of these books, Bancroft has been hired to design hundreds of characters for film, TV, and video game productions as well as speak at art schools and animation studios around the nation as well as in Italy, Canada and Costa Rica. Bancroft has been nominated for Annie Awards, presented by the International Animated Film Association, and Rueben Awards, presented by the National Cartoonist Society. He has spoken at the John F. Kennedy Center for the Performing Arts and was awarded an entry into the Chicago Children's Film Festival. 
"I love what I do with my many day jobs in animation designing characters for film and TV, but I've always wanted to give back to the next generation of artists and animators," he admits. "Working with Lipscomb is taking that desire to the next level for me. We are preparing our students to be industry-ready and to be able to create entertainment for the world that will equal what is produced by the best studios in the country.
"Additionally, an important aspect of our program is to instruct our students to create content that affirms their faith in the Lord. I believe with knowledge, faith and ability our students won't just change Nashville, they can change the world."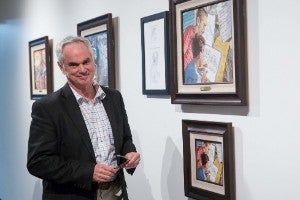 Industry-leading faculty
Bancroft says he believes it is important for students in the animation program to learn from professionals who are also active practitioners like him.
"Lipscomb is very fortunate to have faculty who are 'academic artists,' who are industry proven, actively working in the field and have a passion to teaching the next generation of artists," he said. "It's important for students to have an opportunity to see what they are learning in the classroom come to life by exposing them to leaders in the industry. Bringing these experts to campus adds tremendous value to a student's educational experience not only for the knowledge and insight they gain but also with the networking and connections they make with these professionals."
Fellow Disney veteran John Pomeroy has been part of the faculty Bancroft assembled since the beginning of the program. He can identify with students who have a dream to become an animator. 
From the time he was a boy, Pomeroy wanted to be an animator for Walt Disney when he grew up. His dream came true and he became part of a team of animators who played a key role in the development of Disney animation. 
In September 1966, a 15-year-old Pomeroy took his first portfolio to Disney Studios. He did not get past the front gate because the studio was not hiring at the time. Instead of being discouraged, however, Pomeroy says he left "energized."
Pomeroy continued to build his portfolio and refine his technique. In 1972, Pomeroy resubmitted his portfolio to Disney Studios. He was met with a better response the second time around except for one designer named Milt Kahl one of Disney's famed "Nine Old Men," the core animators at Walt Disney Productions who created some of Disney's most famous works including Snow White and the Seven Dwarfs. Kahl, often considered the finest draughtsman of the Disney animators, told Pomeroy that his "perspective was off."
"I was broken-hearted. I went back to ArtCenter College and took a perspective class along with several other courses," Pomeroy recalls. In January 1973, he once again took his portfolio to Disney Studios. This time he was accepted into the training program. His dream officially came true when he began work at the studio on Feb. 7, 1973.
Once in the program, Pomeroy found himself under the tutelage of six of the Nine Old Men, whom he affectionately refers to as "the kingpins of Disney animators." One of them, Eric Larson, who joined the studios in 1933, was given the task to spot and train new animators and became Pomeroy's mentor.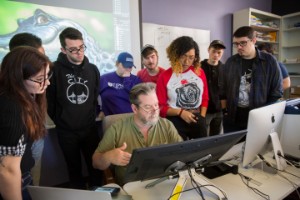 After about six months, Pomeroy was promoted from the training program to a full animator. His first assignment was to animate a 110-foot section near the end of Winnie the Pooh and Tigger, Too. That was Pomeroy's first screen credit as an animator.
He went on to his next project, The Rescuers, for which he helped develop the character Penny. With this project, another of the Nine Old Men, Ollie Johnston, became Pomeroy's supervisor and mentor. 
About that time, Pomeroy met Don Bluth and Gary Goldman, also new animators at Disney. They were all very passionate about animation and were being groomed to take over the animation department as the key animators were nearing retirement. The trio worked on Pete's Dragon, which was their first experience in combining animated and live elements. 
On Sept. 13, 1979, Pomeroy, Bluth, Goldman and several other Disney animators left the company to form Don Bluth Productions—which later became Bluth Group. They produced The Secret of NIMH in 1982 and caught the attention of Stephen Spielberg. They partnered with Spielberg on his first animated venture to produce the hit An American Tail and then The Land Before Time.
It wasn't long before Pomeroy's journey led back to Disney. He returned to the studio to become the supervising animator on Pocahontas, where he designed and led a crew of fourteen animators to create the character of John Smith. He was also supervising animator for Fantasia 2000, lead character designer for Milo Thatch on Atlantis: The Lost Empire and an animator for Treasure Planet and The Tigger Movie.
About that time Disney Studios began training their animators in digital 3D animation. After 11 years back at Disney, Pomeroy became a "free agent," working on projects for various studios continued doing work for Disney. For the last five years, Pomeroy has worked for Disney Television Animation as an off-site contractor. His current project for the studio is work on the series "Fancy Nancy."
Last July, Pomeroy celebrated the release of the book Walt's Imagination: The Life of Walt Disney, which he illustrated. Lipscomb's Hutcheson Gallery held an exhibit of the book illustrations and a reception and book signing honoring Pomeroy this past fall. It is a capstone in a career that has more than lived up to that young boy's dream many years ago.
"From the moment I became an animator, there were people coming to me to help them with their drawings, so I've been informally teaching for a really long time," he admits. "There is a very deep need to pass on what has been given to me to the new generation of animation artists."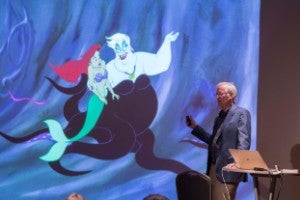 "I realized that I could dedicate my talent and my art to Him," he says. "The Lord just began pulling me into more responsive roles using my art ability and talent for Kingdom purposes. Getting more invested in church work and on and on. Getting to be on faculty at a Christian institution like Lipscomb is such a great opportunity." 
Lipscomb's animation faculty also includes former Disney artist Jim Elston, whose projects include Mulan, Tarzan, The Emperor's New Groove and Lilo and Stitch. In addition to teaching concept development at Lipscomb, Elston actively works with Christian Broadcast Network, Orange/Rethink Group Inc. and Phil Vischer Enterprises/JellyTelly Entertainment.
Tim Hodge, a  voice actor, story artist and animator, is also part of the Disney fraternity on the Lipscomb faculty. His projects included Mulan, John Henry, Brother Bear, Pocahontas and Lion King. He is currently at Big Idea Entertainment, where he has worked on numerous VeggieTales productions including Jonah: A VeggieTales Movie and The Pirates Who Don't Do Anything as well as other animated projects such as 3-2-1 Penguins.
 
From the moment I became an animator, there were people coming to me to help them with their drawings, so I've been informally teaching for a really long time. There is a very deep need to pass on what has been given to me to the new generation of animation artists. — John Pomeroy
Each year, Bancroft brings in a series of artists to hold workshops and to share their experiences with students. Recent guests have included:
Aaron Blaise, Disney animator for 21 years whose credits include Beauty and the Beast, Aladdin, The Lion King, Pocahontas, Mulan and Brother Bear; 
John Musker, a 40-year Disney animation studio veteran, who co-directed and co-wrote seven features: The Great Mouse Detective, The Little Mermaid, Aladdin, Hercules, Treasure Planet, The Princess and the Frog, and Moana; and 
American Dad writer Jordan Blum and Supervising Director Brent Woods, also known for his work on Family Guy and King of the Hill.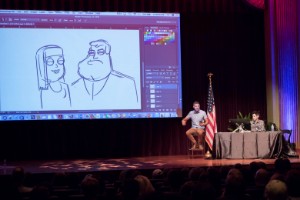 Industry-ready graduates
In May, the program celebrated its first graduates who have been part of the program since day one.
"It's great to be at this phase in the development of the program," said Bancroft. "Seeing the students' journey come to fruition and hit this milestone and to know they are prepared to find jobs and are excited about being launched … seeing the growth in our students is cool!"
"When I was young, all I cared about was climbing the ladder," he recalls. "Then you get halfway through life and you feel empty instead of being thankful or fulfilled. I don't want them to miss those moments.
"It is important to have a perspective and a faith that gives them satisfaction, contentment and happiness even if they don't accomplish their big goals. That perspective and faith will help sustain them when work gets hard, when there is a lack of work or for other difficult things in life," he said.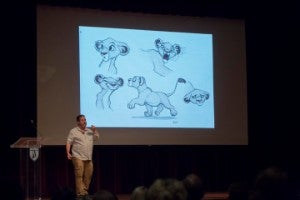 Bancroft says he is excited about the impact the animation program and its graduates will have on the industry. Lipscomb animation students have already developed an app and have secured internships where they are animating an XBox game for Microsoft, among other projects, said Bancroft.
"We are just getting started at Lipscomb with the animation program, and it's only going to get better," he says. 
Lipscomb University's George Shinn College of Entertainment & the Arts offers a Bachelor of Arts and Bachelor of Fine Arts degree in animation.
Want to know more? Visit art.lipscomb.edu.
— Photos by Kristi Jones