Amy Grant kicks-off holiday season with 15th annual Lighting of the Green Tuesday, Dec. 3
One of the highlights of the year is the annual Lighting of the Green. For 15 years, Amy Grant and friends have helped make the holiday season a little brighter on the Lipscomb campus.
Kim Chaudoin |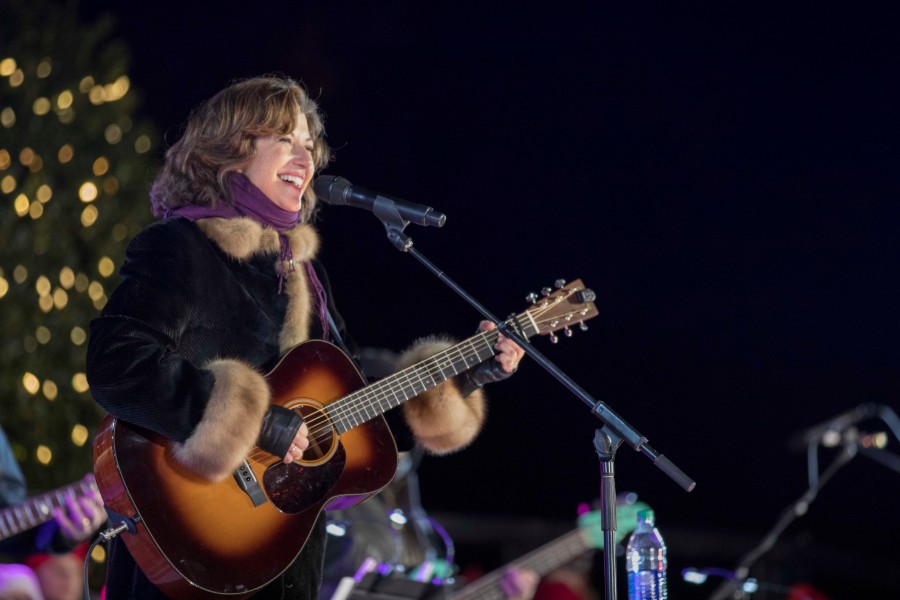 Watch live here beginning at 6 p.m. CST on Tuesday, Dec. 3.
The Lipscomb University community is celebrating the 15th anniversary of its traditional start to the holiday season with beloved Nashville entertainer Amy Grant and friends at the annual Lighting of the Green concert. This year's edition is set for Tuesday, Dec 3, at Lipscomb University.
Joining Grant this year for the 15th annual Lighting of the Green will be musician Marc Martel, contemporary Christian group Anthem Lights, choirs from Lipscomb Academy and Lipscomb University and other surprise musical guests. 
"Lighting of the Green has become a beloved tradition in Nashville, and we couldn't have made that happen without the support and generosity of Amy Grant, who gives of her time and talent to perform and to schedule an exciting slate of artists each year," said Walt Leaver, vice president for university relations.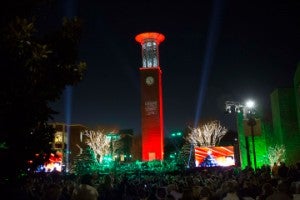 A native of Canada, Martel started and performing with Downhere from 1999-2012, during which time the band won multiple Juno Awards, Covenant Awards and a Dove Award. In 2012, he embarked on a solo career and began touring with a Queen tribute show Queen Extravaganza and in 2017 left that tour to start his own show — The Ultimate Queen Celebration, which tours all over the world. He has also cultivated an increasingly visible solo career, having released four studio albums to date. Anthem Lights is a contemporary Christian band based in Nashville that has released a total of six albums. The group released its latest work — Hymns Vol. II — last March.
 
The festivities will begin at 4 p.m. with the FREE concert to follow at 6 p.m. Food will be available for purchase in Lipscomb's Bennett Campus Center (Chick-Fil-A, Blue Coast Burrito, Creekstone Burgers, Papa John's Pizza, Starbucks and the Bison Café) and Student Activities Center (Au Bon Pain). In the event of inclement weather, activities will take place as scheduled inside Lipscomb's Allen Arena.
Merry Marketplace, a collection of holiday vendors who donate a portion of their proceeds to benefit Associated Women for Lipscomb scholarships to Lipscomb, is also a traditional feature of Lighting of the Green festivities. The Marketplace will take place in McQuiddy Gym beginning at 4 p.m. FREE pictures with Santa begin at 4 p.m. in the Marketplace.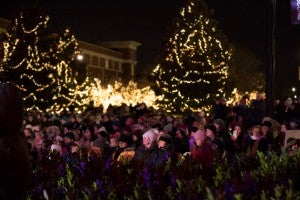 The evening will conclude with the lighting of a Christmas tree in the Allen Arena Mall. 
This year, Lighting of the Green benefits Barefoot Republic, a nonprofit camp that cultivates Christ-centered relationships between individuals from diverse racial, cultural and socioeconomic backgrounds through an equally diverse platform of artistic, athletic and team-building programs. Sponsors include CO Christian & Sons Co. Inc., Herring Telecom, Lee Company, Liberty Party Rental, American Paper & Twine Co. and Rebel Hill Florist.
 Guests are encouraged to bring lawn chairs and blankets to the concert. Handicap parking will be available in the Allen Arena parking garage. The event will be held rain or shine.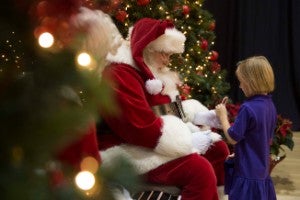 Each year thousands of people turn out to see Grant host the free outdoor holiday concert featuring the Lipscomb student choruses along with Grant's musical friends. Through the past decade, the holiday concert has featured a number of popular entertainers including Michael W. Smith, Jordan Smith, Brenda Lee, Stephen Curtis Chapman, Lennon & Maisy from the hit ABC show "Nashville," Vince Gill, Danny Gokey, Nicole C. Mullen, Mandisa, Melinda Doolittle, Point of Grace, the Fisk Jubliee Singers, Buddy Greene, Ruth McGinnis, Cody Fry, Jon and Valerie Guerra, Dave's Highway and the Annie Moses Band. 
— Photos by Kristi Jones