Alumnus runs Aegis lab, which has carried out millions of Covid tests during pandemic
Matthew Hardison ('05) oversees lab that has grown from five to 400 employees over two years since COVID hit.
Janel Shoun-Smith | 615.966.7078 |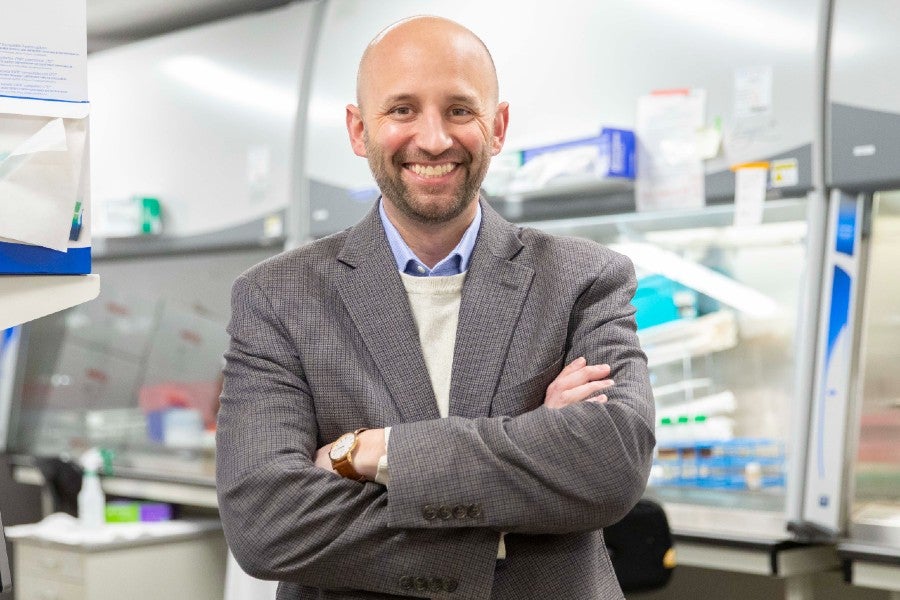 Over the past two years, the word "test" has taken on new significance in the minds of people all over the globe. Rather than referring to a final exam or a requirement to drive, the word "test" is now most often heard and uttered in regards to COVID-19 testing, the first — and still one of the most important — weapons against the COVID-19 pandemic.
Dr. Matthew Hardison ('05), the senior vice president of lab operations at Aegis Sciences in Nashville, is well familiar with the new significance of "testing", as the molecular laboratory he oversees at Aegis has performed over 10.5 million COVID19 tests since launching in the spring of 2020. Aegis' molecular lab has grown from five people in early 2020 to 400 employees currently who can analyze over 60,000 tests in a single day.
Hardison has overseen the rapid growth and constant transition at the labs throughout the pandemic. "It has been extremely challenging and extremely rewarding," he said, in what is surely is an understatement.
When he first entered his biology career, "I was not expecting weekly calls with the CDC and NIH and talking through data at the highest levels. It has been very fulfilling and also humbling," he said. "Hopefully, Lord willing, this is a once in a lifetime event. I am here in this time, and with that comes a responsibility."
The biology and chemistry graduate from Lipscomb chose to take his skills into the laboratory rather than into a dental practice (his original career plan), but was thrilled in 2011 to find that through the study and practice of molecular genetics, he could practice the science he loved and also directly impact patients for the better.
That expectation has proven true over the years as Hardison's work has been closely aligned with testing methods to alleviate the opioid epidemic and now the COVID pandemic.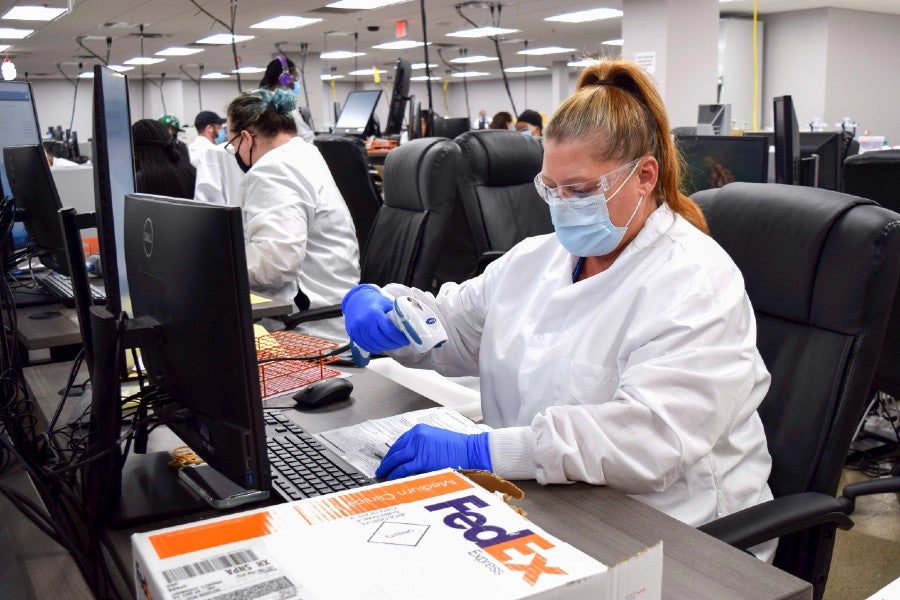 "In clinical laboratory testing, there is always a patient at the other end of the sample," he says. "No matter how many samples we are testing, whether its 30,000 a day or 70,000 a day, there is one patient on the other end of each sample – waiting for their answer.
"It is stressful, but rewarding because you know you are making an immediate impact on the patients' lives."
Hardison moved back to Nashville to join Aegis in 2015. Prior to that, his career started with his Ph.D. studies at the University of Alabama Birmingham, followed by a clinical molecular genetics post-doctoral fellowship at Baylor College of Medicine, where he performed whole exome gene sequencing (analyzing all the coding regions in the entire human genome at one time — a new process at the time). Then he moved to Assurance Scientific Labs in Birmingham, Alabama, where he built a toxicology lab from the ground up to better treat patients during the opioid epidemic.
Aegis was established in the 1990s and was primarily focused in health care and forensic toxicology before the pandemic. Toxicology tests are used to determine what drugs are present in the body, to allow doctors to make informed decisions about treatments and potential drug interactions, Hardison explained.
There is always one patient on the other end of each sample – waiting for their answer — Matthew Hardison
Molecular genetic testing can be used to analyze DNA or RNA sequences that are present in the body, such as the COVID-19 virus. As an historically toxicology company, Aegis only had five people in its molecular lab in early 2020, but because the lab had instrumentation used for other tests that could also be used for COVID, the lab was able to quickly pivot to COVID testing, starting at 1,500-2,000 samples a day, he said.
At first, Hardison's labs worked primarily with the state to do COVID testing for Tennessee's prisons, which had a number of large outbreaks early in the pandemic. "We tested pretty much every prisoner in the state," he said.
In August of 2020, Aegis partnered with the National Institutes of Health and the U.S. Department of Health and Human Services to expand their testing capabilities through more than $12 million in grant funds for new instruments. That allowed Aegis to begin testing up to 30,000 samples a day. In just five months, Hardison saw his employee numbers go from five to 150 people.
In November 2020, Aegis collaborated with Walgreens to begin conducting COVID testing nationwide and in Puerto Rico. The laboratory expanded once again to 550 employees and offers testing in over 5,000 Walgreens stores around the country. Then in April 2021, Aegis contracted with the Centers for Disease Control to provide COVID strain identification. Hardison's team had to quickly develop high-throughput next-generation sequencing methods at scale, and today they have provided approximately 15% of the strain identification performed in the U.S., Hardison said.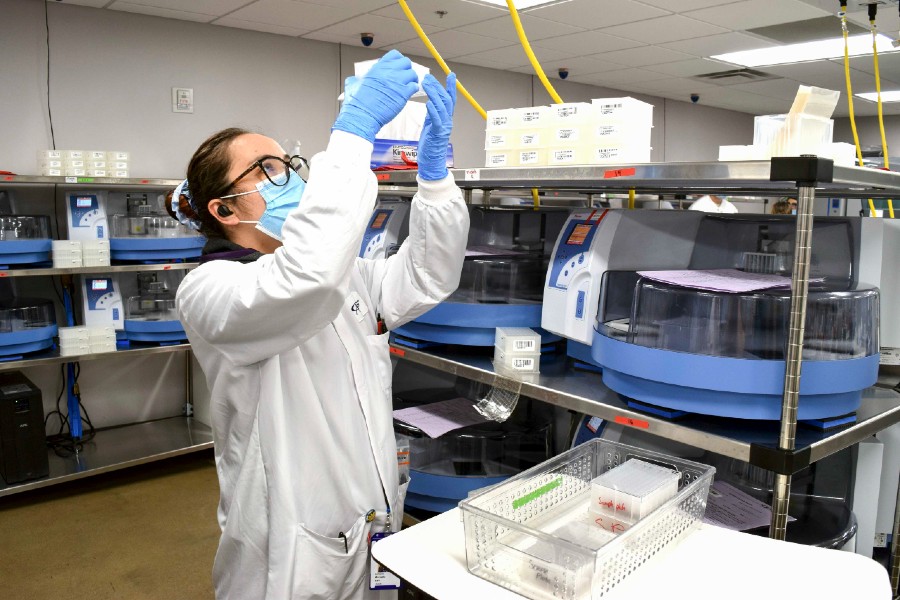 "It has been a massive interdepartmental effort," he said. "We've had to learn different ways to do things. Automation takes time and development. What has allowed us to do that, and to do it successfully, is the broad knowledge we have at Aegis.
"On top of our expert scientific team we have a team of engineers who can repair and maintain the liquid handling robots. We have a materials management team and client services to get testing supplies in the lab and collection devices to our clients. We have a clinical pharmacist team focused on communicating with clinicians and patients. It's been a great experience to scale up our services."
While Hardison still rolls up his white coat sleeves in the lab on occasion, his job today is mostly administrative and managerial, he said. "I try to be very collaborative. My teams work best when we work together," he said, saying that every challenge starts with setting clear goals.
Hardison's wife Andrea ('08) currently serves as a nurse practitioner in Lipscomb Health Services, so it's safe for Hardison to say that "COVID has completely dominated our lives professionally and personally."
Despite he and his wife being fully vaccinated, Hardison's entire family fell ill with the Delta strain of COVID in August 2021. Their personal and their professional experiences give them a unique perspective on COVID, he said.
"(Andrea) takes care of students experiencing COVID-19, while I work with COVID on the diagnostic/epidemiological side. It is good we are in the thick of it together, because it allows us to have grace and understanding to see where the other person is coming from," he said.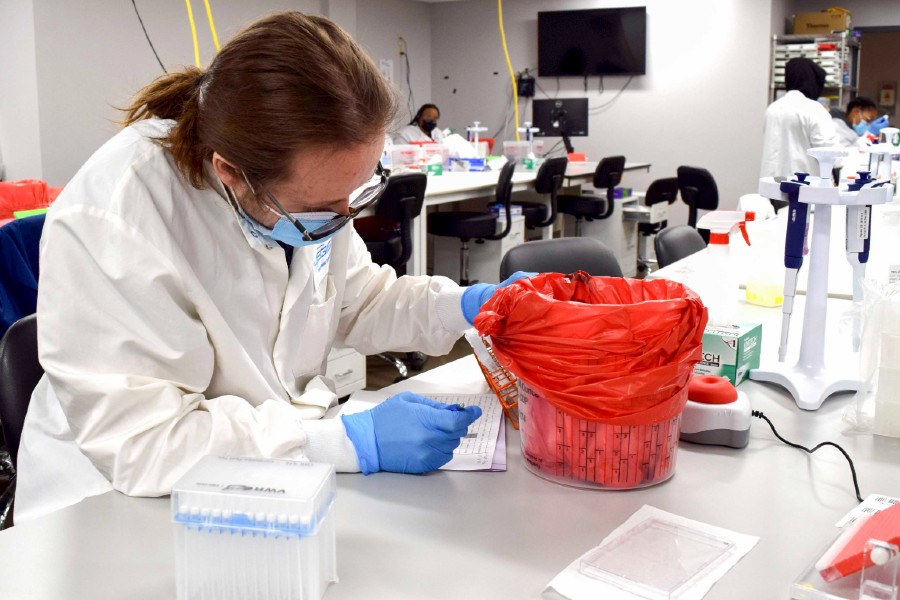 Hardison, originally from Lexington, Kentucky, comes from a long line of Bisons, with the number of family members who have attended Lipscomb in the double digits. During his college career he carried out research projects with Jon Lowrance, now chair of the biology department, participated in summer research programs at Pepperdine and Vanderbilt universities.
When the time came to apply for dental school, like his father before him, he began dragging his feet as he was uncertain about his chosen path.
"My dad pulled me aside in my grandparents' kitchen and said there was no pressure or expectation from him. When I said, 'I'm not sure I want to be a dentist,' he said, 'Lord willing, you will work a long time, so you should do something you love.'"
Hardison took that advice, applied to graduate school in molecular physiology and biophysics, and set out on the path that led to his ability to impact the lives of millions of people during the worst pandemic in a century.