Alum Clydetta Fulmer sculpts iconic Rosa Parks statue in Montgomery, Alabama
Clydetta Fulmer ('70) created a life-size, bronze statue of the civil rights icon to commemorate Montgomery's bicentennial celebration and the anniversary of the Montgomery Bus Boycott.
Kalli Groce |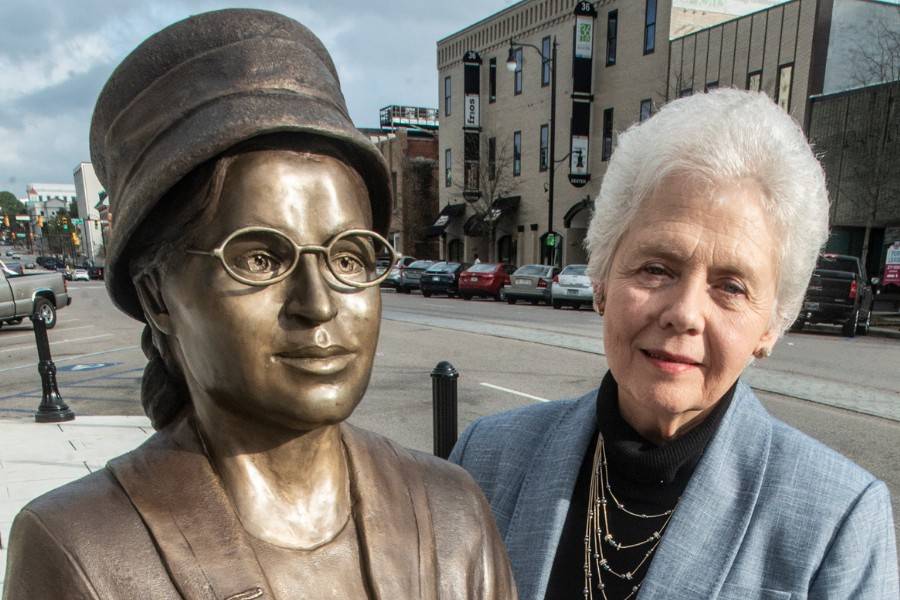 Sculptor Clydetta Fulmer enjoys an artistic challenge. The Lipscomb graduate recently completed a bronze sculpture of Rosa Parks that was the centerpiece of the Montgomery, Ala., bicentennial celebration and anniversary of the Montgomery Bus Boycott.
Fulmer usually requests a full year to work on a life-size statue, allowing six months to sculpt the clay and six months to cast it in bronze. For the Parks statue, she worked with the foundry to compress that schedule after being commissioned in May 2019 with plans for a Dec. 1 unveiling. It all turned out beautifully.
Discovering a lifelong passion
Fulmer has strong ties to Lipscomb. Her parents met at Lipscomb, and her grandfather taught here beginning in 1918, so she has known of the university her whole life. Her older sisters also attended the school. Her sister, Constance Fulmer, taught in the Department of English from 1960 to 1980. Her other sister, Eunice Wells, is an associate librarian, and her brother-in-law, Carroll Wells, is a professor and the chair of the department of mathematics.
Following family tradition, Fulmer graduated with an art major in 1970, and this is where she first discovered her love for sculpting. John C. Hutcheson Jr., was her major professor, and she remembers telling "Brother Hutch," as the students called him, that she would like to try a sculpture class. He pointed her to an intro class the university offered at the time.
"When I was sculpting that first portrait bust, I thought, 'This is it.' I had drawn and painted all my life, but I really liked sculpture," said Fulmer. "I liked the fact that it required you to see something in three dimensions. I enjoyed the manual labor of working with my hands in the clay, and I just thought, 'This is what I want to do.' "
So she told Brother Hutch she would like to study it more, but Lipscomb didn't offer a more advanced course. He arranged for her to take some sculpture courses under Puryear Mims at Vanderbilt, and she got credit at Lipscomb for the classes. 
 
A thriving career takes shape
While she was a student at Lipscomb, Fulmer went home for the summer and wanted to practice doing some sculpture. She did a portrait bust of her mother. She then asked a friend who was in her 80s at the time to pose for her, and her subject quickly became her "press agent." 
She told everybody, "Oh, you should see what Clydetta is making of me! It's not pretty, but it's just like me."
One of the people she told was Rex Turner Sr., who was the president of Alabama Christian College (now Faulkner University). She invited Turner and some others from the administration to Fulmer's house to see the sculpture. This gave Turner an idea. He commissioned Fulmer to sculpt four portrait busts of some of the college's major donors. 
"That was my beginning," Fulmer said. "Those were my first commissions. I worked on those while I was still a student in college, and the Lord has kindly led me from one thing to the next through these many years."
One of those four busts was of Lillie Mae Armstrong Burton, the wife of A.M. Burton. Fulmer got to know her family, including her then-eight-year-old granddaughter Amy Grant. Thirty years later, Grant commissioned her to sculpt life-size statues of her children. 
Bringing history to life
When Hutcheson died of cancer at an early age, Fulmer was honored to be commissioned by his widow, Mary Nelle Chumley, to sculpt a portrait bust of him to present at homecoming 1986. That sculpture is displayed at the entrance to the John C. Hutcheson, Jr. Art Gallery in the Beaman Library.
Fulmer created the Rosa Parks statue in her unique studio in Montgomery, which was originally a church built in 1916 by her great-grandfather.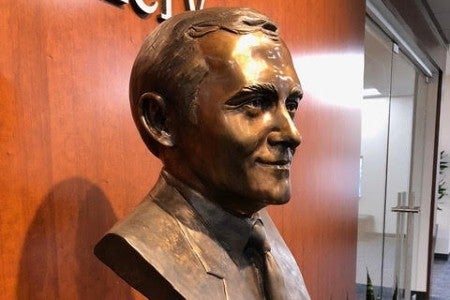 For details on the intricate clay and bronze Rosa Parks project, as well as links to more stories on those involved (like Coretta Scott King's hairdresser) and what it has meant for the city of Montgomery, read the full Montgomery Advertiser story here. 
As for Fulmer, she is already busy working on her next big project. She has been commissioned by the Alabama Department of Archives and History to sculpt a portrait bust of Pattie Ruffner Jacobs, a suffragist who is in the Alabama Hall of Fame. This is the 100th anniversary of the suffrage movement, and Jacobs was instrumental in getting women in Alabama the right to vote.
 "I feel very blessed, and I always pray that my work will be a glory to God and a blessing to those who see it," said Fulmer. "I'm thankful that I've had all these opportunities to use it that way."
 
— Photos used with permission from the Montgomery Advertiser.