2023 Presidential Ambassadors Council selected
Kim Chaudoin |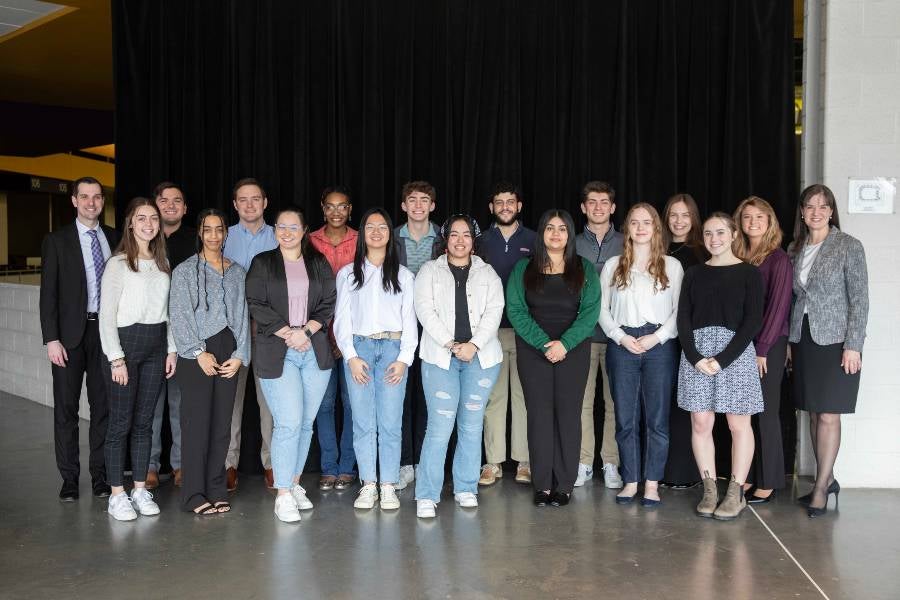 The 2023 Presidential Ambassadors Council (PAC) has been selected, President Candice McQueen recently announced. 
PAC members are nominated by faculty and staff and are selected after an application and interview process. Students are freshmen, sophomores and juniors and serve as representatives of the university at events throughout the calendar year. 
The 2023 new Presidential Ambassadors Council members are:
Heba Alali, Biology
Margret Agustsdottir, Social Work
Ryan Anderson, Finance
Qualyse Bell, Nursing/Psychology
Brady Bryson, Finance and Mission, Ministry and Leadership
Bella Coleman, Accounting
Reece Collie, Entrepreneurship
Ashley Gibbs, Finance
Lineth Gonzalez, Law, Justice and Society
Eden Hutchinson, Management and Marketing
Carly Martin, Theology and Ministry
Allie Melhorn, Psychology
Lawton Miller, Accounting
Diane Obinwa, Animation
Eric Schall, Neurobiology
Kierolles Shehata, Biology
Madison Shelton, Public Relations
Lin Zhang, Software Engineering    
This year's new council members have been involved in almost every aspect of student and academic life — including Quest, the Office of Intercultural Development, social clubs, Student Activities Board, Honors College, Student Government Association, resident assistants, breakout chapel leaders, admissions tour guide team members, study abroad participants and athletics. In addition, the new 2023 council members represent six different states, six different Tennessee cities, three international countries, 16 different majors, and both residential and commuter students. 
New PAC members join 12 returning members from the 2022 council. These members include:
Traci Austin, Family Science
Savanna Dugan, Environmental and Sustainability Science
Garner Harsh, Mechanical Engineering
Joseph Helmy, Biology
Nick Marek, Mechanical Engineering
Leighton McBryde, Business Management and Marketing
Sabrina Nguyen, Social Work
Meti Regaa, Molecular Biology and Music
Zoe Shah, Nursing
Olivia Sibley, Law, Justice and Society
Reed Taylor, Exercise Science
Sidney Webster, Youth Ministry
A junior youth ministry major from Albemarle, North Carolina, Webster is returning as a second-year PAC member. 
'Within this past year on PAC, I have learned a great deal. However, I think the greatest lesson I have learned is how to serve others well by listening," said Webster. "This group attends many events and interacts with a wide variety of people, which opens the door to hear many different stories and perspectives. A majority of the people we get to interact with hold impactful positions, so having the opportunity to listen and intentionally interact helps them know their stories and perspectives matter, and make a difference outside of their typical workplace which has been impactful." 
Webster said having a group like PAC is beneficial in having student representation at events but also "plugs students into the university in a different way." 
"They have had the chance to see how some of the more impactful events are run from behind the scenes, which builds a sense of appreciation for everyone involved and shows how much those working for Lipscomb genuinely want the best," she continued. "We get the opportunity to put faces to names we hear about in emails or chapel announcements, which makes the campus feel even more like home." 
— Photo by Kristi Jones