Lifelong Learning – Scam Alerts! Be Informed!
Friday, November 3, 2023 12:00 PM-1:30 PM
Longview Mansion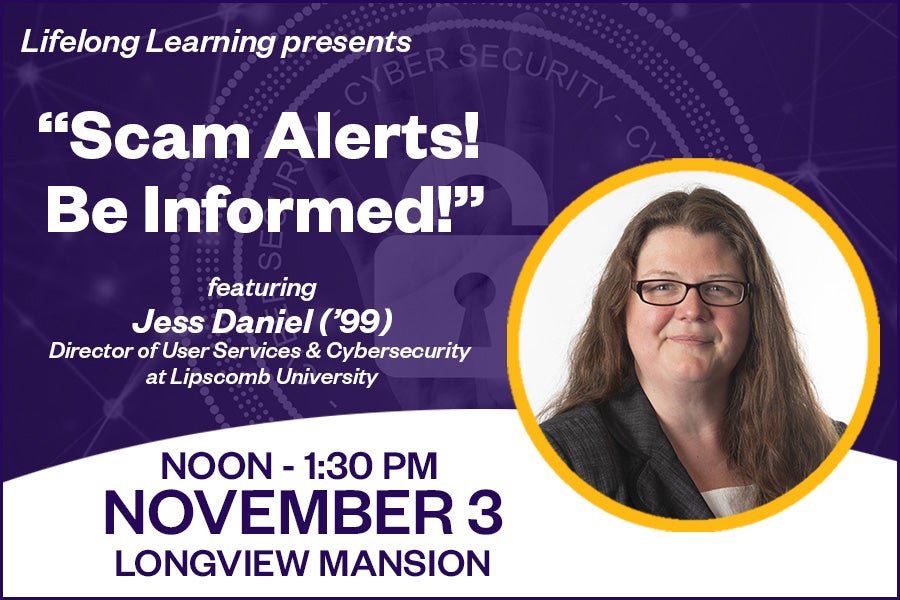 Join the Lifelong Learning program on Friday, Nov. 3 at Longview Mansion, located at 811 Caldwell Lane, Nashville, Tennessee, for "Scam Alerts! Be Informed!" This fun and informative event will be led by Jess Daniel ('99), director of user services and cybersecurity at Lipscomb University.
Take control of your online security! In a world where technology has become an integral part of our lives, it's crucial to stay informed and protected. In this session, you will learn the common tactics used in current online scams, how to spot them, and the simple steps you can take to help protect yourself from identity theft and financial fraud. 
Cost is $40 per person and includes lunch. Registration is required by Oct. 31.  Parking is available on site. 
Sponsored by the Lipscomb Office of Alumni Engagement, the Lifelong Learning program offers people of retirement and semi-retirement age an opportunity to expand knowledge and explore new ideas in an informal, non-competitive environment.
 
QUESTIONS? Contact Amy Hamar, director of lifelong learning and senior alumni programs, at amy.hamar@lipscomb.edu for more information about this fall's Lifelong Learning program.