Lifelong Learning - Mummy Unwrapped: Exploring the Identification of Yuya as Joseph of the Bible
Friday, September 22, 2023 12:00 PM-1:30 PM
Longview Mansion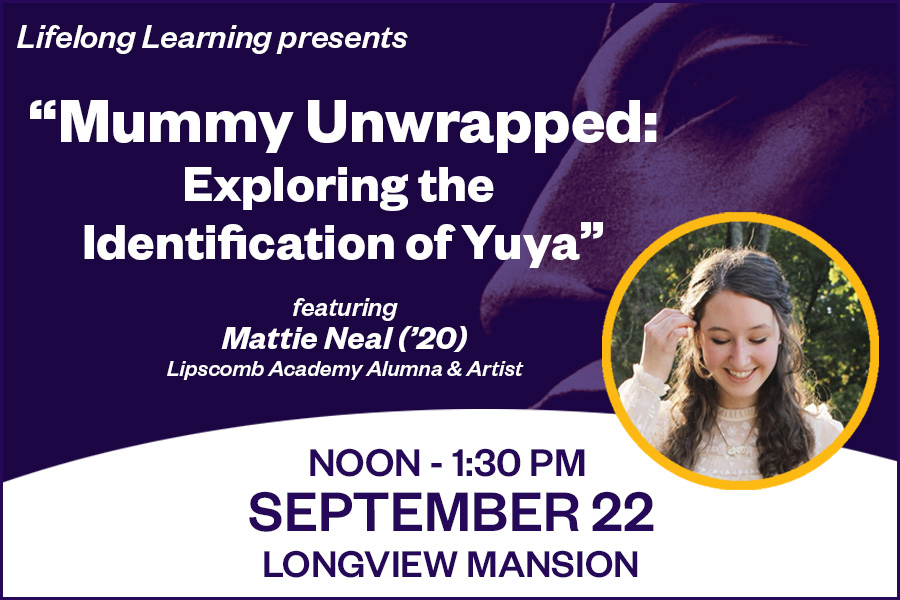 Join

the Lifelong Learning program on Friday, Sept. 22 at Longview Mansion, located

at 811 Caldwell Lane, Nashville, Tennessee

, for "

Mummy Unwrapped: Exploring the Identification of Yuya as Joseph of the Bible.

"

 
This event will be led by Mattie Neal ('20), Lipscomb Academy alumna and artist.
Was Yuya Joseph? The mummy Yuya, often called "the stranger in the valley of the kings," was discovered in 1905. Uncover the investigation of Yuya's possible identity as Joseph of the Bible. Explore new evidence and trace the implications of this case. Biblical text and history align to reveal the intertwined lineage of the Hebrew patriarchs and the famous Amarna kings of ancient Egypt.
Cost is $40 per person and includes lunch. Registration is required by Sept. 19. Parking is available on-site. 

Sponsored by the Lipscomb Office of Alumni Engagement, the Lifelong Learning program offers people of retirement and semi-retirement age an opportunity to expand knowledge and explore new ideas in an informal, non-competitive environment.
QUESTIONS? Contact Amy Hamar at amy.hamar@lipscomb.edu for more information about this fall's Lifelong Learning program