Lifelong Learning Lunch & Learn-CANCELLED
Tuesday, April 28, 2020 11:30 AM-1:00 PM
Avalon, Lipscomb University campus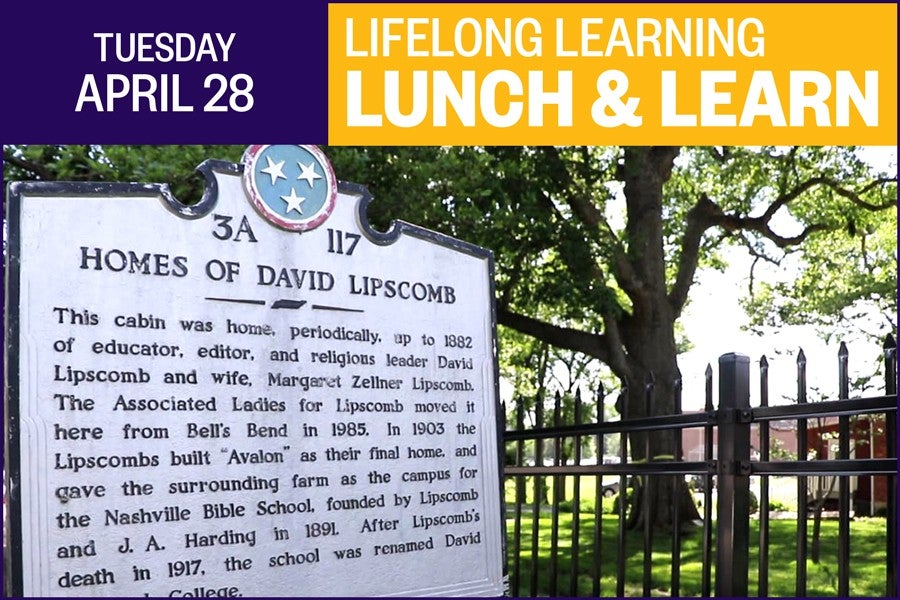 When people enter the Granny White Pike side of campus, they are greeted by two historical icons: the Lipscomb log cabin and the Lipscombs' beloved home, Avalon. The cabin, thought to have been built around 1866, was originally located in Bells Bend but was disassembled and moved to the Lipscomb campus in 1986. This project was overseen by Robert G. "Buzzy" Neil.
Avalon was the home of David and Margaret Lipscomb from 1903 until their deaths. This house and the Lipscombs' old farm cabin today stand side by side on the campus and have been restored by the Associated Women for Lipscomb.
Mary Nelle Chumley and Buzzy Neil will share the history and discuss the restoration that went into each of these beloved homes. The cabin and house will be open for tours following the luncheon and presentation.
Cost: $35 per person
Please RSVP by April 22.
Questions? Contact Laura Tywater, program coordinator, at laura.tywater@lipscomb.edu or 615.966.5733.