Lifelong Learning - Antique Appraisal Fair with J.T. Thompson, Appraiser and Historian
Friday, October 27, 2023 12:00 PM-1:30 PM
Longview Mansion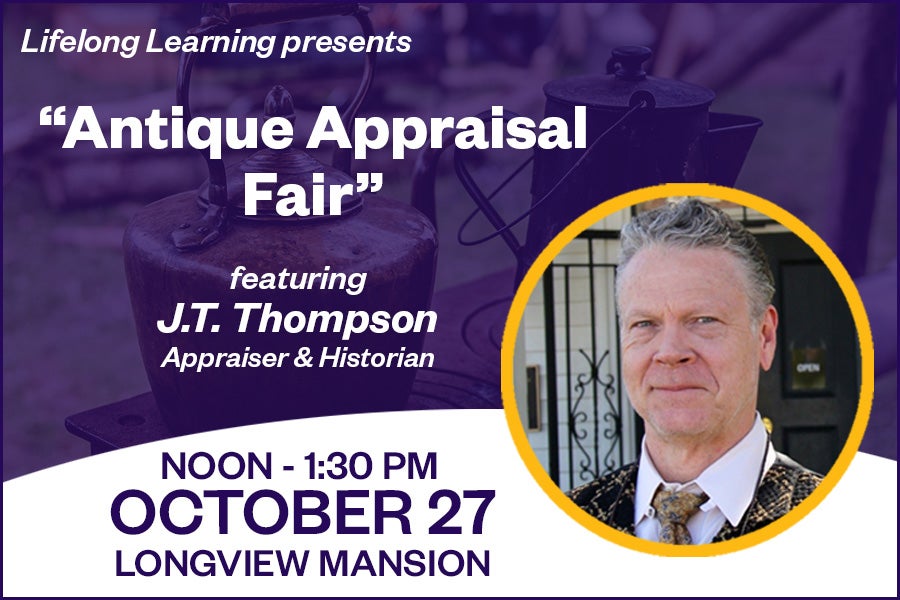 Join the Lifelong Learning program on Friday, Oct. 27 at Longview Mansion, located at 811 Caldwell Lane, Nashville, Tennessee, for "Antique Appraisal Fair." This fun and informative event will be led by highly regarded appraiser and historian J.T. Thompson.
Thompson will review and appraise pre-selected items and reveal his findings during this Oct. 27 lunch-and-learn event. 
Have you often wondered about the origination and/or value of that treasured heirloom that you have? Are you curious about the value of that unique item you purchased at a yard sale for little or nothing? If so, you do not want to miss this opportunity! 
The event will begin with lunch followed by the stories and appraisals of items that have been submitted. You do not have to submit an item to attend this presentation. However, if you have items you wish to submit for appraisal, you may do so by emailing photos, a brief history and description to Amy Hamar at amy.hamar@lipscomb.edu. 
Thompson has been featured on Antiques Roadshow, so this event is sure not to disappoint. Reserve your spot today! 
Cost is $40 per person and includes lunch. Registration is required by Oct. 24. Parking is available on site.
Sponsored by the Lipscomb Office of Alumni Engagement, the Lifelong Learning program offers people of retirement and semi-retirement age an opportunity to expand knowledge and explore new ideas in an informal, non-competitive environment.
QUESTIONS? Contact Amy Hamar at amy.hamar@lipscomb.edu for more information about this fall's Lifelong Learning program.