Commencement
Friday, May 7, 2021 9:30 AM-Saturday, May 8, 2021 4:30 PM
Allen Arena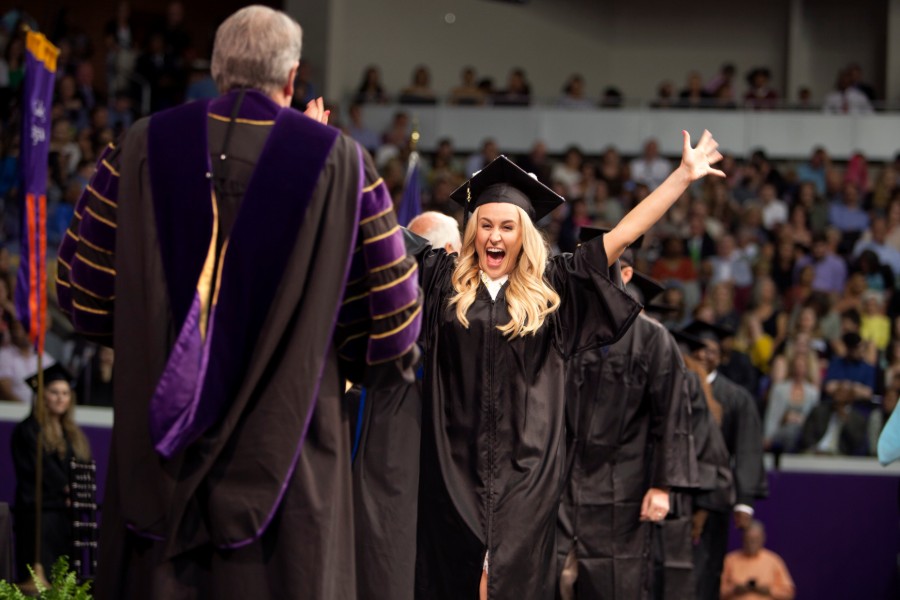 Spring Commencement • May 7-8, 2021
While our traditional commencement may look a little different this spring, we are pleased to announce our plans to offer a series of in-person ceremonies Friday, May 7, and Saturday, May 8. These celebrations will include May 2021 degree candidates as well as August 2021 candidates who have petitioned to walk early in this ceremony.
 
While details are being finalized, we want to share general information with you that will help you as you plan for graduation. Great care is being taken to provide an experience that is meaningful and reflective of the significance of our students' academic accomplishments but that also adheres to local and state guidelines as well as protects the health and safety of participants. We are committed to celebrating this significant milestone in a way that is meaningful, memorable and as close to a traditional ceremony as possible. 
 
We will hold four graduation ceremonies Friday, May 7, through Saturday, May 8, that will allow us the ability to safely distance participants in the program. Degree candidates will be expected to participate in the specific ceremony affiliated with their college. The ceremonies will take place in Allen Arena according to the following schedule:
Friday, May 7
10 a.m.
George Shinn College of Entertainment & the Arts
College of Pharmacy & Health Sciences
4 p.m.
College of Business 
College of Computing & Technology
Raymond B. Jones College of Engineering 
Saturday, May 8
10 a.m.
College of Education 
College of Leadership & Public Service 
College of Professional Studies
4 p.m.
College of Bible & Ministry
College of Liberal Arts & Sciences 
 
Each graduate will be offered a maximum of four assigned seats for their guests, seated in a group for their college's ceremony. Graduates will receive additional information regarding the ticketing process.   
The ceremonies will also be streamed live for family and friends who are not able to attend in person to view and celebrate your accomplishments. Our Class of 2021 graduates have been tenacious and have thrived in an historic time in higher education and have persevered to complete their degrees, and we hope you will take time to celebrate with those you have walked with you on this journey. 
 
We look forward to celebrating our graduates and are hopeful as we approach May 7-8 that conditions on campus and in our state at that time will allow us to proceed with our plan to offer these in-person ceremonies. 
Please check back often for updated information.