Bisons in Huntsville
Thursday, July 29, 2021 7:00 PM
Huntsville, Alabama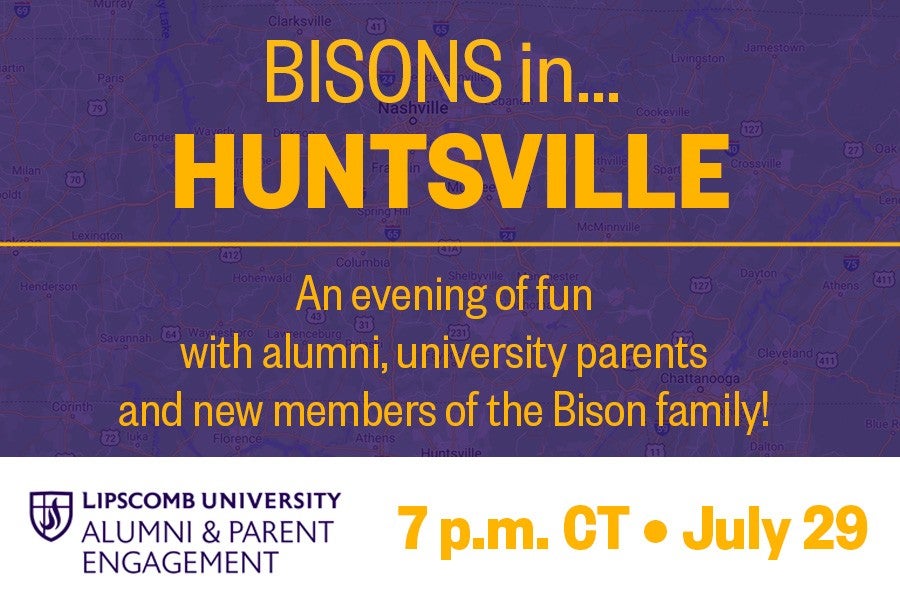 Join Lipscomb University for an evening of fun and desserts with Huntsville-area alumni, university parents and new members of the Bison family at The Shed at Jones Farm: 5007 Garth Road SE, Huntsville, AL 35802.
Hear what's happening at Lipscomb while enjoying the opportunity to reconnect with friends, meet fellow alumni and university parents, and welcome our incoming Class of 2025 Bisons from the Huntsville area. 
You'll also get to hear from Lennie Acuff, Lipscomb men's basketball coach and Huntsville native. Coach Acuff is entering his third year as Lipscomb's head coach after an illustrious 22-year run at the University of Alabama-Huntsville where he was named the Gulf South Conference Coach of the Decade (2010-20). 
With over 580 career wins, Acuff has been named the NABC District Coach of the Year a conference-record eight times. Highly respected by his peers in the collegiate coaching ranks, Acuff currently serves as 2nd Vice President on the National Association of Basketball Coaches (NABC) Board of Directors.
Space is limited, so please register before July 25.
QUESTIONS? Contact Laura Sears at laura.sears@lipscomb.edu for info.