Thursday, April 11, 2019 8:00 AM
Allen Arena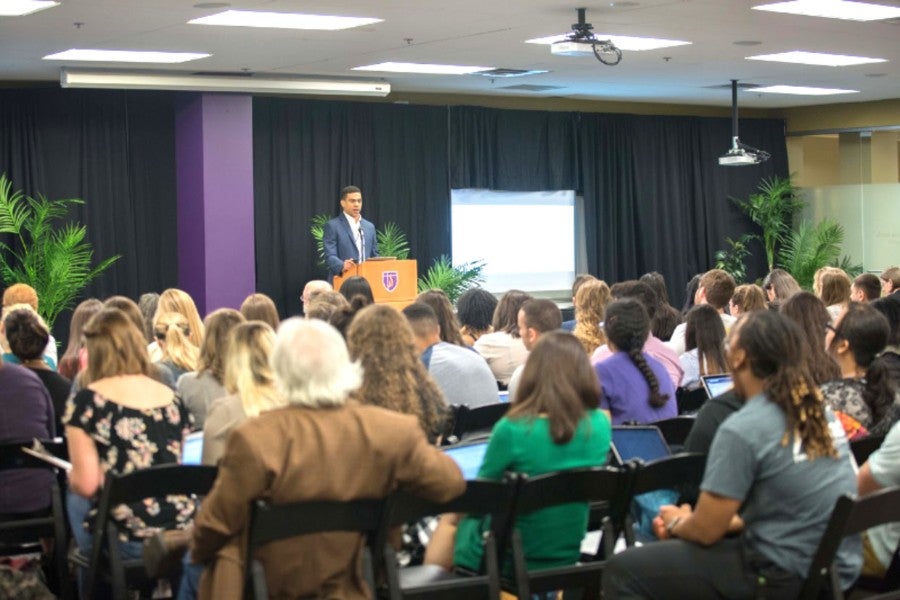 Beginning at 8:30 a.m. on Monday, Feb. 11 in Allen Arena, the Student Scholars Symposium will host their annual academic conference. The conference is open to all Lipscomb students and is designed to give students an opportunity to showcase their creative works and research results in a professional setting. During the conference, students showcase their scholarly works in the form of oral or poster presentations, live musical and theater performances, readings of poetry or other creative writings and art exhibitions.  Students from all majors and departments (Biology, Bible, Business, Chemistry, Computer Science, Education, English, Engineering, Family Sciences, History, Kinesiology, Mathematics, Nursing, Nutrition, Pharmacy Practice, Pharmaceutical Sciences, Physics, Psychology, Social Work. etc.) are eligible to present at the symposium.  The event begins at  8:00 a.m. with registration, coffee and opening remarks by the Provost and then followed by various concurrent sessions (oral presentations, posters, and performances).  It ends with an evening reception and awards ceremony from 5:30 p.m. - 6:30 p.m. 
Plenary Session Venues: Allen Arena: 8:30am-9:00 am; 10:45 am-12:30 pm, 5:30-6:30pm
Poster Presentations Time and Venue:  Allen Arena: 12:30pm-2:00pm
Oral Presentations Times and Venues: 9:10am-10:55 am; 2:00pm-5:30pm:
Ezell 301, 363, 241, 147, 155; Swang 101, 108 118; Ward Hall; Collins Alumni Auditorium
For more information, click here.