Who's Who In the College of Pharmacy: Dr. Kirby
May 20, 2021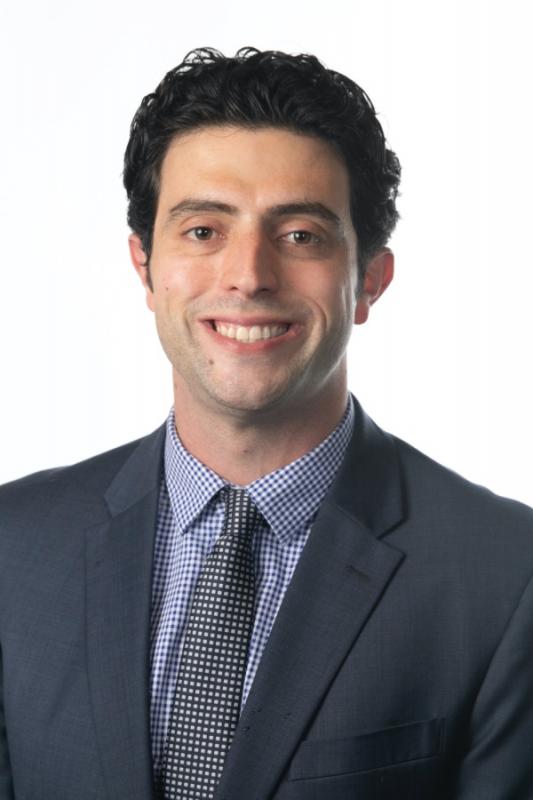 We are privileged to have an exceptional faculty here at the college of pharmacy. Over the coming months, I will be posting interviews I conduct with a few of our professors. This week, Dr. Justin Kirby discusses his journey to Lipscomb, the chaos of the last year, some advice to incoming students, and everything in between.

How were you introduced to pharmacy?
           "I was not so much introduced to the profession so much as I was simply theoretically interested in it. This interest began in high school. I liked the idea of being a health care provider. As to why I had my mind set on pharmacy, your guess is as good as mine. The decision to pursue pharmacy was solidified for me between my freshman and sophomore years of college. I was fortunate enough to travel to Nicaragua for a medical mission trip in which I worked with the pharmacist on the team. Her ability to help both the patients and the other doctors and nurses who were on our team absolutely amazed me. I knew, for certain, at that moment that I was going to pursue pharmacy as a career."
Tell me about your interview day experience at Lipscomb. Were you nervous? Did it click then that you wanted to come here? 
           "Over a decade has passed since I interviewed to be a student at LUCOP, and I still remember it so vividly. I was a senior in college who was balancing a tremendously demanding semester with interviewing at several different pharmacy schools and working about 20 hours a week as a pharmacy technician. Truthfully, that time was one of the most exciting seasons of my life to date. I was simultaneously exhausted and exhilarated. When I reflect on the interview, of course I was at least somewhat nervous, but mostly I remember a sense of peace and calm as I navigated the day. It felt like home. Lipscomb was my first choice heading into the interview, and everything that happened throughout the day reiterated my desire to attend. Now, as a member of the admissions committee, I make it a point to extend the same level of hospitality to our student candidates as was extended to me. I knew that, even though my family would be miles away, I was going to have a new family to become a part of at LUCOP."
How was the transition from student life into professional life when you graduated? Did you feel prepared? Has your view of the profession changed as you've gotten more experience? 
           "The transition from student to professional is challenging and eye opening. I, almost immediately, noticed a professional shift in my attitude where I went from viewing learning as a burden to viewing learning as a privilege and something I deeply desired to do. I feel as if I was as prepared as I could be, but no one is truly prepared for the moment when you realize that you are caring for real people and their health is quite literally in your hands. The profession has evolved so much since I graduated that I absolutely look at it differently now. Opportunities exist currently that I only dreamed about as a student and new graduate. I firmly believe that we are finally advocating for the profession in an effective manner. We have so much to offer that would optimize the care of our patients. If we truly consider the relief of suffering and the welfare of humanity as our primary concerns, as stated in the oath of a pharmacist, we must continue our advocacy efforts relentlessly."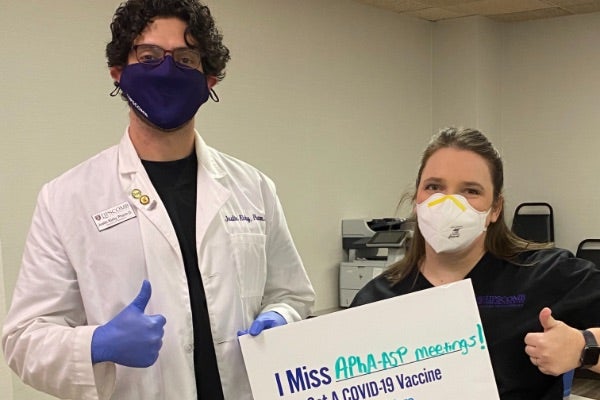 What motivated you to teach at Lipscomb? How has that experience been?
           "My professional license says I am a pharmacist, but I have known for quite some time that, in my heart, I am a teacher. Even so, being a faculty member was not something that was on my radar until I had the opportunity to take a Pharmacy Academics APPE during my P4 year. That experience opened my eyes to academia as a potential career path. Of course, you cannot just graduate and immediately become a professor. I looked into residency options that were affiliated with Colleges of Pharmacy because I knew I wanted to teach and precept students in my practice setting. Even though I interviewed with programs affiliated with 3 other colleges, match day came, and I was ecstatic to find out that I would be staying in Nashville to complete a community pharmacy residency in Lipscomb's program. I thoroughly enjoyed providing patient care. It was doubly rewarding when I was able to have students on site with me, and I could see them learning first hand. I truly loved my job in practice, but I always somewhat had my eye on getting into academia if the opportunity arose. When a position came open at LUCOP, I was contacted by several of my mentors, and I knew I could not let that moment pass. It was ahead of my 5-10 year goal that I had in mind, but a chance to come back to my alma mater was not one I was willing to give up.
           Something I did not consider was the major adjustment of my new colleagues being the people who were my professors just a few years prior. One thing I learned about myself is that when I want to impress people, I will hustle. Overall, the experience of being a faculty member has simultaneously been the most rewarding and most challenging professional endeavor I have encountered in my life thus far. It made residency year look easy in retrospect. I have learned so many things about myself, and I truly value the relationships I have with the rest of the faculty, staff, and especially the student body. The individual journey that each student brings with them greatly enriches my life when I am able to get to know them. It is my goal for each student to understand the power they have simply by having a unique life experience. They have something to offer to the world that no one else has."
What do you like about living in Nashville? 
           "Nashville is just so fun. I am a big food, sports, and music fan, so if I was able to wave a magic wand and create a city to live in, it would be pretty similar to this one, just with less traffic. My wife and I are both Vanderbilt grads, so we definitely enjoy cheering on the Commodores, but we also really enjoy watching Lipscomb basketball, the Titans, and the Nashville Predators. I pride myself on being extremely musically eclectic, so there are many, many concerts that come through town that greatly interest me. You really have to pick and choose or else you will be at a show every night, and you will also be broke.
           Professionally speaking, Nashville is truly an embarrassment of opportunities for healthcare professionals. The exposure to some of the finest medical facilities in the country and endless networking opportunities are literally at your disposal in our city. To tie all of this together, one of my best memories from pharmacy school was a day when I worked a pharmacy intern shift at Vanderbilt, and after I got off work, my Kappa Psi brothers and I grabbed dinner at Puckett's downtown, where live music was being played, before going to a Nashville Predators game."
Are there any special topics that interest you? Do you have a favorite subject to teach?
           "I am deeply interested in pharmacy practice innovation and advancement. I really enjoy teaching these subjects to our P2s in the Pharmacy Practice Administration course. The role of the pharmacist is evolving, and it is critical that students are aware of developing opportunities so they can be well positioned to capitalize on those opportunities when they graduate. 
           Clinically, I was a diabetes educator in practice for 5 years. I enjoy exploring the developments that are happening in the treatment of diabetes, and especially all of the energy focusing on prevention of diabetes currently. Personally, I am very interested in exercise and nutrition, so being able to walk alongside and empower patients on their journey to health is the most rewarding part of the job for me as a clinician. I was very fortunate to have that role in practice, and it is my goal to create more of those roles that our students can fill when they enter practice."
Tell me about your COVID-19 experience. How has your professional life changed? 
           "I, like many of us, started 2020 with high hopes and expectations. I was planning to lead our college's spring break mission trip to Honduras. On March 2nd, I, along with my co-leaders, delivered the devastating news to our team that we would not be going due to the global health emergency that sprang up rapidly. I left that meeting and walked directly to a happier event called "Around the World with APhA", an annual celebration of the many nations and cultures represented by our students at LUCOP. Later that night, my wife, Brittany, jarred me awake in bed with 4 simple yet alarming words, "Justin, there's a storm." A tornado ripped through Nashville that night devastating the city, narrowly missing our and our friends' homes, taking with it a restaurant we had visited 72 hours earlier. Ultimately it landed in Brittany's hometown of Cookeville, where it took the lives of 16 unexpecting people. 
           At the beginning of 2020, we decided were going to purchase our "forever" home during the year. We met with our realtor on March 8th, and well, you know what happened in the world shortly thereafter. So, we suddenly found ourselves buying and selling a home in the middle of a pandemic while having to live with some very gracious friends in the interim. Couple that with my dad having a cancer relapse and my pharmacy practice site being sold, I have to say, it has been hard.
           COVID has been such a profoundly trying time for all of us. I have had to remind myself that this is not what I signed up for and that it will not be like this forever. I value seeing student's faces and the rich engagement that occurs from in class discussions. I value the conversations we have in my office that sometimes last for hours. I valued all the work I had done to build clinical services at my practice site. Suddenly, it was all gone. 
           Amongst all this, I have learned things about myself that I never knew before, or at least, I had never paid attention to:
-I am resilient, and my goodness, so are our students.
-I have an incredible amount of power over my life. I control my peace, my joy, what I eat, how I move my body. Losing control of so many aspects of life made it clearer to me what I can control, and I have been intentional about maintaining control over the aspects that are within my grasp.
           Certainly, the way we teach is different. Everyone knows we are maximizing virtual delivery of content. Maybe what everyone doesn't realize is that we are also maximizing delivery of grace. We are all humans, and life doesn't stop because you are in pharmacy school. We have intentionally and collectively, as a college, acknowledged the need to take care of ourselves holistically. I am confident that quality is here to stay."
What have you learned from your students during this time?
           "I have seen first-hand that our students are stronger and more resilient than even they realize. They are willing to lend us grace as we adjust to a new life and a new way of doing things. Mostly, I have learned gratitude from them. They are still grateful to be here with us, even though this experience is not what they wanted." 
If you were to give a piece of advice to incoming students, what would it be?
"I have a few pieces of advice.
 1) Get to know the faculty AND staff. We are genuinely interested in your life. We want you to be a competent professional, obviously, but even more than that, we want you to be a good person. We will do everything we can to put you on the path to both.
2) Get involved, but not overinvolved. Find 1-2 organizations that truly pique your interest and go all in. This is the best way to find your people, both fellow students and faculty.
3) Surround yourself with people who are both fun and encourage you to authentically pursue your passions. Pharmacy needs leaders. If you are interested in leading an event or an organization, be around people who will encourage and support you in that endeavor."
What inspired you to choose pharmacy? Are you glad you did?
           "I am a helper. I want to help others, almost to my own detriment at times. That being said, a career where every last moment is spent either helping the public with their medication needs or helping students understand a concept is quite rewarding. Lipscomb, and the pharmacy profession in general, has been exceptionally good to me. I know I have positively impacted the lives of others, all while making lifelong friendships and traveling the globe. I would choose it again tomorrow if I had the option to do so."
What changes would you like to see in the pharmacy profession in the next several years? 
           "We must see practice expansion and fundamental reform of the current model, especially in the community setting. There is a litany of literature demonstrating that we have the capability to manage disease states effectively, and we must push into that space, be reimbursed properly for those services, and empower technicians to step up into the dispensing and distribution roles. It is my goal that we dispense (you see what I did there) with the term "retail" pharmacist, and replace it with "primary care pharmacist." That is how we SHOULD be practicing and likewise how we should refer to ourselves."
---
Off-Script: A Behind-the-Scenes Look at Lipscomb University College of Pharmacy
---