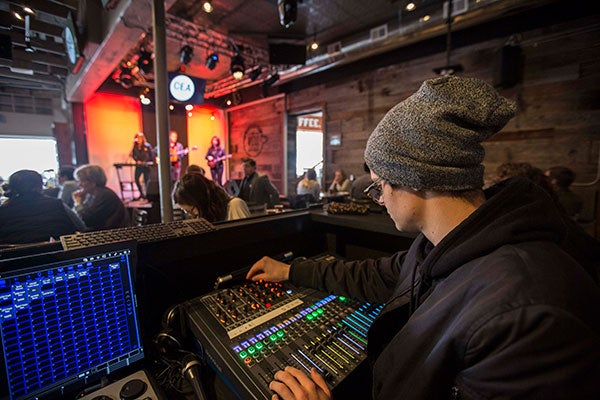 Program Overview
Program Overview
We approach music business as a vital part of a complex, growing tourism and entertainment industry. Our professionals will teach you the language of music. We'll prepare you with rigorous academic coursework and on-the-job training opportunities. From your very first semester in the program, you'll have opportunities to gain real-world experience. And, we'll guide you in developing your business skills and help you network with industry pros.
Our experiential, mentor-based approach includes a holistic, collaborative training in the arts. You'll learn how Nashville's music business functions in the context of its boisterous entertainment and hospitality industry, as well. Come and learn the music industry in Music City.
When you graduate, you'll be ready to enter a diverse, rapidly changing market and have the connections you'll need to launch your career. 
Courses
Courses
Required Courses
HOSP 1003 - Hospitality and Tourism 
HOSP 1013 - Entertainment Business 
CMU 1013 - Introduction to the Music Industry 
CMU 2013 - Music Entrepreneurship 
CMU 2113 - Music Industry Agreements and Contracts 
CMU 3103 - Marketing for the Music Industry 
CMU 390V - Commercial Music Internship 
Choose from the following:
Artist Management Focus
CMU 3113 - Live Concert and Venue Management 
CMU 3123 - Artist Management and Development
CMU 3143 - Introduction to Copyright Law
 Or
Venue Management Focus
CMU 1102 - Introduction to Audio Technology 
CMU 4062 - Tour Management and Promotion 
CMU 4113 - Music Publishing 
Music Core 
MU 1133 - Theory I 
MU 1111 - Aural Skills I 
CMU 3023 - History of Popular Music 
Two semesters private or class study in a single instrument (or voice).
Choose nine elective hours from:
MU 2402 - Music Literature 
MU 3403 - History of Church Music (Offered even-numbered years)
MU 1143 - Theory II 
MU 1121 - Aural Skills II 
CMU 1102 - Introduction to Audio Technology 
CMU 1023 - Introduction to Audio Production 
WA 1013 - Worship and the Arts
WA 2303 - The Complete Worship Leader 
Ensembles (up to four hours)
Additional Private Instruction (up to 2 semesters)
Ensembles (up to 4 hours)
Additional Private Instruction (up to 2 semesters)
Business Core (18)
ENT 2503 - An Introduction to Business 
AC 2503 - Financial Accounting 
EC 2413 - Principles of Microeconomics 
BA 3703 - Business Communication 
MG 3503 - Leading and Managing People 
LUEG 3xx3 Servant Leadership or other LUEG course in the College of Business will complete the Business Core and fulfill the general education Engagements requirement.
Suggested Electives
Electives may be in any area of interest to the student. The following electives are particularly complementary to areas of focus in Music Industry Studies.
Choose 8-10 hours:
FICM 412V - Career Creativity
LJS 3403 - Conflict Management 
CO 3703 - Introduction to Public Relations 
CMU 3143 - Introduction to Copyright Law 
CMU 4113 - Music Publishing 
DS 1123 - Introduction to Data Science
DS 2063 - Modern Computing Applications for Data Science
Expert faculty, small class sizes
Learn from award-winning, experienced faculty who actually care about you. Our small class sizes allow us to get to know you personally. We lead an approachable community within our respective programs. Our faculty connections are the experts on their subject matter, too.
Study Abroad
See the world — whether it's Italy, Austria, Costa Rica, England or another country. Career opportunities will open for you as you sharpen your foreign language skills. Gain the international experience and cross-cultural communication skills you'll need in our global economy.
Job placement
With a top-tier university education on your resume, you'll be in high demand, whether you choose to launch your career or begin graduate school. Most of our programs have a placement rate of at least 90 percent within six months of graduation.
Brown Bannister

Director of the School of Music

Brown Bannister brings nearly four decades of industry experience to his work as Director of the School of Music. Best known as a successful mentor and producer for top Christian...

Learn More

Donna King

Assistant Professor

Donna King, assistant professor of music, came to Lipscomb University as a piano instructor in 1987 and began full-time teaching in 1999. She teaches music history and music literature courses,...

Learn More
Career Paths
Agents and business managers of artists, performers, and athletes
Represent and promote artists, performers, and athletes in dealings with current or prospective employers. May handle contract negotiation and other business matters for clients.
Music Directors and Composers
Music directors, also called conductors, lead orchestras and other musical groups during performances and recording sessions. Composers write and arrange original music in a variety of musical styles.
Musicians and Singers
Musicians and singers play instruments or sing for live audiences and in recording studios.
---