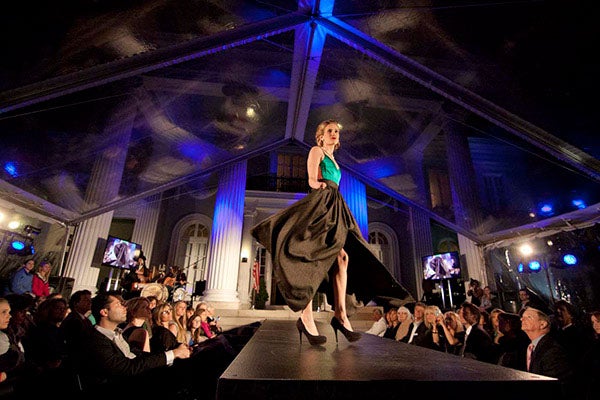 Program Overview
Program Overview
Study fashion design in Nashville, where the industry is thriving. We'll put you in the center of the action, with excellent internship and employment opportunities. Local businesses are an extension of our classrooms. We have the experts and connections you need to develop your skills. Immerse yourself in a personal, spiritually-minded fashion community. You'll have access to our historic archive including Halston, a world-renowned designer. Our collection includes historic garments from every decade since 1890 — including designer clothes. 
Search through our scrapbooks and hundreds of clothing patterns (think Elizabeth Taylor, Jackie Kennedy Onassis, Liza Minnelli and more) for inspiration. Take part in fashion shows. Study abroad opportunities include a two-week fashion course in Florence, Italy, along with a one-week New York study tour.
Courses
Courses
Fashion and Design Core (6 hours):
AR 1723 - New Media Studio
FD 1323 - Basic Design



Fashion Design Core (39 hours):
FD 1011 - Professional Orientation

FD 1113 - Clothing Construction I

FD 1123 - Clothing Construction II

FD 2113 - Textiles

FD 2133 - Fashion Industry

FD 3103 - History of Costume

FD 3123 - Display and Promotion

FD 3133 - Flat Pattern Design

FD 3143 - 20th Century Fashion

FD 3153 - Draping

FD 404V - Internship in Fashion and Design

FD 4092 - Senior Seminar

AR 1213 - Color Theory

AR 1063 - Figure Drawing

Fashion Design Major Electives (9 hours):
ENT 2503 - An Introduction to Business
FD 37nV - Special Topics
FD 400V - Travel
FD 401V - Independent Study and Research

FD 404V - Internship in Fashion and Design

IT 2223 - Web Application Development I

MK 3503 - Principles of Marketing
11:1
Student to Faculty Ratio
Internship
Become more competitive in the job market with an internship related to your interests. You'll gain experience and boost your exposure. An internship will also help you learn whether you've chosen a career you'll enjoy.
Study Abroad
See the world — whether it's Italy, Austria, Costa Rica, England or another country. Career opportunities will open for you as you sharpen your foreign language skills. Gain the international experience and cross-cultural communication skills you'll need in our global economy.
Expert faculty, small class sizes
Learn from award-winning, experienced faculty who actually care about you. Our small class sizes allow us to get to know you personally. We lead an approachable community within our respective programs. Our faculty connections are the experts on their subject matter, too.
Sissy Simmons

Assistant Professor of Fashion and Design

Sissy Simmons received her M.Ed. from Belmont University. She has been sewing and designing since she was a child, and to this day she enjoys learning new sewing skills and...

Learn More
Career Paths
Fashion Designers
Fashion designers create original clothing, accessories, and footwear. They sketch designs, select fabrics and patterns, and give instructions on how to make the products they design.