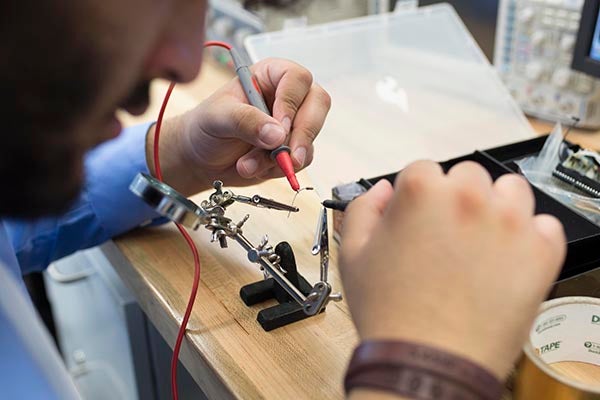 Electrical and Computer Engineering
Program Overview
Program Overview
In today's world, almost everything involves computers in one way or another. The field of electrical and computer engineering has played a major role in that shift, creating a more accessible world using breakthrough technology — which only continues to advance. Be a part of innovating the future. 
Dive into a highly rigorous program where courses are taught by experienced and talented professors who invest their lives in developing your intellectual abilities, knowledge and character. Gain extensive hands-on experience through coursework and projects in our brand-new Fields Engineering Center, equipped with state-of-the-art labs and resources. 
With unique opportunities like engineering missions, professional societies, world-class partnerships and innovative design projects, you'll thrive and grow here. And once you graduate, you'll join your peers studying in top-ranked graduate programs or working for some of the world's best companies.
Our program is ABET-accredited.
Internship
Become more competitive in the job market with an internship related to your interests. You'll gain experience and boost your exposure. An internship will also help you learn whether you've chosen a career you'll enjoy.
Research Opportunities
We know that you want to be an innovator in the field. That's why we offer unique research opportunities in our state-of-the-art facilities with our world-class faculty so that you can hone your expertise.
Expert faculty, small class sizes
Learn from award-winning, experienced faculty who actually care about you. Our small class sizes allow us to get to know you personally. We lead an approachable community within our respective programs. Our faculty connections are the experts on their subject matter, too.
John Hutson

Associate Professor, Electrical and Computer Engineering

Hutson comes to us from Northrop Grumman Corporation where he worked as a Reliability and Systems Engineer. He has worked as a research assistant at Vanderbilt University School of...

Learn More

Greg Nordstrom

Professor, Electrical and Computer Engineering

Nordstrom has been an educator for nearly 20 years with faculty and research positions with the United States Air Force Academy, Vanderbilt University, and now Lipscomb University. He held management...

Learn More

Stephanie Weeden-Wright

Professor of Practice Electrical & Computer Engineering

Weeden-Wright received her Ph.D. from Vanderbilt University where she specialized in radiation hardening of emerging memory technologies. Throughout her graduate tenure she was a visiting research scientist at NASA AMES...

Learn More
Career Paths
Electrical and Electronics Engineers
Electrical engineers design, develop, test, and supervise the manufacturing of electrical equipment, such as electric motors, radar and navigation systems, communications systems, and power generation equipment. Electronics engineers design and develop electronic equipment, including broadcast and communications systems, such as portable music players and Global Positioning System (GPS) devices.
Computer Programmers
Computer programmers write and test code that allows computer applications and software programs to function properly. They turn the program designs created by software developers and engineers into instructions that a computer can follow.
Computer Hardware Engineers
Computer hardware engineers research, design, develop, and test computer systems and components such as processors, circuit boards, memory devices, networks, and routers.