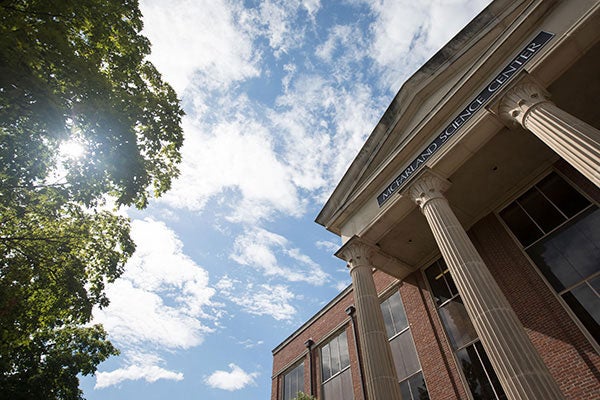 Program Overview
Program Overview
As you plan a career in medicine, biophysics or medical physics, it's essential to have a firm foundation in physics, chemistry and biology. As medicine and biology advance, so does physics. So let us prepare you with chances to join in research and laboratory opportunities alongside of our seasoned faculty. Learn how to apply the laws of motion and energy to living systems. And we'll make sure that the groundwork laid will nurture your faith. You'll discover a close-knit community where lifetime relationships take root.
Courses
Courses
Specific courses required:
BY 1134 - Principles of Biology: Cell and Genetics
BY 2114 - Cell Biology
BY 3514 - Human Anatomy and Physiology I
BY 3524 - Human Anatomy and Physiology II
CM 1113 - General Chemistry I
CM 1211 - General Chemistry Laboratory I
CM 1123 - General Chemistry II
CM 1221 - General Chemistry Laboratory II
CM 2113 - Organic Chemistry I
CM 2123 - Organic Chemistry II
CM 2211 - Organic Chemistry Laboratory I
CM 2221 - Organic Chemistry Laboratory II
CM 3313 - Biochemistry
EECE 2013 - Survey of Electrical Engineering
MA 1314 - Calculus I
MA 2314 - Calculus II
MA 2324 - Calculus III
MA 3133 - Differential Equations
MA 4403 - Advanced Applied Mathematics
PH 2414 - General Physics I
PH 2424 - General Physics II
PH 2434 - Structure of Matter
PH 3303 - Mechanics
PH 3403 - Electromagnetic Fields
PH 3703 - Thermal Physics
PH 3903 - Introduction to Biomedical Physics
PH 3913 - Biomedical Physics Research Seminar
PH 4313 - Quantum Theory
PH 4991 - Senior Seminar
Note:
The requirements for an applied mathematics minor and a chemistry minor are automatically satisfied.
Research Opportunities
We know that you want to be an innovator in the field. That's why we offer unique research opportunities in our state-of-the-art facilities with our world-class faculty so that you can hone your expertise.
Job placement
With a top-tier university education on your resume, you'll be in high demand, whether you choose to launch your career or begin graduate school. Most of our programs have a placement rate of at least 90 percent within six months of graduation.
Expert faculty, small class sizes
Learn from award-winning, experienced faculty who actually care about you. Our small class sizes allow us to get to know you personally. We lead an approachable community within our respective programs. Our faculty connections are the experts on their subject matter, too.
Career Paths
Biomedical Engineers
Biomedical engineers combine engineering principles with medical sciences to design and create equipment, devices, computer systems, and software used in healthcare.
Medical Scientists
Medical scientists conduct research aimed at improving overall human health. They often use clinical trials and other investigative methods to reach their findings.
Biochemists and Biophysicists
Biochemists and biophysicists study the chemical and physical principles of living things and of biological processes, such as cell development, growth, heredity, and disease.