Campus Recreation
You're ready to soak up the goodness of life, get active, be positive, have fun and hang out with friends who share your passion for living well.
Campus Recreation is here to provide a safe place where you can do just that — and even pursue your competitive drive. We are ready to help you in your recreational goals, whether you're a student, employee, alumni or community member.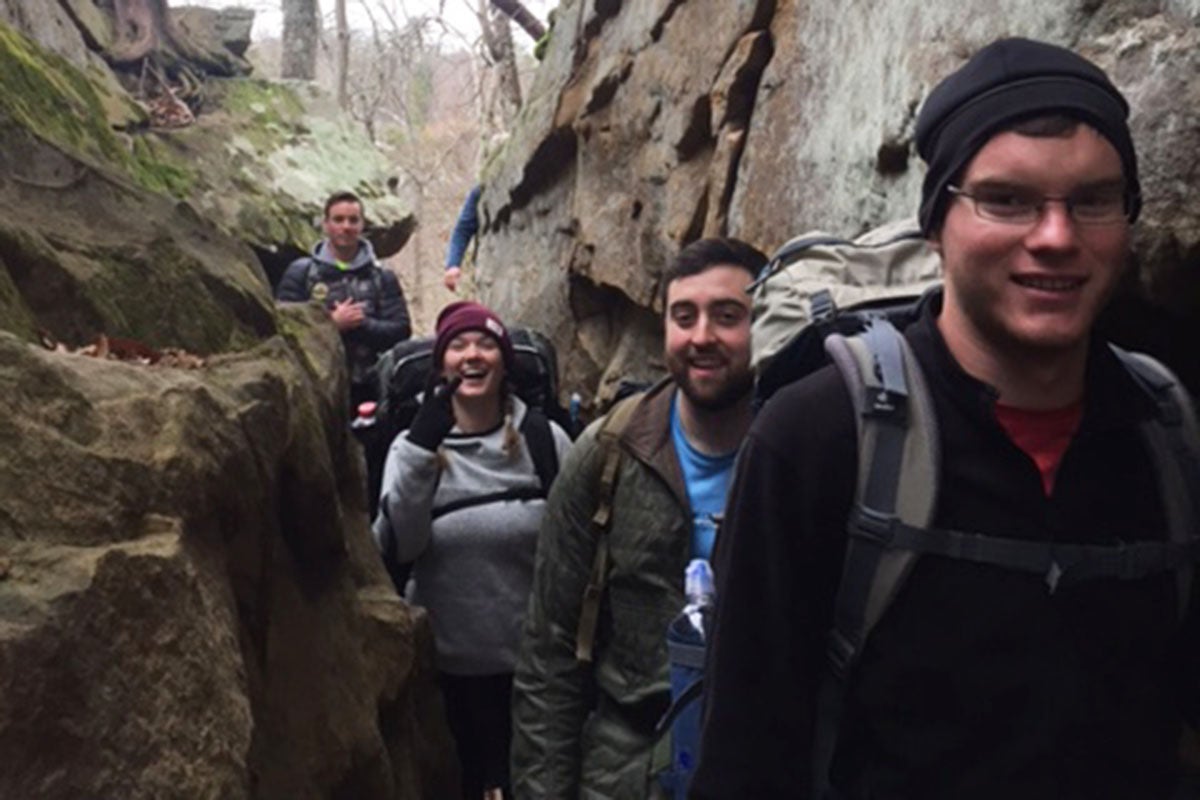 Fall 2019 Trip List
Hang Gliding, Aug. 30-31 (Trip is currently full)
Campus Rec is heading to Lookout Mountain to soar over the valley with Lookout Mountain Flight Park.We will camp out on the airfield the night before and begin hang gliding the following morning! Trip details to follow.
$99
Ocoee Whitewater Rafting, Sept. 13-14 (Trip is currently full)
Join us as we head to Cleveland, Tennessee to conquer the Middle Section of the Ocoee River! Full of amazing rapids and beautiful scenery, this trip will be one for the books.$60

Canoe the Caney, Sept. 28 
Hit the Caney Fork River with Campus Rec as we sit back and enjoy the nine mile float to Betty's Island. We will have lunch on the river, explore a cave or two, and enjoy God's beautiful creation together! 
$30

Buggytop Cave, Oct. 19 (Trip is currently full)
Going into the depths of a cave system that spans miles, this trip will be thrilling as we explore part of God's creation that not many people get to see.
$15 

Cumberland Scenic Trail, Dec. 12-13
The Cumberland Scenic Trail is one of Tennessee's hidden gems. Join Campus Rec as we backpack through 16.5 miles of rock bluffs, pine flats, abandoned mining operations, river crossings, and more, camping beside the flowing waters of Board Camp Creek, and enjoying the amazing playground God has created here in our own backyard. 
$20
Outdoor Adventure Ambassadors
Each year, Outdoor Adventures takes hundreds of students on excursions around Tennessee and the surrounding states. From the river beds of Savage Gulf to the caves of East Tennessee to the rocky bluffs of Alabama to the hilltops of Indiana, our Outdoor Adventure staff crafts a schedule of events and excursions that are sure to excite, refresh, and push participants to new levels.
Are you already connected with the program, just transferred to campus, or looking for others with similar interests? The Outdoor Ambassadors program may be just what you are looking for to take your involvement to the next level. We are looking for upperclassmen with experience, knowledge, and some level of expertise in areas of outdoor adventure to act as student leaders alongside our Outdoor Adventure staff for our trips throughout the year. Do you hike, backpack, climb, raft, backcountry camp, kayak, ski/snowboard, etc.? We want to hear from you.
This is a volunteer opportunity to serve your peers in a leadership position, allowing you to grow your technical skills, your leadership skills, and your relationships, all while having a blast in God's creation. There is a limited number of positions, and students chosen for these roles will play a large role in the planning and execution of their experience-specific event, as well as have the opportunity to attend additional trips within the normal schedule (excluding Spring Break and Summer Excursion) free of charge. Not enough? Ambassadors will also have the opportunity to have up to 50% of the cost of Summer Excursion paid for, should they meet the eligibility requirements and choose to attend.
If you are an upperclassman (Junior or Senior), have experience in an applicable area, and have interest in this program, please fill out the below form. We will reach out to you to set up an interview, and talk about what opportunities may be open for you. Freshmen and Sophomores may also apply, and will be considered if open spaces and experience match.
Places to Visit
Tennessee is surrounded with beauty and experiences.  Students are encouraged to sign up and join in on the adventures.  Experiences such as white water rafting, horseback riding, Climb Nashville, hiking, and bike rides are just a few exciting adventures.
Camping
Under 1 Hour from Lipscomb
Bledsoe Creek State Park (40 miles NE)
Cedars of Lebanon State Park (45 miles ESE)
Henry Horton State Park (50 miles S)
Under 1-2 Hours from Lipscomb
Old Stone Fort Archaeological Park (70 miles E)
Edgar Evans State Park (75 miles E)
David Crocket State Park (80 miles SSW)
Mousetail Landing State Park (85 miles WSW)
Under 2-3 Hours from Lipscomb
Nathan Bedford Forest State Park (95 miles W)
Natchez Trace State Park (100 miles W)
Land Between the Lakes, KY (100 miles NW) Tim's Ford State Park (105 miles SSE)
Rock Island State Park (110 miles SE)
Standing Stone State Park (110 miles ENE)
Paris Landing State Park (110 miles WNW)
Harrison Bay State Park (155 miles SE)
Chichasaw State Park (165 miles WSW)
Over 3 Hours from Lipscomb
Picket State Park (160 miles ENE)
Canoeing
Under 1 Hour from Lipscomb
Harpeth River Recreation Area (23 miles W)
Under 1-2 Hours from Lipscomb
Land Between the Lakes, KY (100 miles NW)
Over 3 Hours from Lipscomb
Ocoee River State Park (170 miles ESE)
Hiking & Backpacking
Under 1 Hour from Lipscomb
Bledsoe Creek State Park (40 miles NE)
Cedars of Lebanon State Park (45 miles ESE)
Henry Horton State Park (50 miles S)
Under 1-2 Hours from Lipscomb
Old Stone Fort Archaeological Park (70 miles E)
Edgar Evans State Park (75 miles E)
David Crockett State Park (80 miles SSW)
Mousetail Landing State Park (85 miles WSW)
Under 2-3 Hours from Lipscomb
Nathan Bedford Forest State Park (95 miles W)
South Cumberland Recreation Area 
Savage Falls (125 miles SE)
Natchez Trace State Park (100 miles W)
Land Between the Lakes, KY (100 miles NW) Tim's Ford State Park (105 miles SSE)
Rock Island State Park (110 miles SE)
Standing Stone State Park (110 miles ENE)
Paris Landing State Park (110 miles WNW)
Harrison Bay State Park (155 miles SE)
Chickasaw State Park (165 miles WSW)
Over 3 Hours from Lipscomb
Picket State Park (160 miles ENE)
Kayaking & Rafting
Under 1 Hour from Lipscomb
Harpeth River Recreation Area (23 miles W)
Under 1-2 Hours from Lipscomb
Land Between the Lakes, KY (100 miles NW)
Over 3 Hours from Lipscomb
Ocoee River State Park (170 miles ESE)