When Peter Backer ('23) was a freshman in high school, he came to Nashville for a baseball camp, then returned as a junior to visit colleges, fully set on a particular school.
But the campus tour just didn't feel right. So he and his family left and scheduled an appointment to visit Lipscomb.
"I literally walked on campus, and told my mom I was going to go here," Peter remembers. "I love this place. I fell in love with it. Since that tour, I've never looked back on the decision to come to Lipscomb."
For Peter, what stood out about Lipscomb was the community. During his campus tour, he noticed that no one seemed to walk to class alone and that lots of students and professors were having coffee and conversations outside of class. As a student at Lipscomb, Peter has experienced a community true to what he observed as a visitor.
"I think the great thing about Lipscomb is even though I feel like I met so many people during QuestWeek, I don't feel like there's been a week in my college experience that I've gone without meeting someone new or getting to know someone better," Peter says.
That includes relationships with professors like Earl Lavender and J.P. Conway in the College of Bible & Ministry and Steven Sedberry and Alison Duke in the College of Business who invited him and his classmates to dinner in their homes. "Professor Sedberry had us over to his house last year, and he made us homemade pizza in his woodfired pizza oven and we just got to hang out with this family, " Peter says.
As a manager at a local Chick-fil-A, he's even connected with well-known musicians like lead singer of Florida Georgia Line Tyler Hubbard, Mat Kearney and Ben Rector. He also worked as a tour guide for Admissions, was a member of Theta Psi social club, Ethos Church worship team and completed an internship at a local accounting firm. Peter just graduated in May and will begin graduate school this fall at Auburn University to earn his master's degree in accounting.
---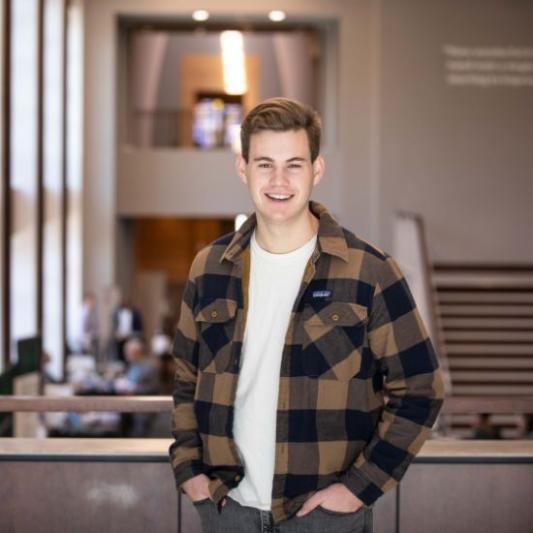 "See What Opportunities You Have."
"Every college will have strong academic programs. Any college you go to will get you that degree you want. It's a matter of how they get it to you and how valuable the other parts of that degree are."
Relationships and Opportunities Prepare You to Thrive
"Don't miss out on getting to know a professor."
When you ask Peter about the professors at Lipscomb who made an impact on his life and his academic journey, he'll name 10 professors who took the time to get to know him and invest in his success. "They'll get to know you, even if there's no reason they should."
Creating opportunities for involvement
Peter says his friends at other schools are always jealous of the ways he can be involved in life on campus. "At Lipscomb, they always make a way for you to be involved in some way. Rather than it being a limiting university, it's a very empowering university. Look at what the university has to offer."
"Nobody walks alone on this campus."
From orientation to graduation, you'll have an ecosystem of support at Lipscomb with resources that can help you with any need you may have. And when it's time to find a job, the Career Development Center and a network of Bison alumni will have your back.
---
More Resources For Juniors