When Julia ('23) began her college search as an exchange student, she knew she wanted to attend school abroad but never imagined she would find a home at Lipscomb University, almost 5,000 miles from her hometown.
After spending a year of high school as an exchange student in Indiana, Julia returned home for her senior year and immediately realized she wanted to go back to the United States for college. Influenced by her host family, she started looking at big schools in Indiana. Julia also worked with an exchange agency to help her find schools that would be a good fit, and her advisor suggested Lipscomb. She applied and was shocked when she learned that an admissions counselor was coming to visit her.
"I got a call from my advisor, and she said, 'Hey, remember Lipscomb? They are sending an admissions counselor down here to see you.' And I was like, 'What?! They're sending somebody from all the way up there down here just to meet me? That's crazy,'" Julia recalls.
But it didn't stop there.
"Lipscomb was the only school that was reaching out to me every week—sending me emails, making sure I was OK through the admissions process, through the financial aid process," she said. "They were reaching out to me. No other school did that."
Even though Julia never visited campus, she felt called to Lipscomb, so she showed up on Move-In Day and saw this place for the first time.
She quickly found her place. While she was a student at Lipscomb, Julia managed the Admissions tour team, served as executive treasurer for Pi Delta social club and was a member of the inaugural President's Student Advisory Council, Quest Team, International Students Board, Raices (Hispanic Heritage Club) and the W.E.B. DuBois Honor Society. She also worked as an intern for GEODIS, a global supply chain and logistics company, whose Americas headquarters are located in Middle Tennessee.
"I never imagined that I was going to be this involved on campus." But she wouldn't have it any other way.
---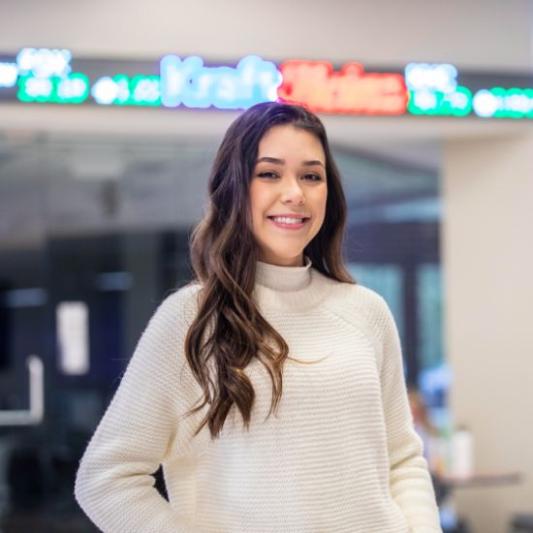 "Lipscomb Introduced Me to Nashville."
"Nashville is a hub of industries and jobs. It's a great place to live. I grew up in a big city, and Nashville is the same size but it feels way smaller. The people here are very welcoming."
A Home away from Home
A genuine admissions process
Throughout the admissions process with Lipscomb, Julia felt like she was really wanted and cared for as part of the community before she ever arrived on campus. "It was not even an effort. They were just being genuine. 'We want to get to know you.' It felt like they wanted me here. Other schools didn't really even try. When somebody puts a little more effort on you, you're invested."
A welcoming faith community
Though Julia was initially concerned about being a Catholic student at a Church of Christ school, she felt heard and encouraged by the campus community. "I am Catholic. I was afraid that if I was going to a Christian school they were going to try to change what I thought, and that was the complete opposite of what happened at Lipscomb. They did not try to judge me or change what I thought."
Campus resources to support you
From the tutoring center to the research tools and librarians at Beaman Library, Lipscomb cares for your well-being through a variety of resources and supports you during your college journey and beyond. "Don't try to take college by yourself. The university is here for you. And that's the good thing about a small university. They can really focus on you and really plug you in."
---
More Resources For Juniors