During her college search, Ashlyn ('24) realized the value of a Christian education, and the supportive community at Lipscomb worked with her to help make that possible.
"When I was in high school, I toured like 20 or 30 schools, I went crazy," Ashlyn says. She applied to 10 schools and narrowed it down to a final three. After committing to another school, Ashlyn learned that she had been selected as a Trustee Scholar, Lipscomb's most prestigious scholarship that awards full tuition.
As she weighed two full-tuition scholarship offers at different schools, Ashlyn was struck by the encouragement she received from everyone at Lipscomb during the college search process.
"That whole week where I was trying to decide where to go, I was calling Chelsia Harris, the director of nursing," she remembers. "I was talking to current students working for Admissions. I was calling Matt [my admissions counselor] like every single day—talking to different people all over campus."
While Ashlyn was trying to make her college choice early in the pandemic, she would FaceTime with Dr. Harris at night to ask for advice. The willingness of so many people at Lipscomb to help her make such a big decision resonated with Ashlyn.
"I really wanted a Christian school, but it was so evident when I looked at Lipscomb and was talking to people that it was not only a Christian school, but it was in their roots," she says. "It was in everything."
Because of that genuine care for her well-being, Ashlyn committed to Lipscomb, where she works on the Quest Team, is a member of Phi Sigma social club and service coordinator for the Lipscomb Student Nurses Association.
"This is just so incredibly intentional," she says of the guidance she received from the Lipscomb community. "I think their actions have changed the whole trajectory of my life. I just never saw it coming."
---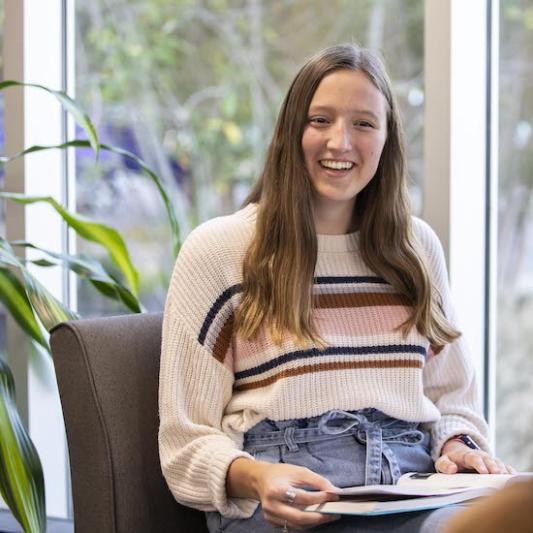 "It Felt Like Lipscomb Wanted the Best for Me"
"Everyone I talked to, above anything else, they were praying over me. Before anything, they would pray that I made the right choice, and they weren't praying that I would come to Lipscomb. They were praying that I would find peace in whatever I chose."
A Supportive Campus Community
Seeing the community in action
"It's really hard to witness the community here unless you're on campus and you're seeing it firsthand." The best way to get a taste of life on campus is to experience it for yourself. Ashlyn realized the importance of visiting campus during her college search, and that's one of the reasons she has worked on the Admissions tour team and now is a member of the Quest Team, helping incoming students make the transition to life at Lipscomb.
Building community and finding your place on campus means being an active participant in life at Lipscomb. Starting with QuestWeek when you move in, you'll have ample opportunities to get involved and choose from more than 50 student organizations on campus. You could join a social club or academic society like Ashlyn. It only takes a little effort. "If you put yourself out there, the opportunities just kind of come to you."
Lipscomb's Christ-centered community welcomes you in faith, refines your calling through enriching academic experiences and prepares you for a life of purpose. "Faith is so central," Ashlyn says. "You see it in everyone you talk to and every class you're in, and that's literally changed my whole life."
---
More Resources For Juniors