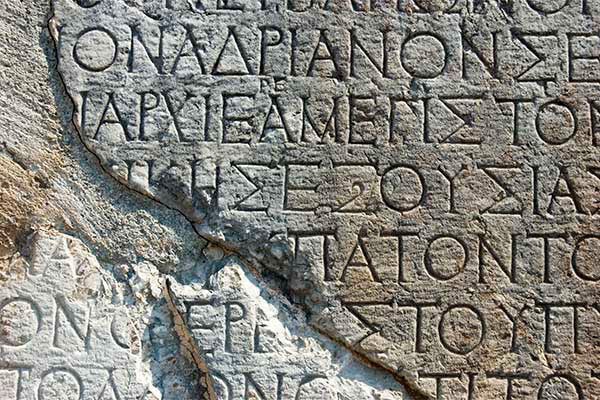 Program Overview
Program Overview
You're working to change the Kingdom in bold ways. You're striving to make a difference in your community. Bolster your theological studies with a comprehensive knowledge of the Bible's early-day translations. Gain additional insight into the teachings of the text by understanding the Greek language. Learn from our seasoned faculty and their experiences to further your ministry skills. You, too, can be a fully-equipped leader, teacher and mentor. 
 
Courses
Courses
Specific courses required:
GR 1515 - Introduction to Greek I

GR 1525 - Introduction to Greek II

Three courses selected from:
GR 3013 - The Greek New Testament I

GR 3023 - The Greek New Testament II

GR 3033 - The Greek New Testament III

GR 4013 - Advanced New Testament Greek I

GR 4023 - Advanced New Testament Greek II

GR 4033 - Advanced New Testament Greek III
Internship
Become more competitive in the job market with an internship related to your interests. You'll gain experience and boost your exposure. An internship will also help you learn whether you've chosen a career you'll enjoy.
Job placement
With a top-tier university education on your resume, you'll be in high demand, whether you choose to launch your career or begin graduate school. Most of our programs have a placement rate of at least 90 percent within six months of graduation.
Expert faculty, small class sizes
Learn from award-winning, experienced faculty who actually care about you. Our small class sizes allow us to get to know you personally. We lead an approachable community within our respective programs. Our faculty connections are the experts on their subject matter, too.
Study Abroad
See the world — whether it's Italy, Austria, Costa Rica, England or another country. Career opportunities will open for you as you sharpen your foreign language skills. Gain the international experience and cross-cultural communication skills you'll need in our global economy.
George Goldman

Professor

George teaches courses in New Testament, Greek, and Faith & Culture. He received his B.A. and M.A. from Lipscomb University (1988, 1991), his M.Div. from Harding University Graduate School of...

Learn More
Career Paths
Interpreters and Translators
Interpreters and translators convert information from one language into another language. Interpreters work in spoken or sign language; translators work in written language.
Postsecondary Teachers
Postsecondary teachers instruct students in a wide variety of academic and technical subjects beyond the high school level. They may also conduct research and publish scholarly papers and books.
Clergy
Conduct religious worship and perform other spiritual functions associated with beliefs and practices of religious faith or denomination. Provide spiritual and moral guidance and assistance to members.