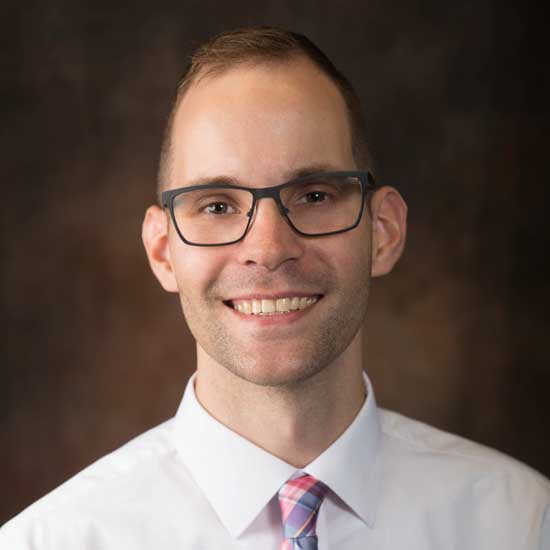 Ben Blasko
Music
Director of Instrumental Studies




Biography
As a conductor, Benjamen Blasko has been invited to conduct performances and lead master classes across the U.S. He is a founding member of the Agora Brass Ensemble, made up of graduate students and music educators devoted to exposing and developing music for the brass medium. Blasko's primary teachers include Eugene Migliaro Corporon, Dennis Fisher, Nicholas Enrico Williams, Jack Stamp, Jason Worzbyt, Brad Genevro, William Stowman, Timothy Dixon, Thomas Leslie, and Linda Tedford. As a recording engineer, he has been involved in the recording, editing and mastering processes for many world-class organizations such as the UNT Wind Symphony, University of North Texas Symphonic Band, IUP Wind Ensemble, the Messiah College Wind Ensemble, Dr. William Stowman, Tromba Mundi, the Agora Brass Ensemble, the Keystone Wind Ensemble, members of the Colorado Symphony, Covalence, and the Messiah College Concert Choir. For the past 10 years, Blasko has studied recording techniques with Grammy Award winning engineer Bruce Leek.
Blasko's composing encompasses many mediums including orchestra, wind band, jazz ensemble, brass ensemble, marching band, choir, film music, and contemporary music ensembles. His works have been performed all across the United States, including but not limited to Tromba Mundi, the Messiah College Wind Ensemble, the Greater Harrisburg Concert Band, the IUP Wind Ensemble, Bravo Brass, Colton Dixon, the Agora Brass Ensemble, the UNT Symphony Orchestra, the United States Air Force Band and the United States Navy Band.
His music has been performed at film festivals, multiple All-State Conferences, the International Trumpet Guild Conference, the National Trumpet Competition, Cancer Blows, and various other national events.
His primary composition teachers include Kirsten Broberg, Bruce Yurko, Jack Stamp and Mike Harcrow; he has studied with film composer Bruce Broughton and former composer in residence with the Atlanta Symphony, Alvin Singleton.