Travel Learning
Each year, Lipscomb offers several custom-designed, U.S.-based and/or global travel learning trips primarily for alumni and friends.
These trips typically include activities not generally available to the public, such as when a noted artist Lipscomb alumnus led a trip to the Northeast and opened doors to artists' private studios and homes for our participants.
For information and reservations please contact Amy Hamar at 615.966.6216. All travel learning space is limited and will be filled on a first-come, first-served basis. Check back for future travel opportunities.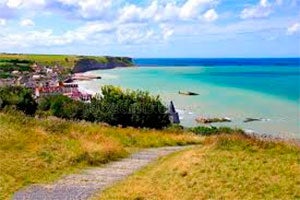 75th Anniversary D-Day Tour (sold-out)
Hosted by Lipscomb University's Lifelong Learning Program
Approximate dates July 16-30, 2019
Join us as we travel to France, Belgium, Germany and Austria to study and commemorate the 75th Anniversary of D-Day. We will travel to the sites that changed the world during WWII and relive the conflicts and culture that permanently formed what we now see in Europe. This trip has limited space and will be filled on a first-come first-served basis.
Please contact our office for more information on this upcoming tour and to save yourself a spot. A $200 refundable deposit is due by January 15, 2019.