Your investment impacts students lives…
Lipscomb Associates commit to annual contributions of $1,000 or more, providing the long-term, immediate-impact giving that creates the high-quality, high-touch Christian education experience that is Lipscomb. Associates allow us to expand our academic programs, the diversity of our student body, scholarships and the services and resources we offer, on campus and off. By funding strategic plans and new initiatives, Associates help us move toward the future with a wider reach, greater impact in the lives of students and community and an ascending reputation. Also, Associates automatically gain access to Lipscomb's prestigious IMAGINE event each year.
IMAGINE
Imagine is an event hosted by Lipscomb University that brings world-renowned leaders to Nashville to engage the community on topics of importance…to hear their own stories and perspectives…to share their own ideas and to see their vision for the world in the 21st century. Previous guests include President George W. Bush, Magic and Cookie Johnson, Tom Brokaw and author Walter Isaacson. 
The Lipscomb Associate is an investor who makes things happen in a special way. Defined as anyone who annually gives $1,000* or more in a 12-month period, Associates are our core partners who make scholarships, special initiatives, academic enrichment and more happen. Our endowment would need to double in size to provide the same benefit our Associates create through their generosity every year. These vital contributions propel key programs and assist in keeping Lipscomb one of the best values among universities nationwide.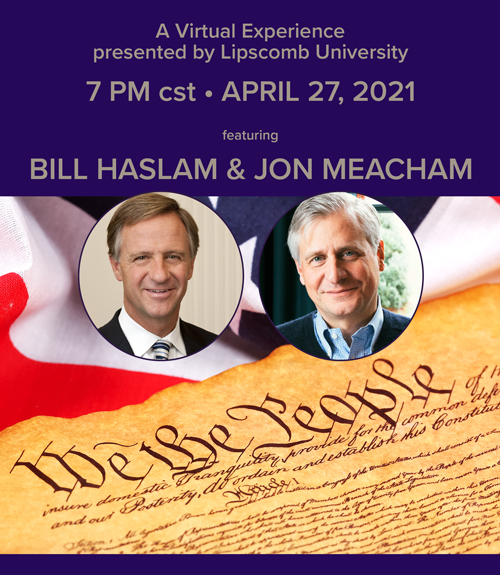 IMAGINE 2021
The fifth annual IMAGINE program with special guest speakers Pulitzer Prize-winning author Jon Meacham and former Tennessee governor Bill Haslam has been scheduled for a virtual presentation at 7 p.m. CST, April 27. The event was postponed in April 2020 due to COVID-19. This year's virtual event is open to the public.
This year's conversation is based on Jon Meacham's bestseller The Soul of America. In his book, Meacham uses a historical perspective that helps audiences understand the present moment in America today.
The night will leave you inspired with renewed hope, revitalized confidence and energized belief in the enduring principles that move our nation forward. 
Register for the Virtual Broadcast
---
Become an Associate
You are invited to become a Lipscomb Associate, at a level of involvement that is right for you. To show our appreciation for your generous support and to demonstrate to you the importance of your association with us, we offer exclusive Associates-only benefits at the following levels
Avalon Associate - $10,000 & up
Associates branded keepsake
VIP invitations to select campus events
Leadership Associate $5,000 - $9,999
Associates branded keepsake
Catalyst Associate $2,500 - $4,999
Special invitations to university events
Associate $1,000 - $2,499
Special invitations to university events
Register your Associate membership today.
Simply choose the level of involvement that fits your giving preferences or let us know by contacting Jenny Lovell, director, Lipscomb Associates, at 615.426.8574 or jenny.lovell@lipscomb.edu