Singarama 20/20
April 2–4 | Collins Alumni Auditorium
20/20 marks the 57th year of Singarama, one of Lipscomb's favorite traditions. Tickets will be available starting March 3rd. 
More than 16,000 students have participated in Singarama. Armed only with a single category, students in each group develop storylines, write scripts, choose a up to eight songs and accompanying choreography, design sets and create costumes — and that's not all. The shows, evaluated over four performances by a panel of 18 judges, compete in three categories (theme, music, and staging) and in overall sweepstakes points. Singarama is truly a Lipscomb tradition where lifelong friends and memories are made.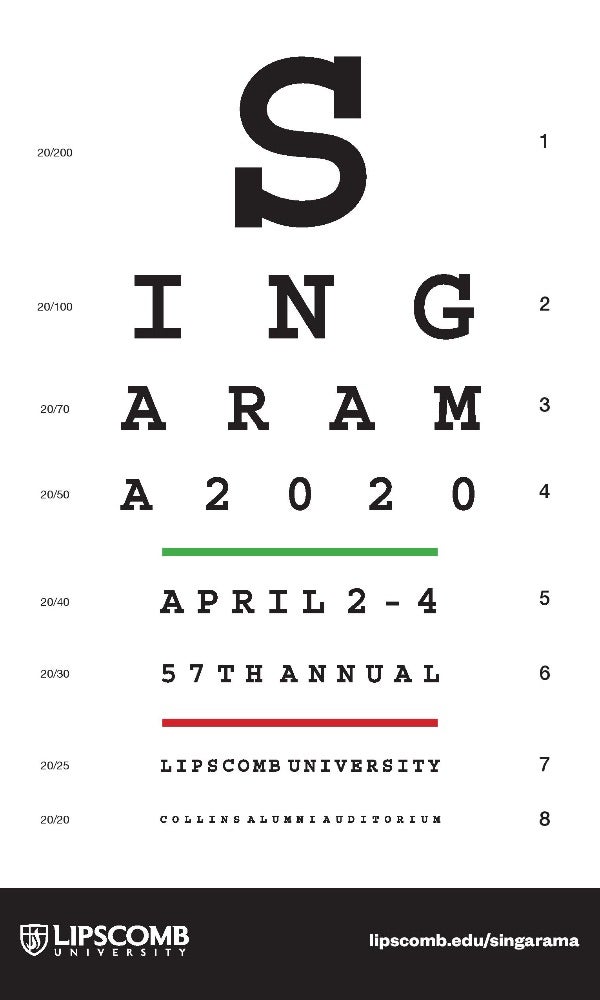 This year's theme is "Singarama 20/20," and includes three shows, The Eye of the Hurricane directed by Avery Roland; Short Sighted directed by Carson Roach; and A Fresh Pair of Eyes directed by Mackenzie Williams-Nutter .The show will also feature five talented hosts and hostesses; Savanna Cummings, Kait Logsdon, Dane Mortensen, Hudson Parker, and Alexa Williams.

All performances are in Collins Alumni Auditorium.

Thursday, April 2nd at 7 p.m. Tickets are $15.

Friday, April 3rd at 7 p.m. Tickets are $20.

Saturday, April 4th at 2 p.m. Tickets are $20.

Saturday, April 4th at 7 p.m. Tickets are $25.

Tickets will be available March 3rd!